It's easy to get caught up thinking that the holidays are about securing the most sought-after gifts or creating the most Instagram-worthy tablescape. But more than anything else, this is the season of gratitude and giving, a moment to embrace traditions old and new, and a time for gathering with those we love.
We wanted to make this season bright for as many people as possible, so we worked with Habitat for Humanity of Greater Los Angeles to help welcome more than 60 families in the Los Angeles area to their new (or newly restored) homes. We're also partnering with a few of our favorite brands for a series of 12 giveaways intended to spread the holiday cheer as far as it will go.
Bringing Healthy Home for the Holidays
Habitat for Humanity's mission revolves around the importance of home. Founded in 1976, the organization is dedicated to making homeownership possible for low-income families across the United States and around the world. By working with volunteers and partners in local communities, Habitat for Humanity builds and repairs houses, selling them to individuals and families at no profit and financing them with affordable home loans.
Habitat for Humanity of Greater Los Angeles has been helping provide affordable, sustainable homes for thousands of people in Southern California for over two decades. According to the organization's CEO, Erin Rank, the partnership between Habitat for Humanity of Greater Los Angeles and Thrive Market is a natural one that is grounded in access to basic necessities.
"Habitat LA is often building in communities that are food deserts," Rank told us. "What I love about this partnership is that with Thrive Market, we can erase those food deserts. People can get healthy food delivered to their doorsteps no matter where they live, in LA County or nationwide."
When the COVID-19 pandemic hit in 2020, Rank says Habitat LA quickly realized that the communities they worked with were among the most affected. "Housing is a critical need, and during the pandemic it became even more apparent," she explains.
The organization reached out to as many people as they could who had ever been a part of a Habitat LA program and assessed their most pressing needs, ultimately providing rent and mortgage assistance, volunteering their trucks and drivers to help local food banks with deliveries, and even providing tech support for families struggling with remote learning. "We really wanted to put a safety net under our community so they felt supported during these difficult times," she says, adding that their work building and repairing homes never stopped.
Reflecting on over 20 years working with Habitat LA—and 1,000 homes built—Rank says witnessing the reactions of new homeowners never gets old. "You can see the relief in their faces, knowing that no one is going to ask them to move out. It's a place for their family to grow."
This fall, Thrive Market partnered with Habitat for Humanity of Greater Los Angeles to donate $10,000 in healthy grocery stipends for 64 Habitat families. We met up with a few of those families at their new homes, where Thrive Market co-founder and CEO Nick Green helped them with one of the most important things everyone must do when they move into a new house: stock the pantry.
Meet the New Homeowners: Kyla & Bruce
"The housing market [in L.A.] is just a beast," says Kyla, who's moving into her new house with her mother. "We've been on a homeownership journey for a while and we're so grateful for this opportunity." Prior to moving into the Habitat house, Kyla had been living in a low-income housing project in Culver City. "This is just a dream come true to move out of that community and into a home," she shares.
For Bruce, the dream of homeownership also felt increasingly out of reach before Habitat for Humanity came along. The Los Angeles native says that after decades living in different neighborhoods on the West side, gentrification eventually priced him out. (Bruce and his parents have been living in Inglewood for the last seven years.)
As 2021 winds down, a new place to call home is a welcome respite after so many difficult months for Bruce and Kyla, who are both the primary caretakers for their elderly parents. "I drive a bus, so there was no working from home for me," Bruce reflects on the height of the pandemic. "Every day I was out there with a bus full of people hoping for the best." Though the 2020 holiday season was bittersweet for many, with any luck these families will get to gather with their loved ones and celebrate around their own tables this year (and with enough healthy pantry essentials provided by Thrive Market to go around).
When asked what she's most looking forward to about moving into her new 3-bedroom, 2-bath home, Kyla was quick to answer. "The space. It's just so big! You don't feel like you're on top of each other." A close second is christening her new kitchen with a meal that celebrates her family's Belizean heritage. "We have talked about this," Kyla says. "We're going to make oxtail, rice and beans, potato salad, and sweet plantains."
Something all the families we spoke to can agree on? That it's not the rooms or the furniture that make a house a home; it's the people. Bruce says he's most looking forward to inviting family over once he and his parents are settled—and, no doubt, to the feast his mom is going to prepare. What's on the menu? "Posole, tamales…food everybody can share."
12 Days of Giving with Thrive Market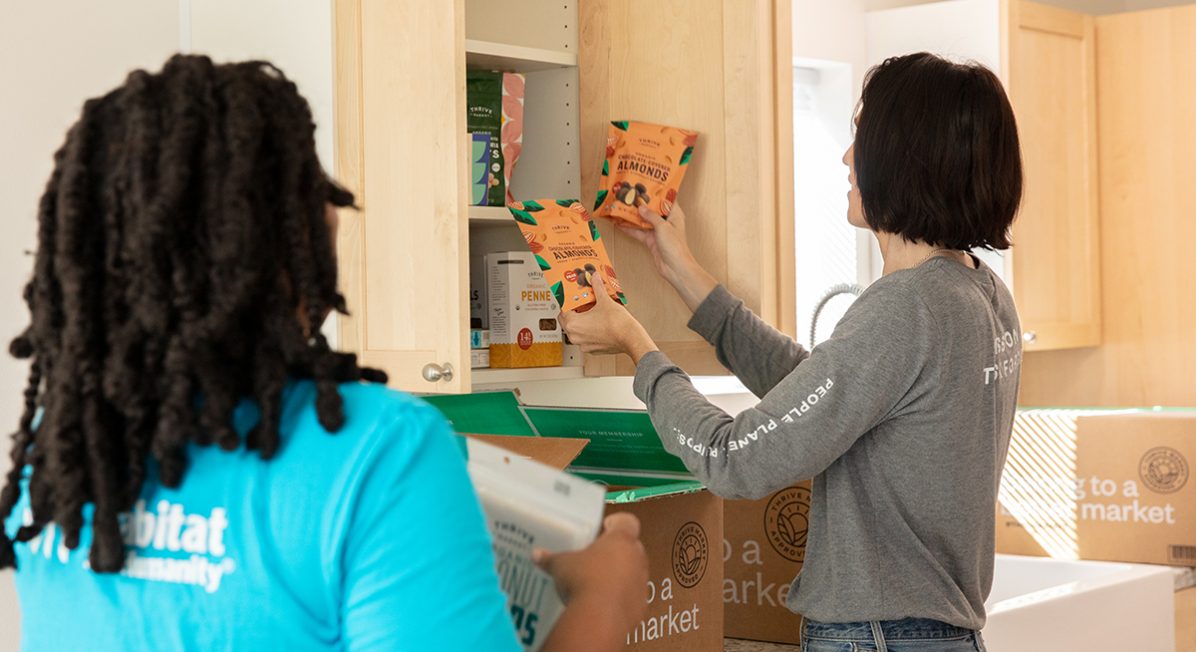 To help as many people as possible have a happy, healthy holiday this year, we're unveiling a whole new way to celebrate Giving Tuesday—and offering our community the chance to pay their gratitude forward.
We'll be granting over $16,000 in healthy groceries and surprise gifts to deserving people and families—as chosen by you—throughout the month of December. Know a new parent with their hands full? A teacher who could use a vacation? A friend or family member with a big health goal? Nominate your loved one and they'll be entered into some exciting giveaways, including Thrive Market grocery stipends paired with gifts that make healthy living fun. A new giveaway will be unveiled each day beginning on Giving Tuesday (November 30), so stay tuned @thrivemarket.
Thrive Market believes everyone should be able to enjoy the benefits of living a healthy lifestyle. Every paid Thrive Market membership supports our Thrive Gives program, which provides memberships for individuals and families in need all year round. By being a part of our community, you're an integral part of furthering our mission toward making healthy living affordable and accessible to all.