Everyone has a holiday tradition—an afternoon of ice skating, baking a family recipe, watching a classic movie. It's that one thing you do every year to signal the arrival of the most festive season, and without which no holiday would be complete.
At Thrive Market, our favorite holiday tradition is helping to spread cheer to as many people as possible, by stocking their pantries and filling their tables with healthy food. Today, we're excited to announce a new initiative that will make this year's giving season more impactful than ever.
Introducing The Great Holiday Give Back
Thanks to the generosity of our one-million-member community, we've raised $8.5 million for our Food Equality Fund so far—meaning we're well on our way to our goal of $10 million in healthy groceries by 2023.
This year, for the first time, Thrive Market will match all member donations made throughout November and December. It's called The Great Holiday Give Back, and it's an opportunity to make your gift go twice as far to support healthy food access for families in need. 
How You Can Help Us Fight Hunger
Here's how it works: Between November 1 and December 31, 2022, simply make a donation at checkout and Thrive Market will match it dollar for dollar (up to $200,000).
"The support of the Thrive Market member community has always fueled our impact work," shares Kristin DeSimone, Thrive Market's Senior Mission Manager. "We're continuously inspired by their generosity and commitment to helping make our mission a reality. This holiday season we'll have the opportunity to double our impact together—providing even more healthy groceries to those that need them the most."
Where Your Donations Go
Through the Thrive Gives program, we grant a free membership to an individual or family in need for every paid annual membership. The program has allowed us to sponsor memberships for more than 1.7 million people. That means offering easy access to affordable, healthy groceries for more than 1.7 million parents, children, teachers, first responders, veterans, and others who need it.
Beyond sponsoring memberships and discounts on healthy groceries for Thrive Gives members, your Thrive Market donations also support organizations that aim to improve access and democratize healthy living, with a special focus on communities disproportionately affected by food insecurity.
FoodCorps: Part of the Americorps network, FoodCorps works to connect kids with healthy food in school systems nationwide, by placing educators in schools to teach cooking and gardening and advocating for better food policy at the federal level.
FoodCycle LA: This organization confronts two major issues at once: food waste and food insecurity. Learn more about how they divert excess food from landfills to feed communities in need here.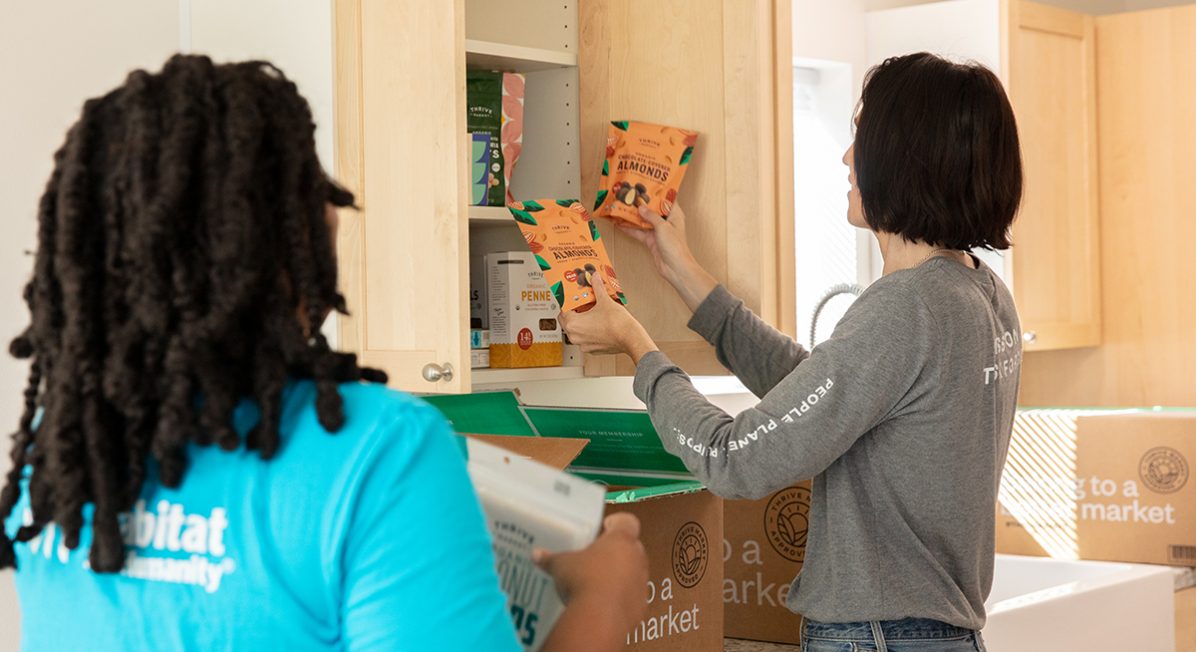 Local projects: Thrive Market calls Los Angeles home, and it's a privilege to support healthy food access in our own hometown. Last year, we helped three recipients of new homes through Habitat for Humanity of Greater Los Angeles stock their new kitchens with healthy groceries. This year, our team will join FoodCycle LA for a food distribution event at Alma Backyard Farms in Compton, serving the south central Los Angeles community.