Whenever you change up your eating routine, there's bound to be a bit of a learning curve. Practicing paleo is a lifestyle change that involves focusing on caveman-inspired ingredients and habits (like limiting screen time at night), while Whole30® guides you to give up gluten, grains, legumes, and other ingredients for 30 days to help you rethink your eating habits. The ketogenic diet focuses on keeping your body in ketosis to burn fat, while a low-carb plan is exactly what it sounds like: lowering your carbohydrate intake on a daily basis. Is one diet better than the other? That all depends on what your personal health goals are. We're not here to tell you which food path to walk down, but we are here to give you tips, tools, recipes, and encouragement to help you make the best choice for you, your family, and your lifestyle. Today, we're looking at the differences between going low-carb versus ketogenic. At first glance, these diets have a similar list of foods to enjoy, but there are some key nuances worth noting—let's get to it!
What's a Low-Carb Diet?
A low-carb diet focuses on reducing the amount of carbohydrates you eat. According to health expert Robb Wolf, "the exact numbers are a bit arbitrary, but most scientists studying nutrition put the number somewhere between 50 to 100 grams of carbs per day." On this diet, most of your carbs will come from vegetables, but you can also enjoy small amounts of low-glycemic carbs such as berries or melons. Wolf recommends easing into the transition, especially if you're accustomed to eating a Standard American Diet. When you switch to low-carb meals, your body will have to learn to transition its energy production from burning carbs, to burning fats instead. His recommendation? Supplement electrolytes like sodium, magnesium, and potassium to help avoid feeling lethargic.
Low Carb vs. Keto Benefits
Some benefits of a low-carb diet include helping support weight loss, improving cholesterol levels, and helping curb your snack cravings. On a low-carb diet, studies have found weight loss is most significant in the first three to six months of the diet, and not everyone will see sustained results at the one-year mark. For those with Type 2 diabetes, a low-carb diet can be a smart way to support overall health. One study noted a low-carb diet helped balance the blood sugar levels in some participants.
Both low-carb and ketogenic diets involve eating lots of whole, real foods with an emphasis on fresh vegetables, high-quality proteins, and healthy fats. One of the major differences, though, is the amount of carbs you consume. For example, a low-carb diet may mean eating anywhere from 50 to 100 grams of carbs per day, but a ketogenic diet is more restrictive, suggesting less than 25 grams of carbs per day. If you're trying to decide between a keto versus a low-carb diet, a low-carb diet is definitely more flexible than a keto diet, and may offer similar health benefits.
What to Eat on a Low-Carb Diet
On a low-carb diet, whole foods should always be your default. When you're just getting started, follow Rob Wolf's lead—he recommends reaching for ingredients like sweet potatoes, broccoli, cauliflower rice, and fruits as your carb sources while you dial back on others like bread and pasta. Here's a list of other food categories to enjoy on a low-carb diet:
Protein: Grass-fed beef, organic chicken, pastured pork, eggs, yogurt, beans, and leafy greens are all great ingredients to build your meals around.
Nuts: As a trusty snack, crust for fish, or salad topper, nuts are a versatile way to enjoy some crunch (and nutrients) at the same time. Popular low-carb nuts include pecans, macadamia nuts, Brazil nuts, hazelnuts, and walnuts.
Vegetables: There's a lot of room to be creative when vibrant veggies are close at hand. Some of our favorites include asparagus, cabbage, cucumber, zucchini, kale, peppers, green beans, eggplant, and Brussels sprouts.
Fruit: You can still enjoy fruit on a low-carb diet, but your choices will be dictated by how strict you're being with your carbohydrate intake. For example, when you're aiming for a lower number of carbs in your daily diet, reach for strawberries, blackberries, and raspberries in moderation. If your numbers are closer to 100g of carbs per day, feel free to add in larger amounts of dark berries, plus fruits like cherries, cantelope, peaches, and plums.
Favorite Low-Carb Products
Prep your low-carb pantry with these must-have ingredients.
Thrive Market Organic Garlic Powder
Our organic garlic powder is made with fresh garlic bulbs, and doesn't have a bitter aftertaste. That means you can add it liberally to sauces, dry rubs, dressings, and more.
Thrive Market Organic Curry Powder
Curry powder adds bold flavor to anything you sprinkle it on. This versatile powder works with fish, chicken, beef, roasted veggies, or even homemade mayos.
Wild Planet Wild Albacore Tuna
With cans of tuna stacked in the pantry, a fast and nutritious lunch is always within reach. Wild Planet catches smaller fish (which means less mercury) that are packed by hand with a pinch of sea salt.
Primal Kitchen Chipotle Lime Mayo
Made with avocado oil (a source of healthy fats), this chipotle-infused spread adds instant flavor to tuna, tacos, dips, and dressings—with zero carbs.
Thrive Market Organic Apple Cider Vinegar
This 32-ounce bottle of ACV is made from the fermented cider of organic apples. It's unfiltered, which means the "mother" is intact, offering added enzymes, proteins, and good bacteria.
Easy Low-Carb Diet Recipes
Lowering your carb load doesn't mean giving up on flavor. These five low-carb recipes will keep your taste buds happy for breakfast, lunch, and dinner.
Chicken Zoodle Soup
This Instant Pot soup recipe relies on veggies like kale, carrots, and zucchini to add nutrition to every spoonful. Bonus: It cooks in just 30 minutes.
Turkey Sage Meatballs With Spaghetti Squash
Comfort food with a twist! Instead of noodles, spaghetti squash stands in as a healthful base for these tender turkey meatballs flavored with sage, onion, and pine nuts.
White Bean and Herb Zucchini Noodles
Can you sense a theme here? Starting a low-carb diet means you'll need to say goodbye to favorite pasta dishes, but zucchini noodles make a great stand-in! We loaded this plate of zoodles with creamy beans and fresh mint for a light yet satisfying meal.
Coconut Creamed Spinach With Eggs
Fuel up with protein! Eggs, spinach, and creamy coconut milk make this dish feel extra decadent. It's a homerun for breakfast, but you could also serve this up for lunch or dinner.
Olive Oil-Poached Sea Bass
Here's an elegant twist on fish you'll want to add to your meal rotation. When poached in EVOO, sea bass becomes extra tender and flaky—ideal for serving alongside your favorite low-carb veggie.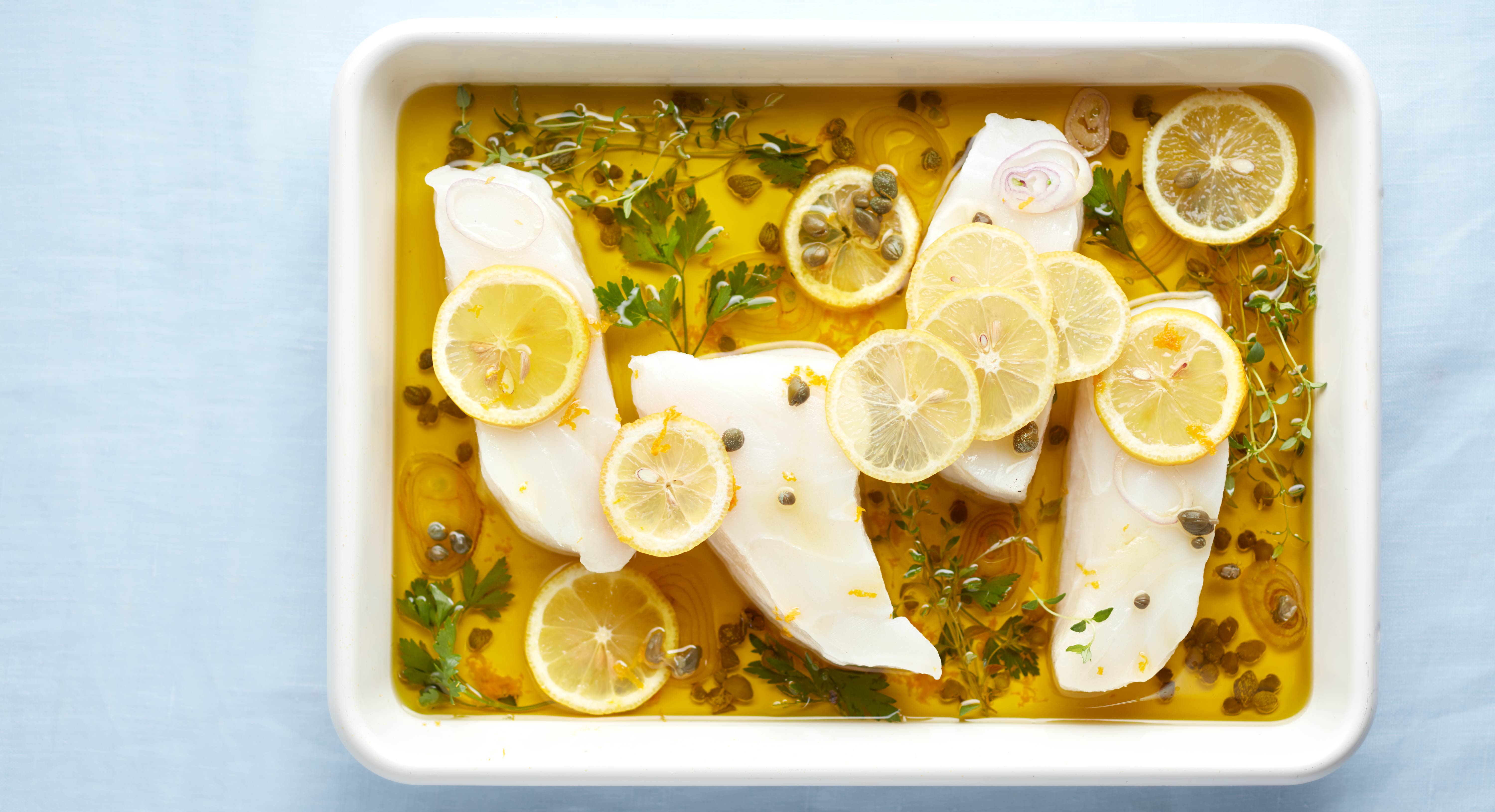 ---
What's a Keto Diet?
A ketogenic diet is aimed at getting your body into ketosis, a fat-burning metabolic state that occurs when you limit your carb intake. When you reduce carbs this drastically (even more so than on a more general low-carb diet as described above), your body learns to burn fat for energy instead of glucose.
Benefits of the Keto Diet
Low-carb and ketogenic diets share similar benefits. Many people report seeing weight loss, and studies have shown that a low-carb/high-fat diet has been linked to lower blood pressure. Improved focus may also be a positive side effect of going keto—a 2012 study found that this diet may improve mental cognition and memory.
What can you eat on the keto diet?
Wondering what to eat on a keto diet? It's helpful to start with what you should avoid. Here's what you should nix from your diet ASAP if you're planning to go keto:
Grains (rice, pasta, quinoa, and wheat)
Processed food
Beans
Legumes
Vegetable oils
Milk
Juice
High-carb nuts (pistachios and cashews)
Nightshade vegetables (tomatoes, eggplants, and peppers)
Instead of filling your plate with empty carbs, sugar, and starches, load up on good fats, protein, dairy, and leafy greens. (Our blog has extra resources to help you build a full keto-friendly shopping list.)
Ketogenic Pantry Staples
A keto-friendly pantry isn't complete without these top Thrive Market picks!
Thrive Market Grass-Fed Beef Bone Broth
For sipping, simmering soups, or making pan sauces, grass-fed bone broth is a ketogenic all-star ingredient.
Thrive Market Organic Raw Almonds
Amp up the crunch factor of any dish by tossing in organic raw almonds. Pro tip: roast them first to bring out a nuttier flavor.
Primal Kitchen Avocado Oil
This neutral oil is cold-pressed and a great option for higher heat cooking. Use it in salad dressings, add a drizzle to roasted fish, or coat your veggies before sliding them into the oven.
Thrive Market Organic Coconut Butter
Our coconut butter is made from only one ingredient: organic coconuts. That makes this pouch gluten-free, paleo-friendly, ketogenic, and dairy-free. You can whip up a vegan mayo, or use it to replace traditional butter in your baking recipes.
Best Ketogenic Recipes
Start exploring a keto meal plan with tasty recipes that'll keep you coming back for more.
Instant Pot Keto Ribs
Instead of a brown sugar-based dry rib, this Instant Pot recipe uses ketogenic flavor enhancers like paprika, onion powder, and garlic powder.
Ketogenic Pork Chops With Creamy Mushroom Sauce
Stay in and cook up a keto meal that's perfect for two. Tender pork chops pair with earthy mushrooms and a luscious butter and cream sauce. Licking the spoon is highly recommended.
Lamb Burgers With Pistachio Pesto
This lamb burger recipe is from Primal Kitchen founder Mark Sisson. The nutty pistachio pesto is a surprising way to dress it up every bite, sans buns.
Salmon With Cauliflower Rice
Cauliflower rice serves as a base for roasted salmon and a big serving of sautéed veggies seasoned with allspice, cinnamon, and cumin.
Keto-Friendly Carnitas
Keto carnitas are fit for a crowd, but this dish will send you to leftover heaven if you save it all for yourself. Just freeze what you don't eat to build future meals in a flash.
For more, check out our ultimate guide to the keto diet!