Just because you're eating a low-carb, high-protein diet doesn't mean meal prep has to feel like a rollercoaster ride filled with highs and lows. One of the best tips for low-carb, high-protein eating is to plan your meals in advance [1]. Keeping a go-to high-protein, low-carb food list handy and a stocked pantry and fridge filled with approved ingredients makes it easy to pull together a snack or a quick dinner without messing up your food goals. Keep reading to learn what to enjoy and what to skip.
Understanding High Protein Low Carb Foods and Diet
On this diet, you restrict carbs (like pasta and bread) and opt for high amounts of protein, healthy fats, and vegetables. Eating high-protein, low-carb foods is believed to help keep blood sugar levels more stable while lowering your levels of insulin [2], the fat-storing hormone. And when you're feeling full, it's more likely you'll eat less overall, which can lead to weight loss.
High-protein, low-carb foods
When following a diet with high protein low carb foods, you should choose real foods from these categories.
Meats
Fish and seafood
Natural fats
Cheeses
Vegetables
And here's the list of foods to avoid.
Fruit
Potatoes
Pasta
Beer
Bread
Soda/Juice
Donuts
Candy
Benefits of High-Protein, Low-Carb Diet
Here are a few reasons people enjoy following a high-protein, low-carb diet.
Risks of Low-Carb Diets
Many people find that they thrive on low-carb diets, but this eating plan is not without its risks, and it's important to be aware of them.
The potential risks of low-carb diets include:
Increased cholesterol
Eating a lot of foods that are permitted on a high-protein, low-carb diet, such as dairy and fatty meats, can raise your cholesterol and in turn increase your risk of heart disease [4].
Kidney problems
Eating a large amount of protein may tax your kidneys.
Osteoporosis
Some research suggests high-protein, low-carb diets could affect bone health.
Nutrient deficiency
If you focus your diet on protein and skip out on plant-based foods like fruits and starchy vegetables, you may run the risk of not getting all the nutrients these foods provide.
Unpleasant side effects
Suddenly cutting all or most of the carbs from your diet can lead to some uncomfortable side effects, such as fatigue, gastrointestinal issues, and headaches, though these symptoms are usually temporary.
Before making major changes to your diet, consult your physician or another health professional. They can explain the risks of low-carb diets in detail and help you determine the right diet for your unique needs.
High-Protein Food List
When you're looking to eat high-protein foods, make sure some of these ingredients fill up your plate.
Beef
Chicken
Tuna
Turkey
Pork
Tuna
Nuts and seeds
Eggs
Mozzarella cheese
Greek-style yogurt
Spinach
Black beans
Seitan
Tofu
Peas
Pistachios
Pumpkin seeds
Best High-Protein, Low-Carb Snacks
We don't like to brag, but our staffers are basically snack experts. And snacktime love extends to our members, too. Here's a roundup of some of our most popular high-protein snacks that you'll love to include in your weekly rotation.
No carbs here! Just 13 grams of protein per serving. These meaty fish make a great lunch or a post-workout snack to keep you fueled with healthy fats.
It might taste like maple bacon, but this jerky is completely plant-based, with 7 grams of protein and 7 grams of carbs per serving to boot.
Made with just one ingredient (pasteurized parmesan!), these cheesy bites have only 1 gram of carbs per serving and provide 13 grams of protein. Enjoy a few on their own, or crumble them on top of soup or salad.
Sometimes nothing beats a quick smoothie to give you an afternoon pick-me-up. Blend one with a scoop of this whey protein, serving up only 3 grams of carbs and a whopping 20 grams of protein.
Low-Carb Food List
Now, we'll highlight foods for a low-carb, high-protein diet that are specifically low in carbohydrates. When you stick with a rainbow of veggies, plus a few fruits and crunchy nuts, you won't feel deprived while eating low-carb.
Low-Carb Vegetables
The rule of thumb is any vegetable that grows above ground is low-carb and can be eaten in any amount. But veggies growing below ground (like potatoes) have more carbs, so you'll need to monitor these ingredients more closely. [5]
Spinach
Asparagus
Avocado
Cabbage
Cucumber
Zucchini
Kale
Broccoli
Peppers
Green beans
Brussels sprouts
Eggplant
Top 10 Low-Carb Fruits
On a strict low-carb diet, you can enjoy strawberries, blackberries, and raspberries in small amounts. [6] Moderate dieters can enjoy them more frequently.
Raspberries
Blackberries
Strawberries
Blueberries
Plums
Clementines
Kiwis
Cherries
Cantelope
Peaches
Best Nuts for a Low-Carb Diet
Pecans
Macadamia nuts
Brazil nuts
Walnuts
Hazelnuts
13 High-Protein Low-Carb Recipes
These recipes might be low-carb, but they're definitely high in flavor (with added protein, to boot!).
Spaghetti and meatballs? This recipe has a twist. Spaghetti squash stands in for the noodles, and the bowl is topped with tender turkey meatballs flavored with onion, sage, dried cranberries, and pine nuts.
Here's another way to get your pasta fix sans gluten. Load up a plate of "zoodles" with cannellini beans, parsley, mint, and onions. Tossed with olive oil, the combination makes a satisfying light supper.
This pesto has some superfood ingredients like kale and hemp seeds to deliver a boost of omega-3 fatty acids and antioxidants. Spoon it over grilled chicken or steak, or toss it with spaghetti squash instead of plain noodles.
Can you tell we're on a spaghetti squash kick? Here's another inventive way to use it—in soup form! The broth is simmered with ginger, lemon, chicken, and loads of veggies for a comforting bowl.
Start your day with protein! Spinach creamed in silky coconut milk adds rich flavor and healthy fats to your morning, and a runny egg over the top is the perfect finishing touch.
Instead of regular flour, sub in almond flour for a low-carb version of classic quiche. We fill ours with lots of green veggies like zucchini, asparagus, and peas.
This refreshing salad will hit the spot on a warm day. Raw zucchini is marinated with lime and EVOO for added flavor, while mozzarella adds a protein boost.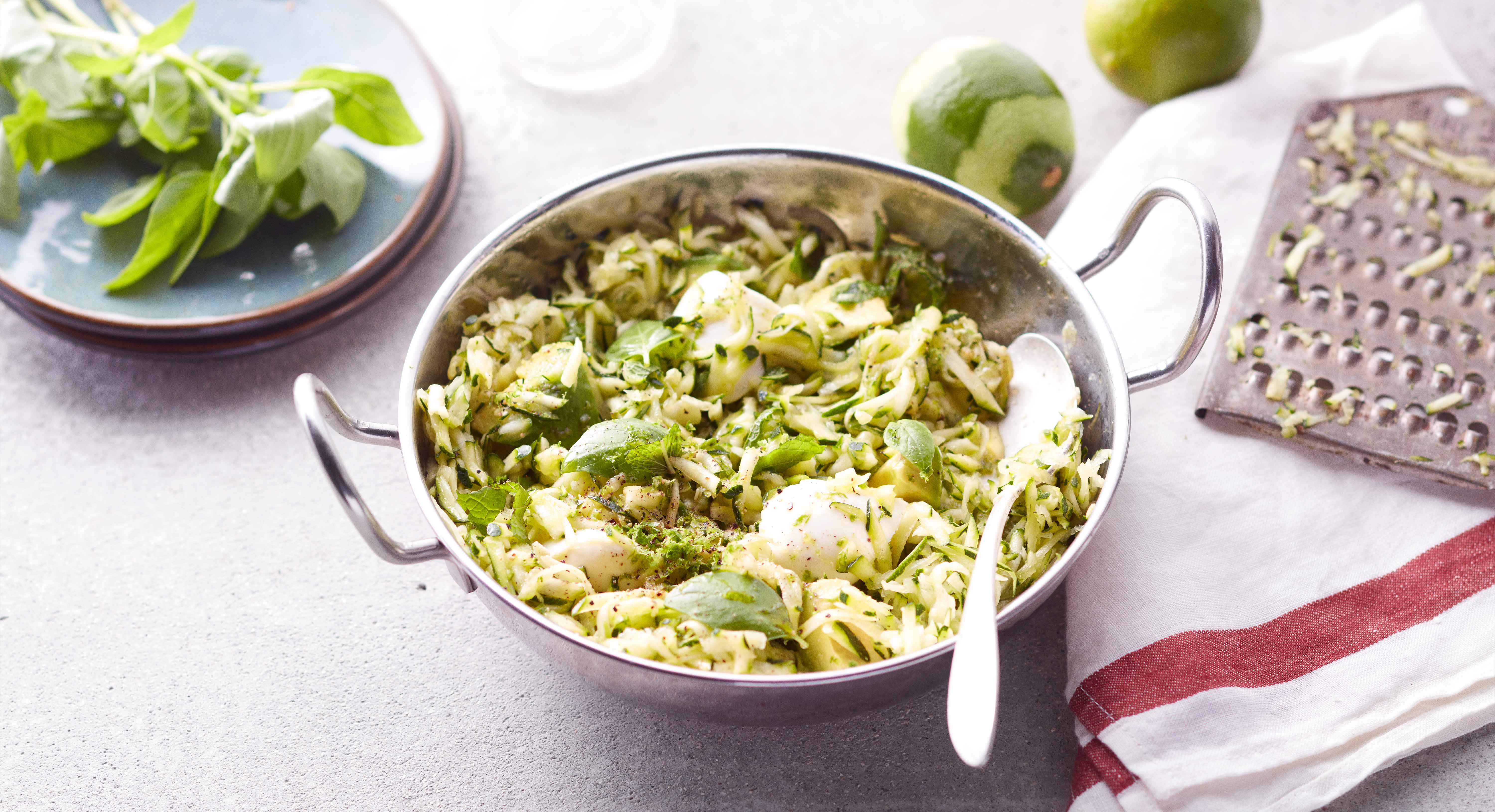 Traditional French flatbread called socca is made with chickpea flour (which is lower in carbs than white flour). Top it with zucchini, watermelon radish, and feta for a springtime-inspired meal.
If roast chicken is your kind of comfort food, give it a kick with garlicky hot chile paste. The side of cool yogurt-mint sauce will balance the heat.
Poached in olive oil, this tender and flaky fish is the perfect low-carb dinner. Serve it alongside your favorite veggies at your next dinner party.
Try our tangy take on chicken kebabs, in which the meat gets rubbed in a lemon-turmeric yogurt sauce before going on the grill. Add fresh coleslaw on the side and you're set for dinner.
Reach for Thai-inspired flavors like lime juice and fish sauce to shake up your next fish fry.
Cauliflower rice makes the base for roasted salmon that's flavored with a medley of spices like allspice and cinnamon.