When the term superfood first started getting a bit of buzz, it described a food that was especially loaded with nutrients—things like antioxidants and omega-3 fatty acids that support human health.
Amid the wellness boom, the superfood category grew to include not just fruits, vegetables, and fish, but also things like functional mushrooms, adaptogenic herbs, and deep sea algaes, plants that have been used for thousands of years to improve human health in various forms. Now that they're available in convenient forms like supplements, powders, snacks, and tinctures, these ancient remedies have gained appeal for a whole new audience. Though if you're wondering what makes them so super—well, you can thank Mother Nature for that one. 
What are superfoods?
"Superfood" generally refers to a food that is exceptionally nutrient dense. While no food is a miracle cure, the list of superfoods includes things like salmon (rich in omega-3 fatty acids), blueberries (high in antioxidants), and almonds (packed with plant protein).
So-called superfoods may include larger-than-average quantities of things like:
Antioxidants
Fiber
Protein
Omega-3 fatty acids
Vitamins
Minerals
Whether you're looking to up your intake of essential nutrients or to test-drive a natural remedy for stress, here's a handy guide to some of the most incredible superfoods the Earth has to offer.
Superfood Fruits
What are superfood fruits?
You're certainly familiar with blueberries, but some of the most nutrient-dense superfood fruits are far less common. While fruits are all fairly high in nutrients, some are more worthy of the superfood title.
What makes them super?
Most fruits are generally high in fiber, which makes them a filling snack that's good for your digestive system. The most super of superfood fruits are also incredibly high in antioxidants, which help to protect cells against free radicals and may help your body fight off disease.
Types of superfood fruits:
How to eat superfood fruits:
Blended in smoothies
On their own as a snack
In trail mix
As a topping for oats or granola
In salads
To give desserts a healthy boost
Recipes with superfood fruits:
Frosé With Goji Berry Simple Syrup
Superfood Hot Chocolate with Acai and Goji Berries
Acai Beauty Bowl
Superfood Seeds
What are superfood seeds?
A seed is the starting point of a plant, but it's also a super nutritious food in its own right. Seeds are, quite literally, embryonic plants covered in some type of hard outer shell, though they come in a wide variety of shapes and sizes, from tiny chia seeds to snack-sized sunflower seeds.
What makes them super?
Seeds contain things that plants need to grow, such as fiber, monounsaturated fats, vitamins, minerals, and disease-fighting antioxidants. While the health benefits of each seed vary, certain types may help to reduce blood pressure and other risk factors for heart disease.
Types of superfood seeds:
How to eat superfood seeds:
Blended in smoothies
Soaked overnight to create a pudding
As a type of milk
In place of eggs for baking
Toasted and used as a topping
Superfood seed recipes:
Pumpkin Quinoa Pancakes
Coffee Chia Pudding
Hemp Macadamia Raw Bars
Superfood Roots
What are superfood roots?
Medicinal roots have been used in herbal medicine for thousands of years, and for very good reasons. These knotty, strangely shaped roots add a strong flavor to your cooking (or your smoothie), and they're loaded with beneficial nutrients.
What makes them super?
Certain roots offer powerful anti-inflammatory and antioxidant effects, thanks to bioactive compounds like gingerol (found in ginger) and curcumin (found in turmeric). These also help to naturally soothe nausea, lower cholesterol, and improve brain function.
Types of superfood roots: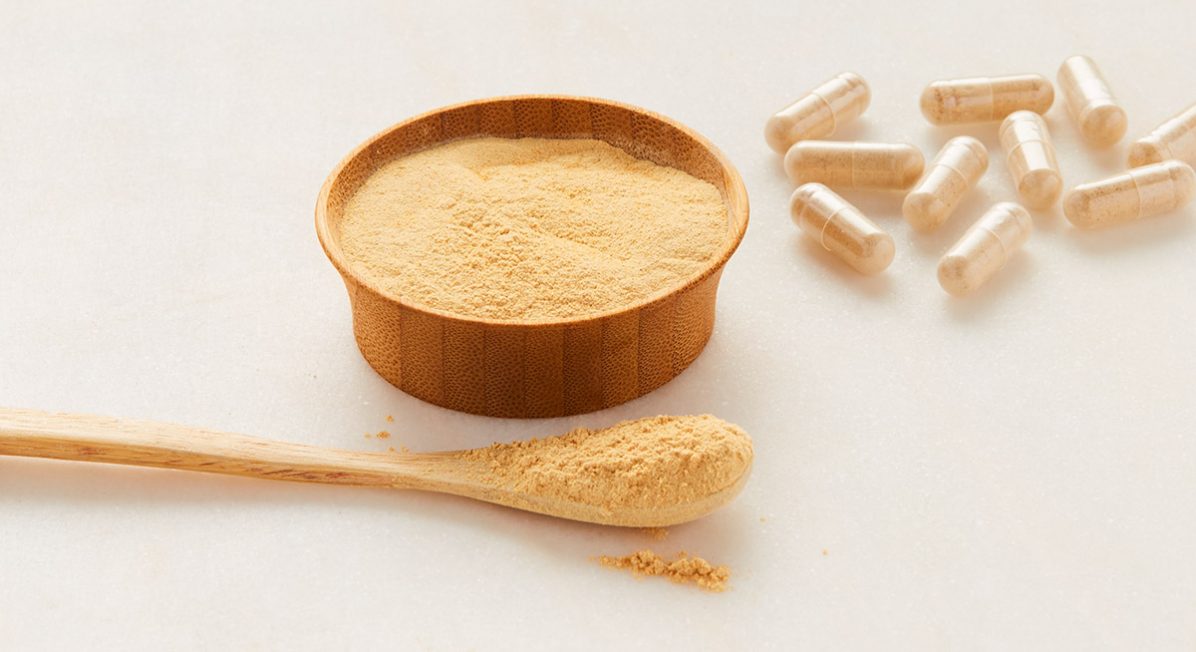 How to eat superfood roots:
Dried in powder form
Minced or diced to flavor while cooking
Brewed into tea
Sprinkled in baking
In capsule form (as a supplement)
Superfood root recipes:
Maca and Raspberry Smoothie
Turmeric Wellness Tonic
Superfood Golden Milk Smoothie
Functional Mushrooms
What are functional mushrooms?
Certain types of mushrooms provide more than just nutrition and earthy, umami flavor. These functional (also called medicinal) mushrooms are believed to positively impact your overall health in addition to simply providing you with essential nutrients.
Why are they super?
True to their name, functional mushrooms are shown to provide some sort of function, like combating inflammation or fighting off disease. Certain types of functional mushrooms may even offer mood-boosting benefits, helping the body to ward off stress and increasing your resistance to anxiety.
Types of functional mushrooms:
How to eat functional mushrooms:
Sauteed as a side dish
In pastas
Infused in teas or other beverages
In powder or supplement form
In soups
Taken as a tincture
Functional mushroom recipes:
Pumpkin Reishi Soup
Mushroom Toast
Vegan Mint Hot Chocolate with Functional Mushrooms
Adaptogens
What are adaptogens?
Looking for a natural way to combat stress? Adaptogens may be the key—and these superfoods are easy to add to any diet. Adaptogens are herbs, plants, and mushrooms that have long been used in holistic medicine practices for their regulatory effects on the body.
Why are they super?
Adaptogenic herbs and plants don't just provide essential nutrients, but also offer normalizing effects that help your body to balance stress, alleviate symptoms of anxiety, and decrease fatigue. Adaptogens are shown to regulate cortisol levels and support the central nervous system, which may make them a great natural way to combat stress.
Types of adaptogenic herbs and plants:
How to eat adaptogens:
As a supplement
In powder form
Mixed in coffee or tea
To season other foods
In smoothies
Adaptogen recipes:
Ashwagandha Moon Milk
Blueberry Mint Beauty Spritzer
Seaweed and Algae
What is superfood seaweed?
It's not exactly the seaweed that you see during a trip to the beach, but it does often come from the same place. Superfood seaweeds, sea vegetables, and algaes come in a variety of sizes and types, and they can be consumed in a variety of ways.
Why is it super?
Superfood algae and seaweeds are dense in nutrients, which means you get a lot of nutritional bang for your buck from a very small serving. They offer a variety of vitamins and minerals, and most types contain iodine and amino acids to regulate thyroid function and antioxidants to help prevent diseases.
Types of superfood seaweeds and algae:
How to eat seaweed and algae:
In pill or powder form
As a wrap for sushi or vegetables
Dried as a chip-like snack
Blended in superfood smoothies
As a detoxifying drink
To season food (similar to an herb)
Seaweed and algae recipes:
Nori Chicken Wrap with Sushi Rice
Roasted Broccolini with Nori Salt
Avocado Pesto Pasta with Chlorella
Blue Spirulina Smoothie
*Consult your doctor before adding any supplements or herbal remedies to your diet.