Tapioca. Boba. Jello. Rice pudding. Mochi.
They're all chewy and gooey foods—gelatinous, even. It's a texture that some people absolutely love, and others despise. Just take the fascination with this Japanese water droplet cake, for example. When it debuted at New York's Smorgasburg food festival in April, tons of eager foodies lined up for the chance to try it.
Though not quite as bizarre as the water droplet cake, chia seeds fall into the same category. Dry, they look just like regular poppy seeds—but combine them with a liquid, and they absorb it, puffing up until they thicken into a tapioca-like pudding.
Over the past few years, chia seeds have earned a reputation as a bona fide superfood. Here's a rundown of their nutritional profile, health benefits, and 14 different ways to enjoy them.
The origin of chia seeds
Native to Central America, chia comes from the Salvia hispanica plant, a distant cousin of mint. Though chia seeds only recently gained popularity as a health food in North America, evidence suggests people have been eating them since at least 2,600 B.C.
Legend has it, the crop was so revered that it was even used as an offering to the Aztec gods. The reclusive Tarahumara people—known as incredible endurance runners—have relied on chia to fuel their long journeys for centuries. Before setting off on a 50- to 100-mile trek, they would drink a mixture of the seeds and water—a concoction athletes now call chia fresca or iskiate.
Chia remained relatively unknown in the Western world until the 1980s, when "ch-ch-ch-chia" pets exploded. Yes, the terracotta figures with growing green "fur" use the same seeds that are sold in health food stores today.
Chia seeds nutrition facts
A sprinkle of chia seeds will make just about anything more nutritious. Though totally plant-based, a single serving supplies all nine essential amino acids, which are typically found only in animal protein—great news for vegans! Gram for gram, they also have more heart-healthy omega-3s than salmon, and they're crazy high in antioxidants, too.
And that's not even the half of it. A single 1-ounce serving of chia provides:
137 calories
11 grams of fiber
4 grams of protein
6 grams of fat
18 percent of the recommended daily value of calcium
27 percent of the recommended daily value of phosphorus
30 percent of the recommended daily value of manganese
Health benefits of chia seeds
These powerful these little seeds deserve a spot in your pantry—here are some of the specific things chia can do for your health:
Combat high blood pressure
One Brazilian study found that eating chia flour can help lower high blood pressure in both people taking blood pressure medication and people with untreated hypertension.
Reduce inflammation
Chia seeds contain both soluble and insoluble fiber—the former slows digestion, while the latter passes through the body undigested as roughage.
Research suggests soluble fiber may actually change inflammatory immune cells into beneficial, anti-inflammatory cells, which can in turn help the body recover more quickly from infections and boost the immune system overall. Soluble fiber may lower cholesterol, keeps blood sugar in check, and is also thought to play a role in preventing heart attacks, strokes, and other inflammatory diseases.
Improve brain health
Chia seeds contain alpha-linolenic acid, a type of omega-3 that increases the levels of brain-derived neurotrophic factor, a protein crucial to brain function. Consuming more of this specific fatty acid could enhance learning and memory and keep neurons healthy. (Side note: alpha-linolenic acid also reduces the risk of heart attacks and heart disease generally.)
Promote healthy muscles and bones
The phosphorous and manganese found in chia seeds work together to build strong muscles, connective tissues, and bones—manganese in particular has been researched for its ability to lessen symptoms of osteoporosis and arthritis.
Boost energy
Researchers from the University of Alabama found that a chia-based drink was just as effective as Gatorade at maintaining runners' energy levels during rigorous training sessions. In fact, the study ultimately concluded that the natural option was better, since it allowed athletes to reduce their sugar intake and provided a hearty dose of omega-3 fatty acids. Watch the video below to find out how to make your own DIY version!
Cooking with chia seeds
Chia are ideal for topping smoothie bowls, salads, and soups, sure, but don't stop there. Because they absorb up to 10 times their weight in liquid, they work well as a thickener in sauces, soups, and gravies.
Start with the three simple ways to cook with them—in tapioca-like pudding, as a vegan egg substitute for baking, and in a quick jam.
Chia seed pudding
With only three ingredients, chia pudding comes together in a flash and costs very little—it just might be the easiest breakfast (or dessert) ever. Opt for maple syrup to make it vegan, or skip the sweetener entirely to keep it sugar-free.
Plus, it's endlessly customizable. For a chocolate pudding, mix in 1 ½ teaspoons cacao powder and sprinkle with cacao nibs; do a Japanese take with 1 ½ teaspoons matcha powder; or blend raspberries or strawberries with the almond milk for extra fruity flavor.
Chia Pudding
Yield: 2 to 3 servings
Active Time: 5 minutes
Total Time: 20 minutes
Ingredients
2 cups almond milk
6 tablespoons chia seeds
2 tablespoons maple syrup or raw honey (optional)
Instructions
Stir all ingredients together in a small bowl. Let sit at least 15 minutes or overnight, covered, in the fridge. Top it with coconut flakes, fresh berries, and cacao nibs, if you like.
Chia "eggs"
Forgot to pick up eggs at the store? Cooking for someone with an allergy? Decided to cut out animal products? No problem—chia seeds can easily replace eggs in all kinds of baking recipes.
Eggs supply crucial fat and moisture and act as a "binder" in baked goods. Skip them entirely, and your cake or cookies just won't turn out. With a similar consistency and fat content, chia seeds combined with water make the perfect replacement.
Chia "Egg"
Yield: 1 serving
Total Time: 5 minutes
Ingredients
1 tablespoon chia seeds
3 tablespoons water
Instructions
Grind chia seeds in a coffee or spice grinder. Combine with water in a small bowl and let sit for 5 minutes. Substitute at a 1:1 ratio for eggs in baking recipes.
Note: You can leave the seeds whole if you prefer, but the black specks in the finished product will make the swap pretty obvious.
Chia jam
Traditional jam recipes typically require slowly simmering fruit with sugar until it reduces, or mixing in thickening additives like pectin. Chia jam is super quick to whip up, and only requires a few minutes to set—follow along!
Chia-Berry Jam
Yield: About 1 cup
Active Time: 5 minutes
Total Time: 20 minutes
Ingredients
1 cup berries of choice
2 to 3 tablespoons raw honey
4 tablespoons chia seeds
Instructions
Pulse berries and honey in a food processor until smooth. Transfer to a small bowl and stir in chia seeds. Let stand 15 minutes to thicken. Store in fridge up to 3 days.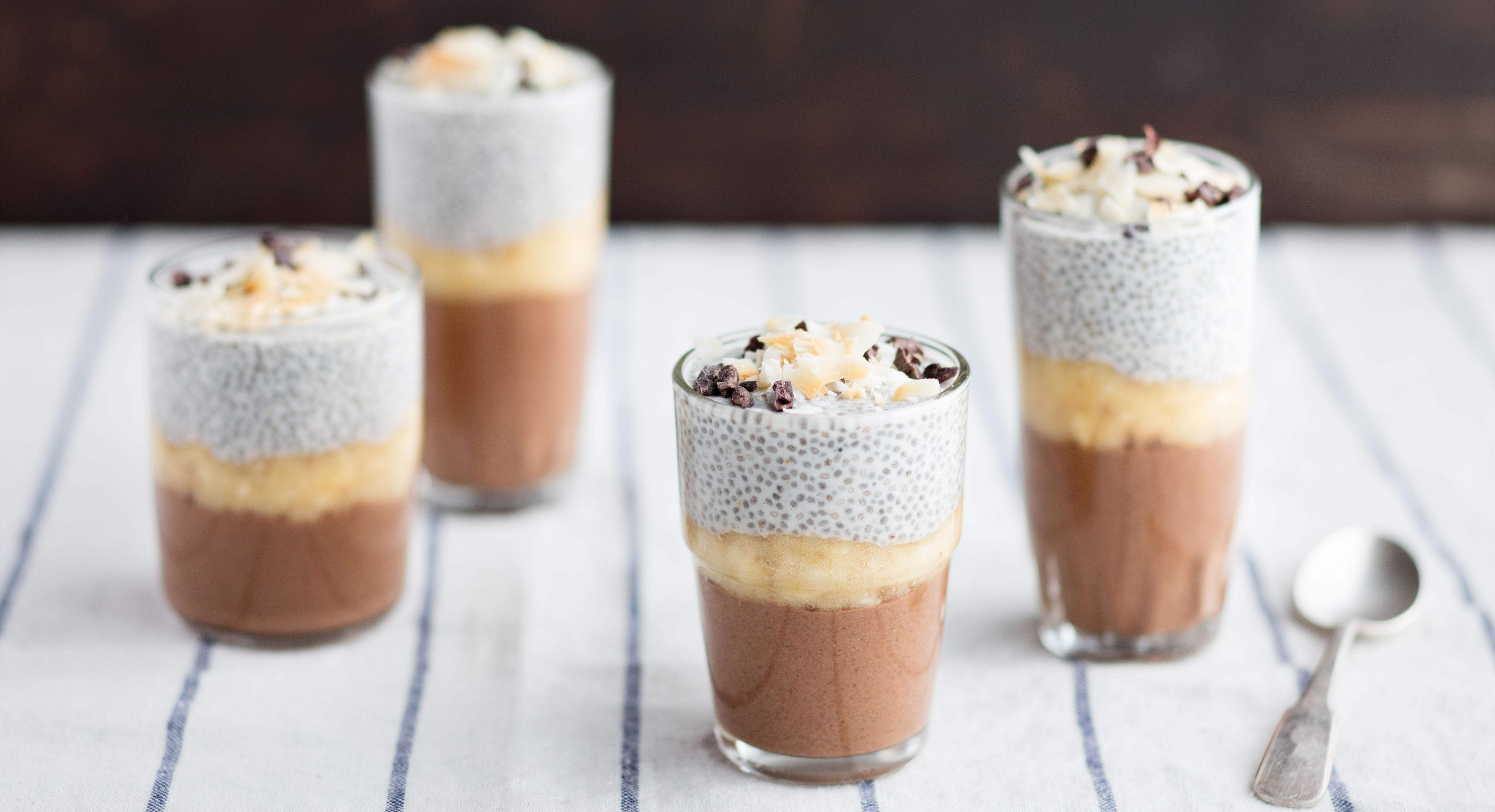 Recipes with chia seeds
Once you've got the basics down, take it up a notch with these more advanced recipes.
Fans of green tea will love this sweet-yet-earthy version topped with hemp seeds for some crunch and raspberries for a burst of tart flavor.
Think of this recipe as the grown-up version of those fruit-on-the-bottom yogurt cups. Coconut milk lends a creamy sweetness to the pudding—the perfect complement to a blend of fresh and dried apricots.
Up the ante with a triple-layered dairy-free parfait with decadent chocolate mousse, mashed banana, and light vanilla chia pudding in every spoonful.
Instagrammers have moved on from smoothie bowls—now it's all about the layered "smoothie stack." Not one, not two, but five(!) different layers go into our version: raspberry-beet, strawberry-maca, blueberry-spinach, chia pudding, and mashed mixed berries.
If you love pudding pops, you gotta try these—frozen vanilla chia pudding and balsamic-roasted blueberries are especially tasty with the unexpected addition of cracked black pepper. So good for summer!
An ultra-decadent, super rich chocolate mousse that's raw and vegan? Yep. Blending chia seeds into the mixture helps it set, while medjool dates add sweetness without any refined sugar.
Making your own nut butter is as simple as throwing the ingredients in the food processor, and maybe thinning out the mixture with a little oil. Amp up almond butter with flax seeds, chia seeds, and coconut oil for extra healthy fats. (A little cinnamon and maple syrup can't hurt, either.)
Almonds and rolled oats take the place of butter and flour in these healthified cookies filled with homemade chia-berry jam. The finished treats taste absolutely heavenly—and getting extra omega-3s is always a good thing.
On the Paleo diet, all grains are off the menu—see ya never, oatmeal. Make a hot breakfast cereal that's just as filling and packs in twice the fiber with a combination of shredded coconut, chia seeds, flaxseeds, and hemp seeds.
Our Paleo-friendly take on granola pairs a crunchy blend of coconut flakes, nuts, and chia seeds with cacao powder and coconut oil for a touch of decadence.
Summer is squash season—is there any better way to take full advantage of it than savory-sweet chocolate zucchini muffins?
Photo credit: Alicia Cho, Paul Delmont