As Thrive Market employees, we know a lot about our products. We swap recommendations, we sample freely at Thrive Market HQ, and we're the first to add newly-launched items to our orders. Editor's Picks is a monthly column rounding up the top three products our blog editors are loving.
This June, we're celebrating Pride Month with a few members and allies from our House of Thrive (H.O.T. for short) employee resource group. They're recommending their favorite products from some of our LGBTQIA+ founded brands, as well as a summer-ready granola perfect for topping fresh fruit and yogurt bowls, the regeneratively grown coconut oil you'll want to use for every cooking need, and a peanut butter that reminds our design manager of his Australian roots.
Read on for this month's best Thrive Market products.
Jeffrey Chan, Manager, Digital Design & Brand
Pipcorn Cheese Balls in Spicy Cheddar with Tabasco Sauce (LGBTQIA+ founded!)
So imagine Cheetos, but better. These hit with just the perfect amount of heat and Tabasco flavoring. For movie nights at home or when I just feel like plopping down in front of the TV for a pity party for one, this is the perfect snack.
Patience Fruit & Co SourCran in Sour Peach
Okay, so this was honestly life-changing. I just happened to stumble across these when we were at a shoot and my life has not been the same since. It's like sour candy, but it's good for you because it's just cranberries with natural flavorings! I will 100% smash a whole bag in one sitting.
Thrive Market Organic Whole-Grain Granola in Toasted Vanilla Crunch
You know when you wake up and you're looking for something that just hits the spot? It's this. I add it to my Greek yogurt with a little drizzle of honey and if I'm feeling fancy that morning, some fresh berries. The crunch is EVERYTHING.
Fix & Fogg Super Crunchy Peanut Butter
Okay I have to pop in a product from down under (even though I'm an Aussie, New Zealand is close enough!). I used to buy this back at home, and it just slaps on a rice thin with some jam as a quick arvo (that's "afternoon"!) snack. Also super crunchy peanut butter is where it's at if you haven't tried it before!
Kristin DeSimone, Associate Director, Mission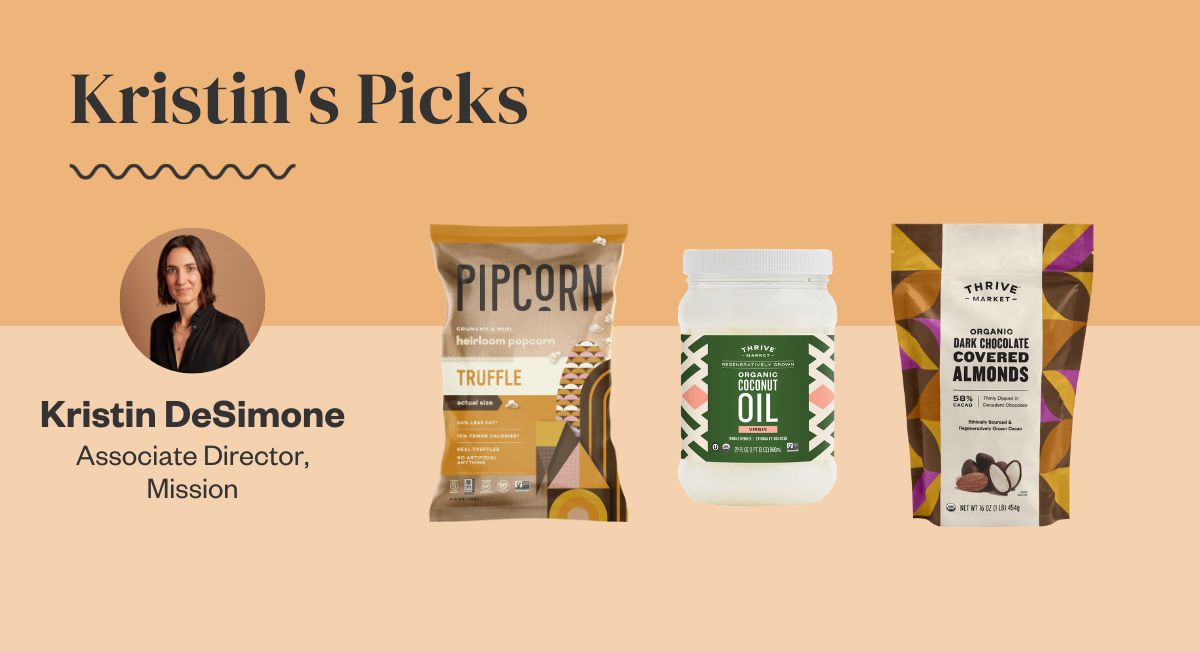 Pipcorn Truffle Popcorn (LGBTQIA+ founded!)
I love anything with truffle, so this popcorn is the perfect snack.
Thrive Market Organic Regeneratively Grown Coconut OIl
Our coconut oil is not only regeneratively grown, it's also delicious. You can use it for everything; I use it all the time while cooking, but I love it so much, I even put it in my coffee.
Thrive Market Organic Dark Chocolate Almonds
Because I'm a chocolate fiend — enough said!
Carolyn Cho, Member Services Resolutions Specialist
Pipcorn Corn Dippers in Sea Salt (LGBTQIA+ founded!)
I've been enjoying this crunchy, salty, and crispy corn dipper snack (with just 3 ingredients!) in one sitting. I love how Pipcorn uses non-GMO white heirloom corn, which provides more flavor, better nutrition, and is more environmentally sustainable. It's the perfect pairing to enjoy with a tasty salsa or as a sub for the chips for your next nacho dish!
Coolhaus Best of Both Worlds Vanilla Ice Cream Pint
As an ice cream lover for life, Coolhaus has been my go-to ice cream for its unique dairy and non-dairy flavor combinations in cones, pints, and sammies. One of my favorite flavors is their Best of Both Worlds vanilla ice cream, which has both Tahitian and Madagascar vanilla beans, making it extra flavorful. I must try all their other flavors — it's like the feeling of being a kid again, able to enjoy and savor the smooth creaminess and sweetness of ice cream all year round!
Well People Expressionist Pro Mascara, Black (LGBTQIA+ founded!)
This is a must-have mascara to use whenever you need your eyelashes to pop with definition without the clump that helps make them fuller-looking, creating length and lasting all day. There are so many different kinds of mascaras, but I love that Well People stand for using non-toxic, botanical, and ethically sourced ingredients and are EWG verified.
Discover more of the best Thrive Market products:
Editor's Picks: The Products Our AAPI Employee Resource Group Can't Live Without
Editor's Picks: Our Favorite Products in March 2023
Editor's Picks: Our Black Thriver Union's Favorite Products in February