As Thrive Market employees, we know a lot about our products. We swap recommendations, we sample from the "free table" at Thrive Market HQ, and we're the first to add newly-launched items to our orders. Editor's Picks is a monthly column rounding up the top three products our blog editors are loving.
In March, we *finally* found the perfect plant-based protein powder, waxed poetic about rice with a side of seaweed, and sampled just about every sweet snack on the site. For these and more of what the Thrive Market blog editors bought and loved this month, read on.
Amy Roberts | Senior Writer, Editorial
Thrive Market Organic Sprouted White Wheat Flour
I've been baking a lot of bread from this classic New York Times "no-knead" recipe, and this flour has really taken it to the next level. It's a little milder than whole wheat flour, but it feels a bit healthier than a white flour—a win-win when you're making multiple loaves a week.
Pacifica Reusable Under Eye Masks
I first bought these reusable under eye masks as a more sustainable alternative to disposable ones, but after using them regularly for a few months, I actually like them more than their single-use alternatives. I pair them with my favorite eye cream in the morning when my eyes are puffy and dry, then wear them while I make my daily pour-over.
Thrive Market Organic Maca 
There's a juice bar in my neighborhood that makes a smoothie with coconut water, frozen banana, cacao nibs, dates, and a ton of maca, and it's so yummy and filling, I crave it all the time. When I don't want to run out (or pay LA smoothie prices!), I use this organic maca powder to make it at home. 
Jon Kim | Writer & Creative Production Coordinator
Gimme Organic Seaweed Snacks
Koreans eat a lot of rice. Rice is often cheap; rice tempers the stronger acidic and fermented flavors ubiquitous in our fare; rice can stretch out last night's stew into this morning's congee. And rice's best friend is seaweed. At dinner time, my family members and I would all open packets of oil-marinated seaweed, or gim, next to our serving of heaped rice. It's something I never thought about, because it feels so foundational to how I grew up eating. So imagine my surprise witnessing the explosion and proliferation of seaweed-related food stuffs over the past five, ten years. To see seaweed being championed for the reasons I have loved it — a salty, savory, crunchy, light friend that can accompany and compliment the modern person's increasingly-diverse palette — is moving.
Bachan's Japanese Barbecue Sauce
Ever since I was little, carrots never made sense to me. I tried so hard to love the root – hiding coins of it in curries. Dipping baby carrots in ranch. Julienning thin strips of the veg in salads. I couldn't do it until this sauce came into my life. I first roasted, then smashed carrots (perhaps in pure carrot catharsis) before tossing the whole batch in a homemade vinaigrette made with Bachan's, homemade chili oil, and rice wine vinegar. Throw some thinly sliced green onion and small morsels of granola on there for some crunch — and you have the perfect salad.
Thrive Market Bamboo Spice Jars
Contrasted to New Years resolutions, spring cleaning hits me as a more optimistic and action-oriented time than January. It acknowledges the reality of mess and encourages me to get out and do something about it. The spice cabinet is so often neglected due to poor organizing; some spices dating back millennia (or thereabouts). Cleaning out and organizing your spices won't solve all your problems, but the feeling afterwards is energizing.
Kirby Stirland | Senior Manager, Editorial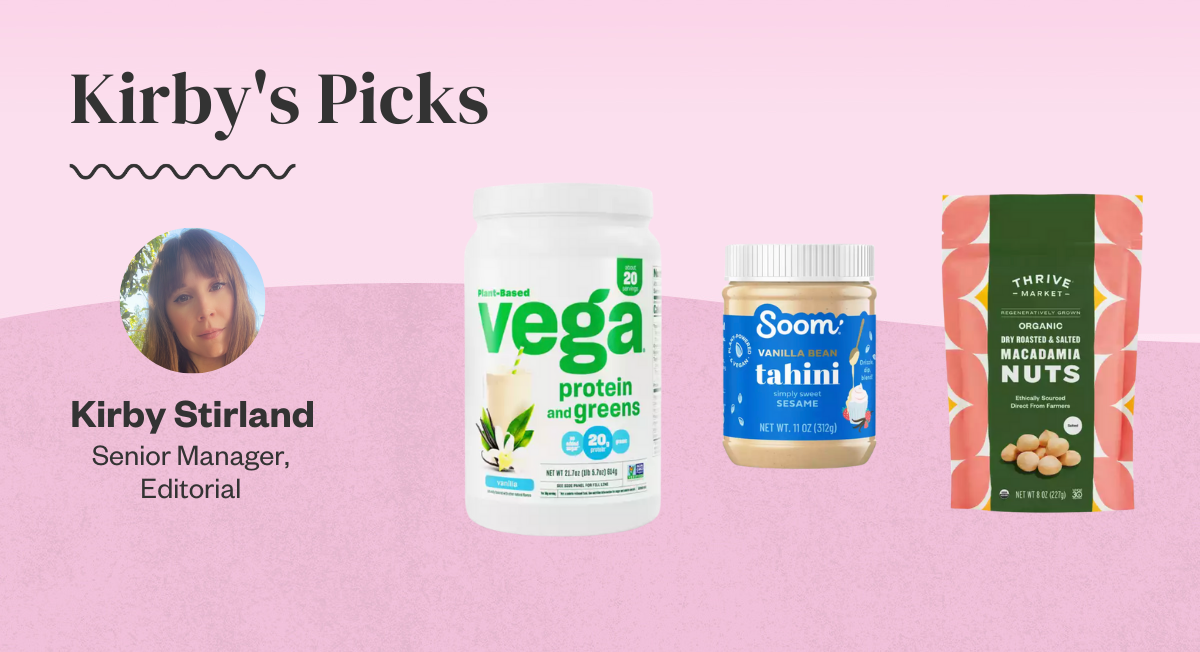 Vega Plant-Based Protein and Greens Powder, Vanilla
After lots of trial and error, I think I've finally found the right protein powder for me. This one checks all the boxes: Not overly sweet, high-quality ingredients, and a smooth, non-chalky texture. Adding protein powder to smoothies always seems to overpower the taste of the other ingredients, so I need one that tastes good mixed with just water, and this one fits the bill. The addition of greens is a nice bonus.
Soom Tahini, Vanilla Bean
I recently used this flavored tahini from Soom to make Kalejunkie's "life-changing" tahini chocolate chip cookies, and they came out beautifully. (If you try this, I recommend cutting the maple syrup in half to account for the additional sweetness.) It was my first time making this recipe, but definitely not the last! Don't skimp on the flaky salt.
Thrive Market Organic Dry Roasted & Salted Macadamia Nuts
There's no moderation when it comes to these macadamia nuts. The texture and flavor are just so good. Plus, I love that they come from a women-led regenerative co-op.