At the base of Mount Kenya, the volcanic soil is orange-red and rich with nutrients. Small-scale farmers have grown macadamia nuts in this region since the 1970s, but they haven't always received a fair price for their buttery, crunchy, nutrient-rich product.
To source our Thrive Market Organic Macadamia Nuts, we've partnered with a cooperative of 5,000 small-scale organic farmers in the Mount Kenya region. By cutting out the middleman and paying our partners a fair living wage, we aim to empower the small farms and Kenyan community to keep doing things the right way. The co-op ensures that these farmers have the resources they need to grow their crops using organic, sustainable, and regenerative practices—no matter the size of the farm or its output.
"We are honored to bring these macadamia nuts to members and partner with such an inspiring supplier," says Thrive Market Product Innovator, Scarlett Knight. "When we heard the story of regeneratively grown organic macadamias by a co-op on the slopes of Mount Kenya, we dug deeper. What we found was not only the most delicious macadamia nuts we had ever tasted, but an entire environmental and social ecosystem surrounding it that was committed to doing better in every way imaginable."
Farming For the Future
In countries like Australia and South Africa, macadamias are grown on sprawling monoculture plantations. The lack of biodiversity on these plantations exacerbates issues like disease, pests, and nutrient-deficient soil. The Kenyan farmers we partner with grow a diversity of organic crops—including macadamia, avocado, mango, and coffee—to create a more resilient ecosystem, enhance crop quality, and improve soil health.
The farmers don't use harmful chemical pesticides. Instead, the co-op's agriculture experts work with farmers directly to come up with natural pest-control solutions, using herbs and plants like Mexican marigolds to make homemade insect repellants.
The agriculture experts also help the Kenyan farmers with composting—whether it's showing them how to start a composting pile, teaching them to improve the quality of their compost, or giving them tips to accelerate their compost production. Through the co-op's centralized compost project, farms can get organic compost delivered whenever they need it.
A Kenyan & Woman-Led Cooperative
Ninety-five percent of staff members at the co-op's macadamia processing facilities, including management, are from the local Mount Kenya community. They are personally invested in the co-op's success, and directly benefit from the production, processing, and sale of the macadamias.
Women in particular play a key role at the facility and on the farms. They participate and earn equally—which is not the standard in Kenya due to the marginalization of women on the basis of their gender. A digitized payment system ensures the farmers receive the profits from the farm directly, and can put it to use funding education and healthcare for their children.
Community Empowerment Doesn't Stop There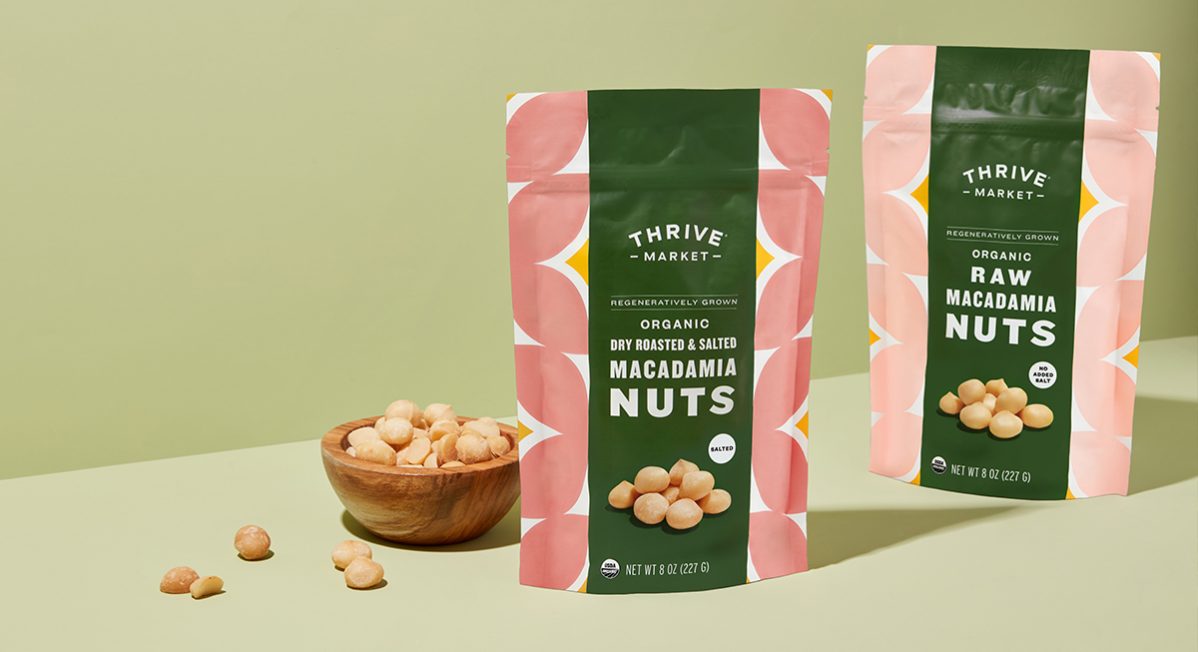 The farm cooperative has many initiatives that serve to radically empower and transform the Mount Kenya community. In the off-season, the farm cooperative sends its agriculture experts to five different primary schools in the region. They plant trees with the students in the school gardens to teach them organic farming skills and techniques.
Getting quality plant materials can be a challenge for local farmers, so the co-op started a nursery to cultivate high-quality macadamia, avocado, and mango tree seedlings, which they sell to farmers at subsidized prices. The co-op has also made it a priority to equip famers with improved cooking stoves, and train them to store firewood and dry it in a way that minimizes negative health effects.
The cooperative is constantly searching for ways to make each member and the community as a whole stronger, more knowledgeable, and more successful—while turning out a product that is delicious, nutritious for humans, and good for the earth.
3 Irresistible Macadamia Nut Recipes
Keto, paleo, and deliciously rich in flavor, Thrive Market Organic Macadamia Nuts lend delightful crunch to all sorts of sweet treats.
Macadamia Matcha Cookies

These soft-baked, gluten-free cookies get their vibrant green hue from culinary-grade matcha tea.
Caramel Macadamia Bliss Balls
Shredded coconut and macadamia nuts team up to offer tropical flavor in these nutrient-dense bites, powered by energizing MCT oil and sweetened naturally with honey.
Hemp Macadamia Raw Bars

With apricots, hemp hearts, macadamias, and a sprinkle of bee pollen, these no-bake bars are chewy and wholesome.