Between breakfast and dinner, lunch is sometimes the most overlooked meal of the day, but we're putting this unsung meal hero in the spotlight with 45 quick and easy must-try lunch recipes. Grab your brown bag, forget your sorry salad, and leave your hunger pangs at the door. Lunch is served!
Tips for Packing Lunch
Anyone can enjoy the perfect packed lunch with a little planning and handy meal-planning tricks. Bookmark these tips, because we've got your guide to avoiding the lunchtime takeout and unhealthy vending machine snack runs for good.
Hello, Bento
Think inside the box! Pack your lunch the night before the work day, and keep things fresh using neat and sleek bento boxes. Not only are these compartmentalized lunch boxes great for helping your meal stay organized, but each box will feel like opening a delicious little gift when lunchtime rolls around.
A Healthy Lunch Is in the Bag
Ditch plastic sandwich bags for reusable bags that put the environment first. Not only will your lunch stay just as fresh, but you can be sure each bag is also PVC-, lead-, and BPA-free. Harsh chemicals just aren't all that appetizing.
Play Chicken
For healthy lunch makings throughout the week, consider roasting a chicken on Sunday night and storing the carvings in the fridge for salads, wraps, and soups from Monday to Friday.
Keep It Kid-Friendly
Packing for the kiddos can be stressful if you find yourself in a morning time crunch. Pre-pack healthy fresh fruit and veggies at the start of the week for easy grab-and-go action.
Easy Lunch Recipes
If you want to make a nutritious lunch a regular habit, it's best to keep things simple with quick and easy recipes that are a snap for packing.
Easy Lunch Ideas for Kids
Think your kids won't go for healthy lunches? These recipes are so full of fun they won't be the wiser, and we're willing to bet they'll become fast family favorites.
Tots for the tots are always a winning idea, and these finger-food dippers are loaded with good-for-you veggies like broccoli and cauliflower.
These cod fish sticks make a splash with the kiddos thanks to a brilliant combo of potato chips and gluten-free corn flakes instead of bread crumbs.
No need to nix nuggets in order to serve the little ones a healthy lunch. This Paleo recipe swaps in coconut flour for a wholesome take on a crispy coating.
Not only does this healthy stir-fry include a protein punch with chicken and cashews, but it can be thrown together in about 10 minutes, making a perfect pick for impatient tummies.
Healthy Lunch Ideas for Work
Ready to make your coworkers jealous? These quick and easy take-to-work lunches are a major upgrade from that sad turkey sandwich. Find more healthy lunch ideas here.
You'll jump for joy when you open your lunch to find this jambalaya in the midst of a busy work day, made with BBQ jackfruit, brown rice, veggies, and chickpeas.
This 30-minute recipe isn't just the perfect weeknight meal, the leftovers make for a rich and flavorful work lunch thanks to strips of lean flank steak and tender broccolini.
Believe it or not, you don't need dairy for a rich and creamy tomato soup. This genius lunchtime recipe uses puréed chickpeas instead of heavy cream.
Zucchini noodles (or "zoodles") are a great way to enjoy pasta without an influx of carbs, and this take on the cheese and pepper classic is fork-twirlingly good.
Comforting and nutrient dense, this lunch in a bowl pairs creamy sweet matcha soba noodles with fiery tofu bites for a truly crave-worthy combo. This is one of those meals you can make week over week and never get tired of eating!
Gluten-Free Lunch Recipes
These simple lunch recipes skip the gluten and layer on the flavor with grain-free, nutrient-packed ingredients. For more gluten-free lunch recipes, click here.
Want an effortlessly elegant lunch? Open a can of wild Alaskan salmon, and serve up these light and delicate cakes, made extra decadent when paired with a creamy spiced remoulade sauce.
It's easy eating green when you've got rice paper rolls packed with spinach, avocado, pea shoots, and fresh herbs and served with cilantro dressing.
Using a sweet and spicy marinade of chili powder, cayenne pepper, orange juice, and maple syrup, this recipe will renew your appreciation for tofu, especially when served atop soba noodles and bok choy.
Let's face it: Stuffed anything is probably going to be delicious, but this gluten-free sweet potato dish will take your lunch to a new level with sautéed greens tucked into your taters and topped with sliced avocado and a tahini-turmeric dressing.
Working from home? Enjoy a moment of zen with a steaming bowl of wonder noodle ramen simmered in protein-packed chicken bone broth and topped with a hard-boiled egg, green onion, and chili flakes.
Vegan Lunch Recipes
You don't need animal products for a yummy and filling lunch that will keep you going until dinner. Try one of these vegan meals on for size.
Looking for a finger food with flair? These vegan jackfruit and miracle noodle rolls are ideal for a quick and flavorful bite.
This vegan take on the lunchtime staple swaps in nutritional yeast instead of parmesan for a Paleo-friendly dressing that's drizzled over massaged kale and savory bacon.
Using shaved carrot strips instead of traditional rice noodles, this smart dish is a lighter, brighter take on the Thai favorite, and it's totally gluten-free.
Can we taco bout this clever vegan recipe, which uses sliced eggplant for tortillas and pairs them with a savory, meat-free walnut filling?
This vegan, baked take on everyone's favorite fried fritters turns up the protein content with almond flour and adds layers of texture and flavor with diced carrots, tahini, coconut aminos and tamari.
Vegetarian Lunch Recipes
Sticking to a vegetarian meal plan? These veggie-tastic recipes make it easy to eat meat-free.
Tired of the same old sandwich? Jazz up lunch with a Middle Eastern-inspired spread of pita, hard-boiled egg, veggies, and this zesty dip, made with red peppers, tomato paste, garlic, raw honey, and walnuts.
Similar to latkes but slightly sweeter, these carrot pancakes make for the perfect midday meal, especially when topped with sorrel pesto, a rich fried egg, and a sprinkle of Maldon salt.
Looking for a low-cholesterol lunch recipe? This bright and flavorful quinoa salad delivers a dose of healthy protein while cilantro, dried cranberries, almonds and zucchini create lovely layers of texture. Did we mention it's seriously beautiful, too?
A feast for the eyes and filled with good-for-you ingredients like watercress, avocado, watermelon radish, and sauerkraut, this salad bowl is a clean-eating go-to.
Eat like the Swiss do with this traditional comfort food casserole, made with potatoes, peppers, ghee, and eggs.
Whole30 Lunch Recipes
You'll hardly feel limited thanks to these supremely delicious Whole30-approved recipes.
One pan, 10 minutes of prep, and a handful of pantry staples like crushed red pepper, coconut aminos, and garlic is all you need to make this Whole30-approved shrimp and broccoli lunch.
Everything's better with bacon, including these portable bacon cups that pack in the protein with a scoop of marinated ground chicken.
Holy moly, this is good poke! This traditional Hawaiian dish with a citrus twist is a light and bright lunchtime bite with sashimi-grade tuna, creamy avocado, tart grapefruit slices, and ginger powder.
Tootles, bland tuna salad! This Indian-inspired upgrade uses tandoori flavor wild tuna along with golden raisins, curry powder, and chopped almonds. Yum!
Paleo Lunch Recipes
Eat like a caveman throughout the day with Paleo-friendly lunches you'll want to sink your teeth into.
It's a wrap on boring lunches thanks to this Paleo-approved, on-the-go lunch, which fills a tapioca flour wrap with tender chicken breast, bell peppers, onion, and a savory ground turmeric sauce.
Not only is this stunning quiche gluten- and dairy-free, but the savory filling is overflowing with a bounty of green veggies like zucchini, asparagus, and peas that hold together perfectly in an almond-thyme crust.
This Paleo soup recipe squashes the competition using buttery kabocha squash, ginger, nutmeg, fresh sage, and rich chopped pancetta.
Raise your hand if you love hand rolls! This make-your-own sushi idea pairs water-packed tuna with Paleo mayo, coconut aminos, wasabi paste, and rolls it up in nori sheets.
Give your chicken salad a kick by adding lots of curry powder along with chopped apple, walnuts, Paleo mayo, and celery.
Sandwich Recipes
Who said bread is dead? Give your sandwich a gourmet spin with these packable favorites.
Peanut butter and jelly on a grilled cheese?! Hey, don't knock it until you've tried it. The delicious outcome will make you rethink everything.
Take your average grilled cheese to the next level by spreading on truffle salt ghee and throwing in Dijon mustard and caramelized onions.
You might want to nosh on these patties all on their own or include as the star of the show in a pita sandwich stuffed with parsley, cucumbers, cabbage, and yogurt sauce.
Avocado Lunch Recipes
With so many ways to enjoy them, avocados are always a lunchtime must.
No need to send kelp! Gluten-free kelp noodles are surprisingly filling when topped with rich avocado sauce, made extra creamy with nutritional yeast.
Made with a base of non-GMO wild pink salmon, these fish patties also include almond flour, chopped green onions, and a handful of spices—only to be piled high with avocado salsa for the ultimate burger bite.
It's tough to improve this popular recipe, but adding a Japanese influence is a good way to go. Brush toast with coconut aminos and sprinkle avocado slices with toasted nori and sesame seeds.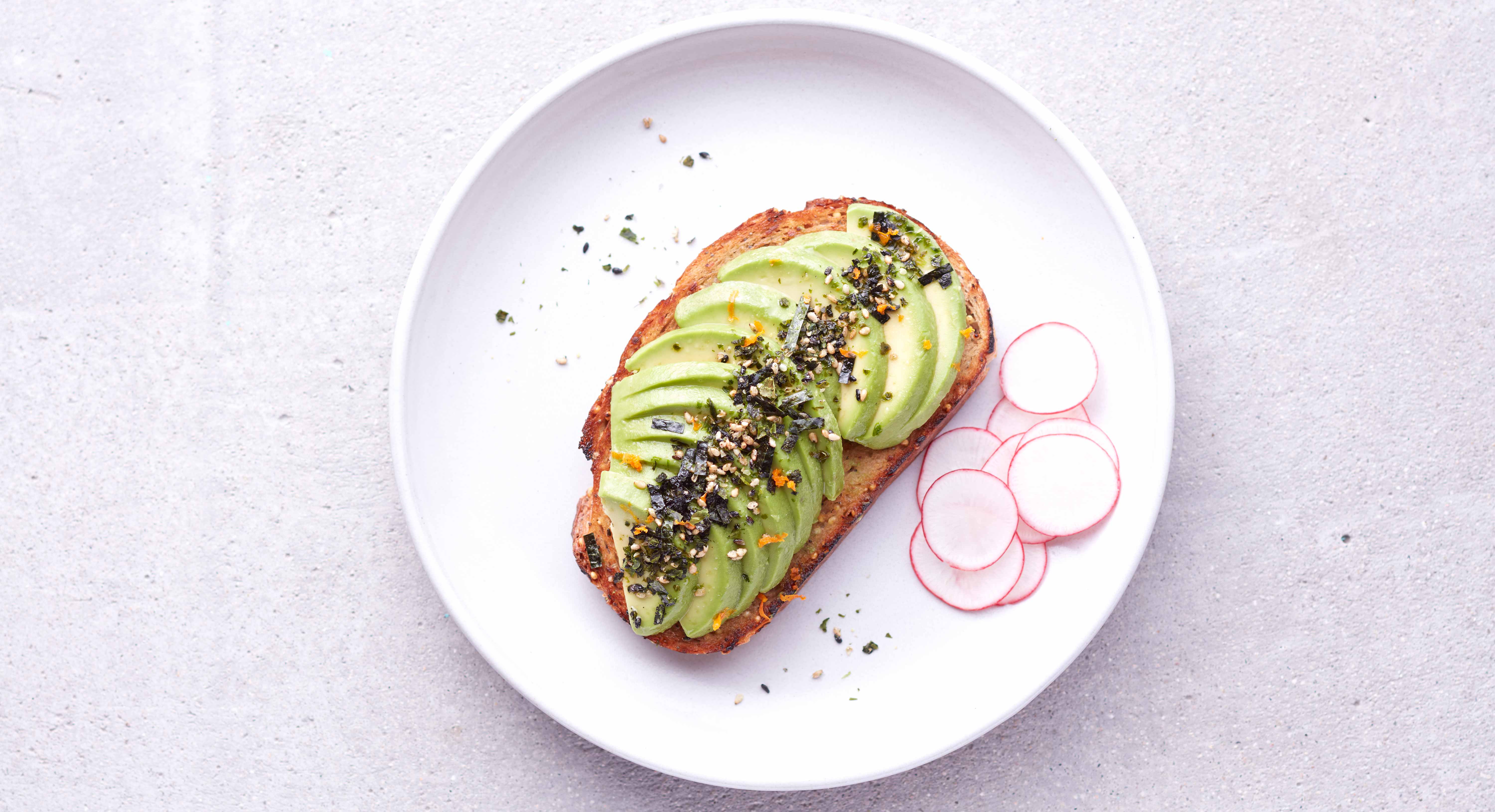 Not to be confused with guac, this creamy dish uses ripe avocados, lime juice, unsweetened almond milk, and chopped jalapeño for a vegan dip that goes great with veggies, bean chips, or wraps.
Salad Recipes for Lunch
There's nothing boring about these satisfying salad lunches that will have you gobbling up your greens. Find even more superfood salad recipes here.
This recipe might sound nutty, but it's downright addictive thanks to ribbons of spiralized carrots, crispy Persian cucumber, and a sweet and creamy peanut dressing.
Light and refreshing, this bed of leafy greens is the perfect foundation for adding white beans, grilled shrimp, or tofu.
Looking for a hearty salad recipe? This dish pairs nutty sprouted brown rice with French green lentils with sweet dried cranberries and apricots, crunchy pistachios, and tons of fresh green herbs.
Skip the mayo and spruce up this classic recipe with a tahini dressing instead. The sesame flavor pairs beautifully with creamy eggs, and a rainbow mix of tomatoes, avocado, and crunchy radishes.
This yummy update on a timeless classic swaps in salmon for tuna and includes a colorful array of fresh ingredients like haricots verts, asparagus, sliced heirloom tomatoes, peeled baby beets, butter lettuce, and salty capers.