As Thrive Market employees, we know a lot about our products. We swap recommendations, we sample from the "free table" at Thrive Market HQ, and we're the first to add newly-launched items to our orders. Editor's Picks is a monthly column rounding up the top three products our blog editors are loving.
In June, we found the very best tahini, added locally roasted coffee to Autoship, and discovered a natural alternative to pre-workout supplements. For these and more of what the Thrive Market blog editors bought and loved this month, read on.
Kirby Stirland | Senior Manager, Editorial
I've been on a smoothie kick since the weather started warming up, and a scoop of his naturally sweet, rich coconut butter is the magic ingredient in any blend (which for me is usually banana, spinach, ginger, fresh basil, and two scoops of Thrive Market Collagen Peptides). Not only does it give smoothies the best texture, but it also makes them a little more satiating.
After more than two years of working out at home (thanks, COVID), I finally joined a gym, and it's great to be back. The only slight drawback is that I have to get up before 6am to make the class I like to take. This refreshing mango-flavored energy supplement from Moon Juice is my saving grace. It's not too sweet and gives me the little lift I need to get going.
Yewande Komolafe's easy and highly adaptable sheet pan gochujang chicken and roasted vegetables is a staple in my house, which means this Korean chili paste is too. A little goes a long way and the jar is substantially sized, so it lasts me a while…which is good, seeing as I make this recipe nearly once a week. (I loved learning about the brand during AAPI Heritage Month, too!)
Amy Roberts | Senior Writer, Editorial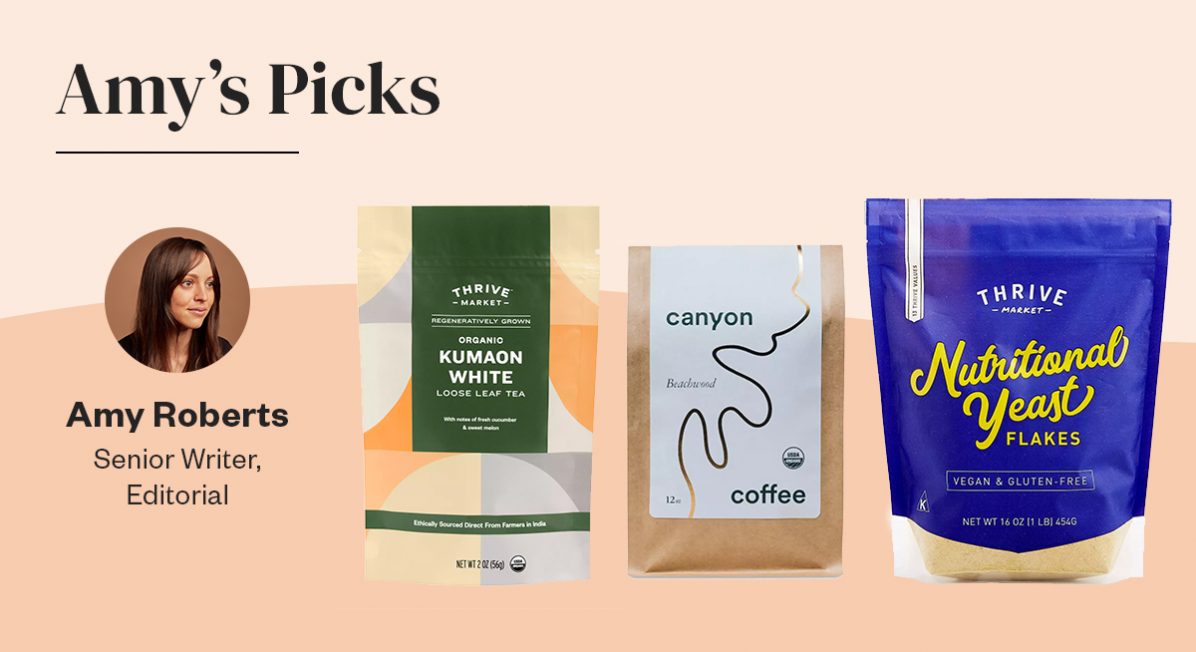 I always have two bags of this in my Autoship every month—it's the only coffee I buy! I love that it's organic and ethically sourced, and it's perfect for a morning pour-over.
I make the same super simple salad dressing just about every day (olive oil, lemon juice, Maldon salt, and a ton of nutritional yeast) to put on salads or grain bowls. I also love sprinkling these nutritional yeast flakes on top of pastas or avocado toast.
I wasn't much of a tea drinker until I wrote an article about our loose leaf tea sourcing. Now, it's become one of my favorite parts of the day to make a pot of this every afternoon, in a ceramic teapot I found at the Long Beach Flea here in Los Angeles. I love the subtle white tea flavor, and I learned that these whole leaves taste even better the second (or third) time they're steeped.
Nicole Gulotta | Freelance Writer
I've been drinking less wine lately, but still want a fun beverage experience on the weekend so I've been sampling a lot of sparkling water. Aura Bora is my current favorite, especially the Basil Berry flavor—it has that sweet and savory balance I love.
My son and I are both pretty obsessed with these corn snacks. They're crunchy, salty, and perfect for school lunches or weekend road trips.
This is my tahini holy grail. It's extra smooth, made from Ethiopian sesame seeds, and results in impossibly silky hummus (especially when you run the food processor longer than you think is necessary to really break down the garbanzo beans). I top my bowl with cucumbers, tomatoes, and extra virgin olive oil.