When back-to-school energy is in full swing, we love a recipe that can pull double duty. These make-ahead mini frittatas can be enjoyed throughout the week as a speedy breakfast, a lunchbox addition with added protein, or an after school snack. For this dish, we took inspiration from late summer's harvest of zucchini and tomatoes, but use the recipe as a base to get creative with what you have—swap the goat cheese for feta, or use up leftover cubes of roasted sweet potatoes instead of tomatoes.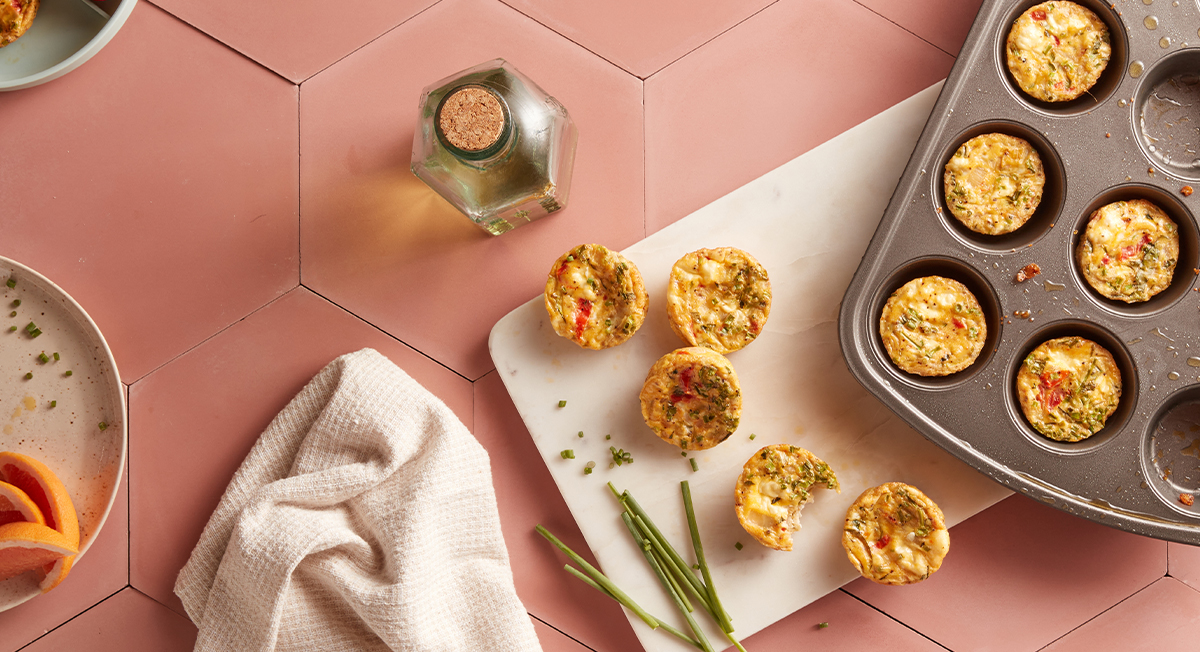 Back-to-School Egg Muffins
Yield: 12 muffins
Active Time: 10 min.
Total Time: 35 min.
Ingredients:
Thrive Market Organic Extra Virgin Olive Oil Spray
1 tablespoon Thrive Market Extra Virgin Olive Oil
½ brown or yellow onion, diced
1 medium zucchini
½ cup cherry tomatoes, quartered
8 eggs
2 tablespoons minced mixed herbs (like chives, parsley, or basil)
2 oz. goat cheese, crumbled
1 teaspoon Thrive Market Mediterranean Sea Salt, Fine, divided
Freshly cracked pepper
Instructions:
Preheat the oven to 350°F. and coat a 12-cup muffin tin generously with olive oil spray. Heat olive oil over medium-low heat; sauté the onion for about 5 minutes, or until translucent and beginning to turn golden.
While the onion cooks, grate zucchini on a large box grater, then gently wring in a kitchen towel to remove most of the liquid. (You should have about 1 cup of squeezed zucchini.) Add the zucchini and tomatoes to the pan and sauté an additional 5 minutes, stirring occasionally, or until the tomatoes have softened. Season with ¼ teaspoon of salt.
Whisk eggs in a medium bowl. Add the cooked vegetables, herbs, goat cheese, remaining ¾ teaspoon sea salt, and a few grinds of freshly cracked pepper; gently stir to combine. Divide the egg mixture evenly using a ¼ cup measuring scoop, filling each tin about three-quarters full. Bake for 20-25 minutes, or until eggs are set and have puffed slightly. Let cool for 10 minutes. To serve, run a knife or spoon around the edge and gently lift each muffin out. Refrigerate leftovers in an airtight container for up to 5 days.
Recipe by: Nicole Gulotta