Midday snack cravings? Before you reach for one of those ubiquitous packaged jerky sticks, there's something you should know: Most of the ones you see in convenience stores are made from low-grade meat and loaded with questionable ingredients and preservatives. Luckily, there's a better option: Enter Thrive Market Beef and Turkey Sticks. They're made from just the good stuff, like high-quality, grass-fed beef, free-range turkey, and spices. (Oh, and they're Whole30 compliant, paleo, and delicious.) Read on to learn more about these better-for-you snacks.
Why You Should Make the Switch
Ever wondered what's really in those iconic packaged jerky sticks at the gas station? According to an article by Wired, you don't really want to know. Mechanically separated chicken, hydrolyzed soy, corn, wheat, and sodium nitrate seem to be just the tip of the iceberg when it comes to what's lurking inside. Along with one sixth of your daily amount of sodium. Needless to say, these beloved snacks were in dire need of an upgrade, which is why we made it our mission to make a cleaner, simpler version.
"It was really challenging to find the right partner for our Beef and Turkey Sticks. They had to meet our high standards for quality and animal welfare," says Jenna Engleman, Director of Thrive Market Goods. "After months of searching and utilizing our in-house meat expert Mike Hacaga, we found protein suppliers that really raised the bar across all of our values."
Meet Our Meat Sticks
Our Beef Sticks are made with 100% grass-fed beef from Tasmania, where the cows are free to roam green pastures their entire lives. They're never pumped with antibiotics or growth hormones to increase yield. Along with top-quality meat, we only use simple ingredients in our recipe, like spices, sea salt, and citric acid. You'll never find any artificial preservatives, MSG, soy, nitrates, or nitrites.* We believe this results in a better-tasting and healthier product. Choose from Original or Jalapeño flavors.
Similar to our Beef Sticks, our Turkey Sticks follow the same stringent standards of animal welfare and ingredient transparency. We use free-range turkey that's humanely raised in the USA without the use of antibiotics or growth hormones. This recipe also consists of only wholesome ingredients (no artificial preservatives, MSG, nitrates, or nitrites).* Enjoy both flavors: Original or Jalapeño for an extra kick.
As an added bonus, our meat sticks are Whole30 compliant, paleo, and gluten-free, so you can snack freely!
*Except for those naturally occurring in cultured celery powder and sea salt.
What Our Members Are Saying
"I love meat sticks and jerky. These have a great snap and texture, and will definitely be my go-to snack from now on!"—Kyle, Green Sea, SC
"These are SO good. My husband sneaks them all time, stating how they don't taste 'fake', 'processed,' or 'like msg.' They're really delicious!"—Makayla, Suisun City, CA
"I'm definitely stocking up on these for my September Whole30. They are so flavorful and I love that they are made from simple ingredients."–Hillary, Boston, MA
More Wholesome Snacks
Getting back to your routine? These tasty, on-the-go snacks are made from real food ingredients and satisfy cravings without GMOs, artificial ingredients, or preservatives. They're perfect for kiddos and adults, alike!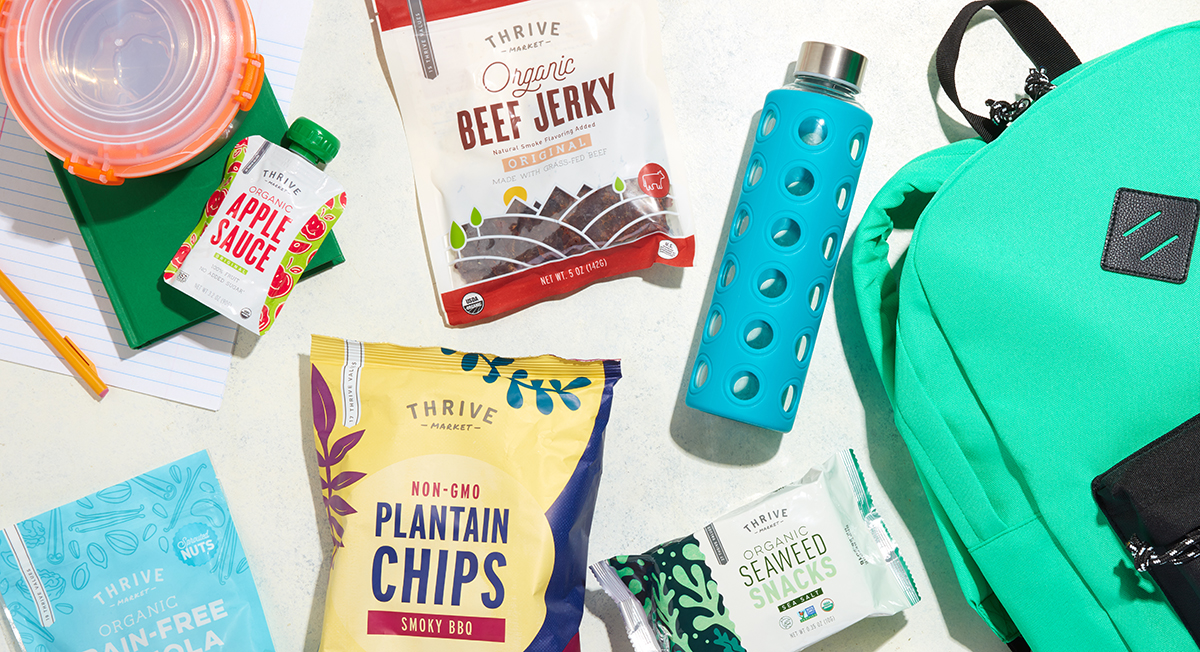 Sourced from grass-fed, organic beef, our Beef Jerky is paleo, and free of artificial ingredients and preservatives. Each batch is marinated in organic apple cider vinegar, honey, and savory spices, and then smoked low and slow until it's deliciously tender. Plus, each serving contains 10g of protein!
Turkey Jerky
For those who like to walk on the wild side, our Turkey Jerky is made from free-range, organic turkey that's marinated in organic apple cider vinegar, honey, and spices, and smoked to perfection. It's also free of artificial ingredients, preservatives, and gluten. This paleo-friendly snack is so chewy and savory, you'll want the whole bag.
Our Organic Apple Sauce Pouches make eating fruit easy, fun, and delicious. They're squeezable, resealable, and made from a blend of organic apples (no added preservatives or sugar*). Plus, they're produced in a solar-powered facility, where we make a conscious effort to use every part of the apple, cutting down on waste.
Ideal for lunch boxes and work, our Paleo Snack Mix Multipack comes with six mini-size packs (two of each flavor). From Savory to Chipotle BBQ to Ranch, each flavor is made from an expertly seasoned blend of green banana chips cooked in coconut oil, cashews, and pecans.
Our Organic Sea Salt Seaweed Snacks have all the satisfying crunch of your favorite potato chip, plus nutrients. To make them, we take high-quality, nori seaweed, dry it into thin sheets, lightly roast them with safflower and sunflower oils, and then season everything with a touch with sea salt. Each pack has only 50 calories, making it the perfect addition to your work bag or child's lunch box.