When you're firing up the grill for a backyard cookout, don't forget about the unsung heroes of your menu: appetizers, sides, and desserts. Today's post has more than 20 great summer BBQ ideas, so there's something for everyone. If you need to brush up on your outdoor cooking techniques, don't miss our guide to all things grilling with safety recommendations and tips for both gas and charcoal grills.
Best Summer Appetizers
Need an easy summer BBQ menu? Start with one of these delicious appetizers to whet your appetite for the main event.
Creamy Avocado Dip
No healthy summer BBQ menu is complete without a tricked out dip. Instead of heavy sour cream, lighten things up with creamy avocado, garlic powder, and cilantro. Bonus: This dish is gluten-free and dairy-free.
Almond Hummus
Not to be outdone by avocado, almond hummus is a stellar addition to your outdoor feast. Instead of traditional chickpeas, just soak almonds and add flavor with tahini, garlic, and fresh sage. It's make-ahead snack perfection!
Keto-Friendly Veggie Chips
Sure, you can open a bag of chips and call it a day, but why not make your own batch of keto-friendly vegetable chips? This recipe makes good use of the air fryer, and you can try zucchini chips, kale chips, or eggplant chips.
Greek Salad Skewers With Dill Dressing
Salad on a stick isn't just a fad—it's a super practical way to serve your greens. This recipe is layered with Greek ingredients like oregano, dill, kalamata olives, and feta cheese.
Easy Rosé Ice Pops
Does a drink count as an appetizer? We say yes. Summer BBQ cocktail recipes are just as essential as chips and dips, and this adults-only spin on ice pops makes the most of everyone's favorite pink wine. (FYI: This will definitely be in the running for best frozen appetizer.)
Watermelon Gazpacho
Soup in July is highly recommended—so long as it's chilled. This refreshing sip blends up tomatoes, cucumber, and spicy jalapeño for a make-ahead dish that's the perfect summer appetizer.
---
Best Summer Side Dishes
Yes, we've got all the summer BBQ potato recipes you need, plus lots of recipes for summer BBQ salads, and our favorite grilled corn ever.
Summer Veggies With Orange Brown Butter
Is it even a barbecue without potatoes? Sauteéd Vegetables With Orange Brown Butter bring extra flair to your dinner, and feature peak seasonal produce such as snap pas, green beans, and creamy potatoes. Instead of staying indoors, you can cook this dish right on the grill in a cast iron skillet.
Cold German Potato Salad
Here's our second summer BBQ potato recipe: a German-inspired potato salad that can be prepped ahead and served chilled. This dish is made with paleo-friendly mayo, apple cider vinegar, and pantry spices.
Grilled Romaine Salad
Grilled salad will definitely wow your guests. Just throw sturdy romaine on the grates for a couple of minutes for added smoky flavor. It's easily one of the best side dishes for salmon, burgers, and kabobs.
Keto Wedge Salad Toasts
You can never have too many salad recipes, if you ask us. This recipe is deconstructed, making it easy to eat and a real showstopper. Each piece has a small wedge of lettuce, crispy bacon, and juicy tomato.
Heirloom Tomato Salad
When heirloom tomatoes are ripe at the market, it's best to keep things simple. All you need to do to create a stunning summer appetizer is drizzle the tomato slices with EVOO and add a sprinkle of flaky salt.
White Bean and Herb Zucchini Noodles
To accompany heavier meats, lighten your side offerings with a spiralized zucchini salad. Cannellini beans add extra protein, and fresh herbs jazz up every bite.
Grilled Corn With Chipotle-Lime Mayo
Grilled corn is a summer staple. This recipe is a take on Mexican street corn, and slathers the smoky ears with mayo before sprinkling on feta cheese, lime juice, and cilantro.
Zucchini Pizza Boats
For vegetarians, you can't go wrong with zucchini pizza boats. This carb-free side dish has all the classic pizza ingredients like melty mozzarella and fresh basil, all contained in a tender "zucchini boat."
---
Best Summer Desserts
You need the best desserts for a summer BBQ, and we've got 'em. Lots of fruit make an appearance (naturally), plus make-ahead ice pops for the perfect ending.
Tropical Green Ice Pops
Ice pops are definitely on the menu. No one will question the good-for-you factor when you blend banana, avocado, coconut water, and spinach.
Grilled Peaches With Yogurt and Granola
Keep the grill on and char some fresh peaches for this summertime dessert. Finish each serving with vanilla yogurt (or ice cream), crunchy granola, and a drizzle of honey.
Balsamic-Blueberry Chia Ice Pops
Ready to make the best healthy summer dessert? Start with superfood chia seeds, juicy blueberries, and a touch of balsamic vinegar—this sweet treat will make everyone happy.
Coconut Cream Berry Tart
Have you seen a more beautiful berry tart? This impressive dessert really highlights the bounty of summer berries, and the recipe is gluten-free, dairy-free, and paleo.
Best Chocolate Dessert: Skillet Brownies
Just add ice cream! That's our philosophy when it comes to serving up a serving of vegan skillet brownies. These are so decadent and tender, you won't be able to resist an extra bite.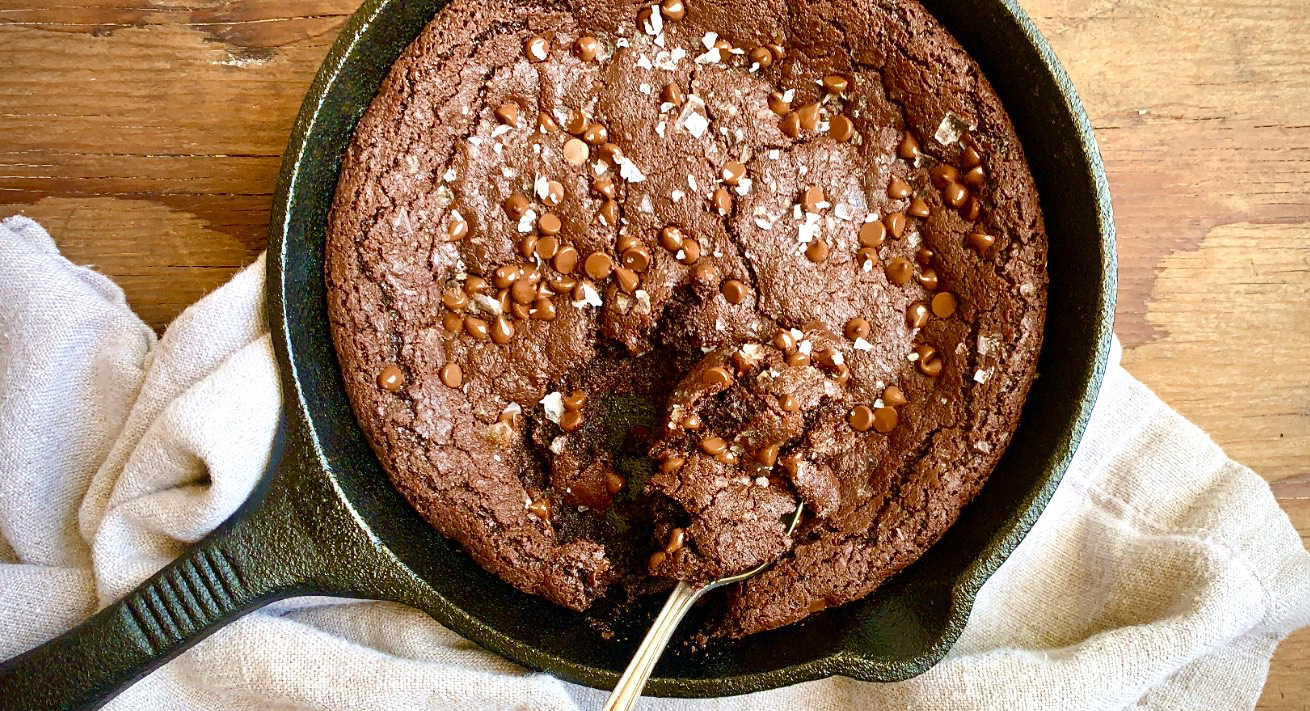 Earl Grey Peach Slab Pie
Slab pie? Yes, please! This treat combines the lemony flavor of Earl Grey tea with juicy peaches, cardamom, and cinnamon.