When we introduced Thrive Market Meat & Seafood, we set out to raise industry standards and provide better options for our members and the planet. Our producers use sustainable practices, like regenerative agriculture and rotational grazing, that improve the lives of farm animals and the health of the soil. And since we started offering meat and seafood, we have been constantly improving, bringing on new farmers and working with our existing partners to elevate their standard practices. We've been particularly focused on animal welfare, and we're proud to announce that all of the protein in our frozen meat category has been certified by the Global Animal Partnership (GAP). Considering that less than 1% of meat sold worldwide has meaningful animal welfare certification, this is no small feat. Read on to learn more about what GAP certification means and why you should look for the label every time you buy meat.
What's GAP?
The Global Animal Partnership (GAP) actually began as the Global Animal Foundation. It was the brainchild of John Mackey, the founder of Whole Foods Market. As a vegan, Mackey was conflicted about selling meat in his stores, but vowed to do so only if he could do it in the most ethical way possible. So, he asked for input from a range of experts—both from within the meat industry and far outside of it. That included everyone from animal behavior specialists and agricultural scientists to key regional meat directors and animal rights activists. The larger group eventually gave way to a core coalition that developed the rigorous standards that would form the requirements for GAP's multi-tiered certifications. In 2008, the Global Animal Foundation became the Global Animal Partnership, hiring an outside director and working with third-party auditors to conduct the farm evaluations.
Today, GAP is one of the largest animal welfare standards and labeling organizations in North America. It impacts the welfare of more than 416 million animals each year through third-party certification of more than 3,800 farms. Grounded in science and backed by a diverse group of animal and agriculture experts, GAP's extensive, five-leveled set of animal welfare standards is specific to each species, which helps account for differences in the ideal living conditions and best care for different types of farm animals. Overall, the higher the tier, the more the farm mimics the animals' natural environments.
Farm animals are intelligent, emotional creatures, and seeing how our partners are raising their animals makes me feel really good about Thrive Market's program. Together, with the support of our members, we're really helping to improve farm animals' living conditions.
While there are other animal welfare certifying agencies, GAP is the only one to have its auditors visit every single farm every 15 months, which gives them a chance to see the farms at different seasonal, birthing, and branding cycles. These audits, which ensure that GAP's 120-plus animal welfare standards are being followed, are required for farms to maintain their certification levels.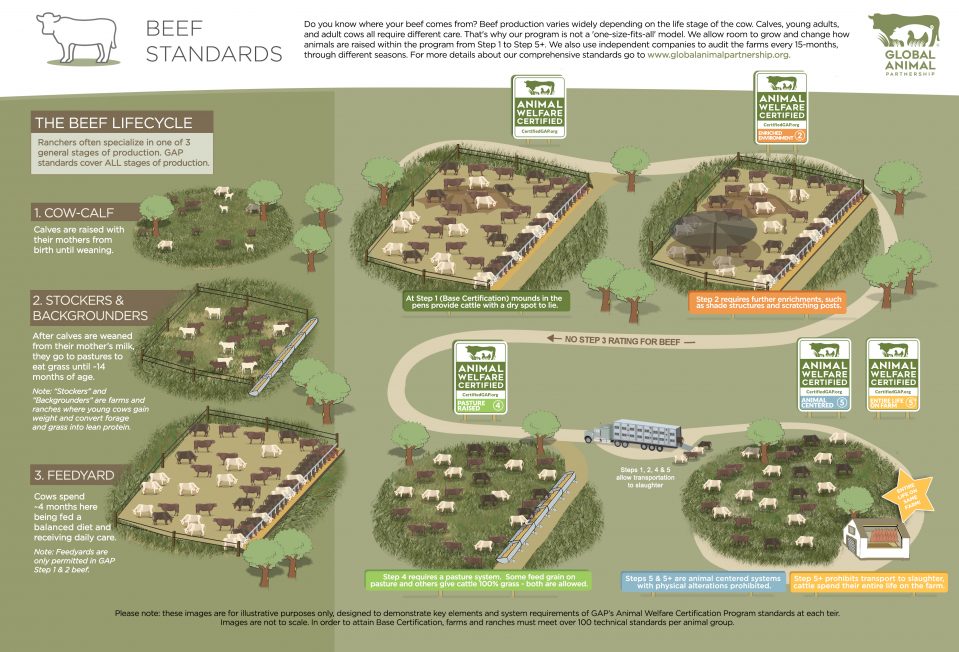 What Are the Levels of GAP Certification?
The criteria for each level varies from species to species; for example, Level 3 pork meets different specifications than Level 3 beef. But, broadly speaking, each level higher indicates that an additional step has been taken to enhance the animals' quality of life. The Level 1 base certification has more than 100 standards that must be met, including never using antibiotics, added growth hormones, or animal by-products in the meat's production, so all GAP-certified meat—even at the lowest level—indicates very high-quality meat.
Each additional level means that animals are allowed to exhibit more of their natural behaviors. At a Level 2, animals are spending more time outdoors and eating a natural diet. Level 3 farms will still use some type of enclosure for the animals, usually because cold temperatures make it impossible for the animals to be outdoors year-round. Level 4 farms frequently use regenerative agriculture methods, which benefit the soil and the animals. At a Level 5, animals spend their entire lives on the farm, meaning there's an animal processing facility on the premises. It's very rare to find Level 5 conditions—at the time of publication, only 34 farms have earned this rating in the entire GAP program.
GAP believes that meaningful label claims, validated by third-party audits on every farm, are key to influencing the industry, raising consumer expectations, and creating long-lasting change for farm animals.
Thrive Market's Meat Ratings
Our beef and pork offerings have both received Level 4 ratings. In fact, the Chilean ranch that provides our beef was actually the first to receive GAP certification in the South and Central American region. Our poultry producers received a Level 3 rating, since cooler East Coast temperatures require that the chickens are kept in an enclosure during the winter months.
Our partners are stewards of their land and care for their animals in some of the most amazing ways that I've ever seen in my 30 years in the meat and seafood industry."
Mike Hacaga is the Product Innovator for Thrive Market Meat and Seafood, and a former Whole Foods regional manager who was part of the company's original panel of experts. He makes his own visits to all of our partner meat producers, independent of the yearly GAP audits.
"I'll go at least once a year to check on the animals to make sure that they're being well taken care of," Hacaga says. "I'll check the conditions of their coats and the clarity of their eyes, among other things. Then I'll check on the conditions of the facilities and the farm. I check the farmers' records and ask them to open up their medicine cabinet to make sure everything is in-line with GAP standards."
These visits are also an opportunity for Hacaga to connect with Thrive Market's partners, talking through their operations and discussing the future of the program.
"It's a very informal visit, but we're a company that believes in a boots-on-the-ground approach," he says. "Even though we have an outside auditing company, we make sure to do our due diligence by verifying that all the protocols are being followed."
While on the farm, Hacaga takes note of key details. For example, our Chilean beef partners don't use nails to hold their fencing together, because nails frequently stick out and can damage the cattle's hides, increasing the risk of infection.
"I have so much respect for our partners," Hacaga says. "They're stewards of their land and care for their animals in some of the most amazing ways that I've ever seen in my 30 years in the meat and seafood industry."
Among his peers, Mike is known as "a meat man with a conscience."
"In my early career as a butcher, I was exposed to a lot of unnecessary waste and lack of sensitivity to what was once a living animal, but now I have completely reversed my thinking. I'm very conscious of needing to honor the animal. Farm animals are intelligent, emotional creatures, and seeing how our partners are raising their animals makes me feel really good about Thrive Market's program. Together, with the support of our members, we're really helping to improve farm animals' living conditions."