Golden Milk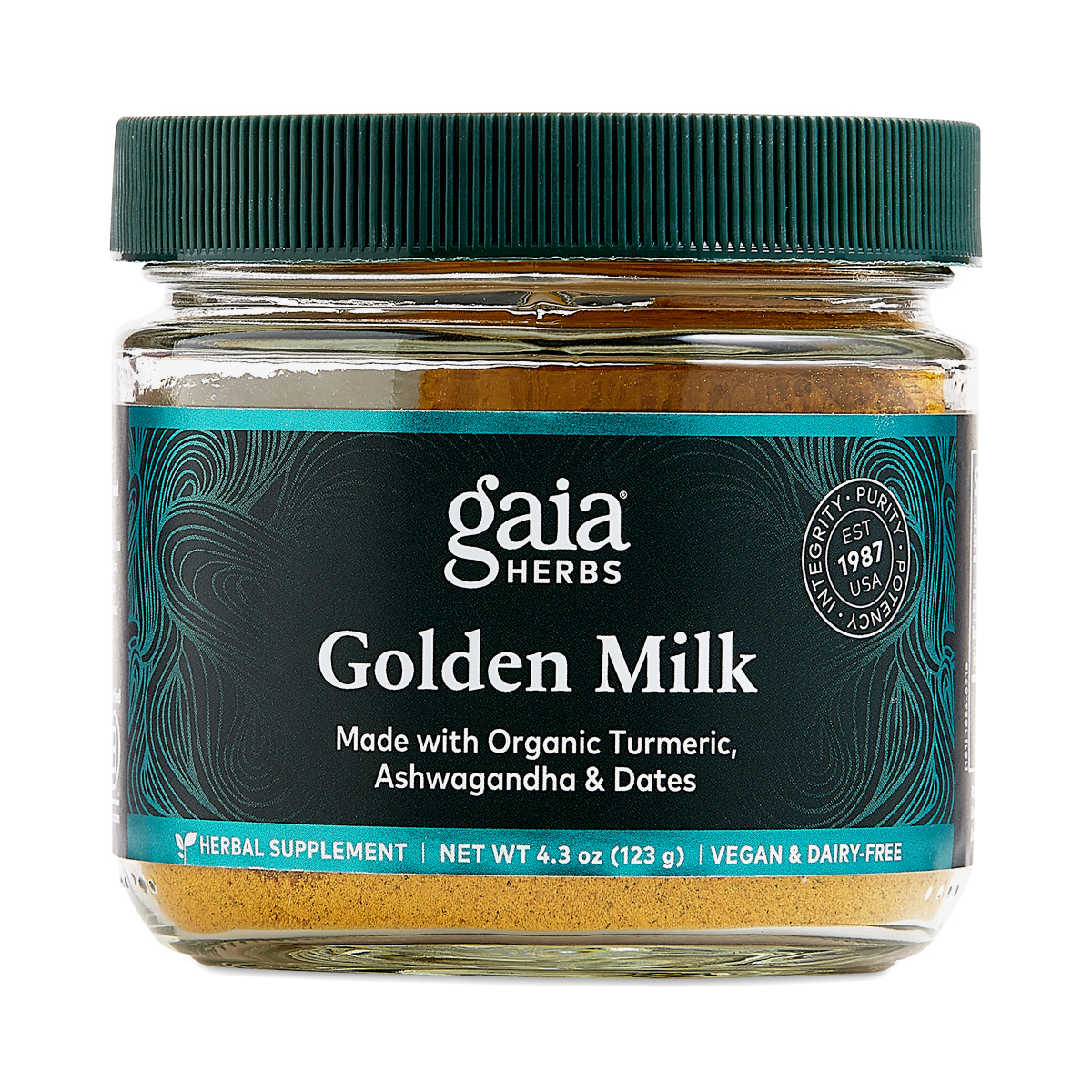 751063149273
Gaia Herbs Golden Milk is a satisfying, plant-based blend of turmeric, dates, and herbs (black pepper, cardamom, vanilla, and ashwagandha) inspired by the traditional Ayurvedic recipe that has been savored for centuries for its support of the mind and body. The delicious mix comes in a convenient powder form that is designed to be stirred into regular milk or plant-based milk alternatives. Golden Milk is intended to be sipped warm and is perfect for people who want to relax and unwind at the end of a busy day with something tasty and nourishing. This product is vegan, and gluten-free with no GMOs or soy. These statements have not been evaluated by the Food and Drug Administration. This product is not intended to diagnose, treat, cure, or prevent any disease.
4.3 oz jar
New favorite night time drink
- by
Rachael Moser
I put this in a warmed-up cup of Oat Milk and it tastes pretty good! The flavor is unique, maybe not everyone's favorite but I like it. What I love about this though is that it helps me sleep. I can't say if it's a placebo or not but every time I drink this I feel relaxed and ready to sleep in a nice calming way. I can't take melatonin because it gives me nightmares every time (really strange vivid dreams) so this is wonderful! Looking it up too there are a lot of health benefits with this mixture. It does stain your tongue yellow but I just brush my teeth before bed anyway so not a big deal to me. I'd definitely recommend it.
Perfect for a Turmeric Latte
- by
Michelle
I learned about this product while in med school on an oncology rotation. Golden Milk tea has great health benefits and this makes a yummy Turmeric Latte. I use almond milk. So good!
Great flavor but will stain
- by
Mary
Really enjoyed the flavor and it did a great job of calming before bedtime but holy yellow- as another reviewer said it stains your toothbrush, stains your tongue. Stained one of my fingernails. I'd hate to see what it'd do to my teeth if I drank too often
Mmmm
- by
Angela
Such a nice peaceful evening drink! Love the flavor with various milks!
Jar half empty
- by
Terra Fong
Wish there was more product. The jar was half empty.
0751063149273
751063149273