Recently, I decided to go vegan. I'm finally eating enough veggies, my skin is clearer than ever, bloating is a thing of the past, and I get to stay true to my animal-loving self. Only one problem: I'm head-over-heels in love with cake, especially when it's frosted with buttercream. Alas, that's off the table now.
Luckily, I don't actually have to live a life devoid of my favorite dessert. And if you're a vegan fan of cakes, neither do you! Eggs or dairy products like butter or milk aren't the only route to fluffy, moist, and delectable cakes. Baking vegan cupcakes requires just a few easy ingredient substitutions and, of course, great recipes.
Butter substitutes in vegan cupcakes
Butter is a staple for baking cakes as well as making frosting from scratch. The simplest vanilla frosting recipe usually involves combining powdered sugar, butter, vanilla extract, and milk; half of those ingredients are off limits when you're eating a plant-based diet. Here's how to fix that.
Vegan butter
Good news: vegan butter exists. Earth Balance makes one that has the same taste and texture as the real thing. It's made from a blend of palm fruit, canola, soybean, flax, and olive oils, and it's completely non-GMO and dairy-free. Substitute it as a 1:1 swap for butter in any cake or frosting recipe—no tricky math or conversions required.
Coconut oil
Good ol' coconut oil can do the trick, too, again as a 1:1 swap in any cake recipe. It also works in place of butter for frosting, but the coconutty taste is more noticeable there, so test it out to see if you like it first before making a whole batch of coconut-frosted cupcakes.
Egg replacements for baking vegan cupcakes
Eggs are pretty much essential in baking. Primarily, they act as the binder that holds a cake together, but they're so much more than that. As Tess Huff of the Kitchn writes, eggs "… they create structure and stability within a batter, they help thicken and emulsify sauces and custards, they add moisture to cakes and other baked goods, and can even act as glue or glaze."
But just because they're the go-to doesn't mean they're the only option. You can make moist, fluffy vegan cupcakes with these egg substitutes. One note: It's best to choose a recipe that doesn't call for a ton of eggs—trying to achieve the airy texture of angel food cake, for example, is a little harder to do without them.
Flax egg
Flax (with water) works well as a binder and leavener, and it even adds a bit of protein and omega-3 fatty acids. To substitute for 1 egg, combine 1 tablespoon ground flaxseed with 3 tablespoons water and let sit for 5 minutes to thicken. (Double for 2 eggs, triple for 3 eggs, and so on.) Add to any recipe as you would eggs.
VeganEgg
Follow Your Heart's VeganEgg comes in powder form; for 1 "egg" you just whisk 2 tablespoons with ½ cup ice-cold water, and the texture comes out very similar to a regular beaten egg. It's made from algae but don't worry—it won't make your cakes taste like seaweed!
Applesauce
Fruits work well as a binder in desserts—and they add a hint of sweetness and help keep the batter moist. Just make sure the flavor is complementary to the other ingredients; apple tastes really good with caramel, cinnamon, and other recipes with a "spice" note, like carrot cake. Use ¼ cup applesauce to sub for 1 egg.
Banana
Banana is so versatile and goes well with citrus, berry, nutty, and spice flavors. Mash 1 medium-sized ripe banana to replace 1 egg.
Vegan swaps for other baking ingredients
Vegan honey substitute
Honey isn't technically considered vegan since it's produced by bees. But according to Joy of Baking, a combination of ¾ cup maple syrup and ½ cup sugar easily stands in for 1 cup honey.
How to make vegan buttermilk
Buttermilk can soften and give more body to cakes, while adding a pleasant and subtle tanginess. Some vegan bakers like to whip up their own dairy-free buttermilk—and it's a lot simpler than it sounds: combine 2 cups almond milk with 2 teaspoons apple cider vinegar and set aside to curdle for 5 to 10 minutes. Then, it's ready to use.
Vegan baking and chocolate
Chocolate in its purest form is made from cacao beans, and therefore vegan. Most milk chocolate, however, is another story, as it usually contains added dairy milk. (Some "milk" chocolates have rice milk instead, which is fair game.) If using semisweet or dark chocolate chips, check out the ingredients list to make sure there's no milk added. Cacao powder is also vegan-friendly.
Vegan sprinkles
Vegan sprinkles are fairly easy to find. Again, check the ingredients on the package, and avoid anything animal-derived including gelatin, beeswax, and glazing agent 904 (shellac from crushed bugs).
As for other cake basics, most are naturally vegan, including:
Easy vegan vanilla frosting recipe
This icing is classic, flavorful, and so easy. It's perfect on vegan cookies, too.
Ingredients
2 cups powdered sugar
2 tablespoons Earth Balance vegan butter, softened
2 tablespoons almond milk
½ teaspoon vanilla extract
Instructions
Combine all ingredients in a bowl and beat until smooth.
Vegan cupcake recipes
Here are two of our favorite cupcake recipes with zero animal-derived ingredients. Even your non-vegan friends would never know the difference.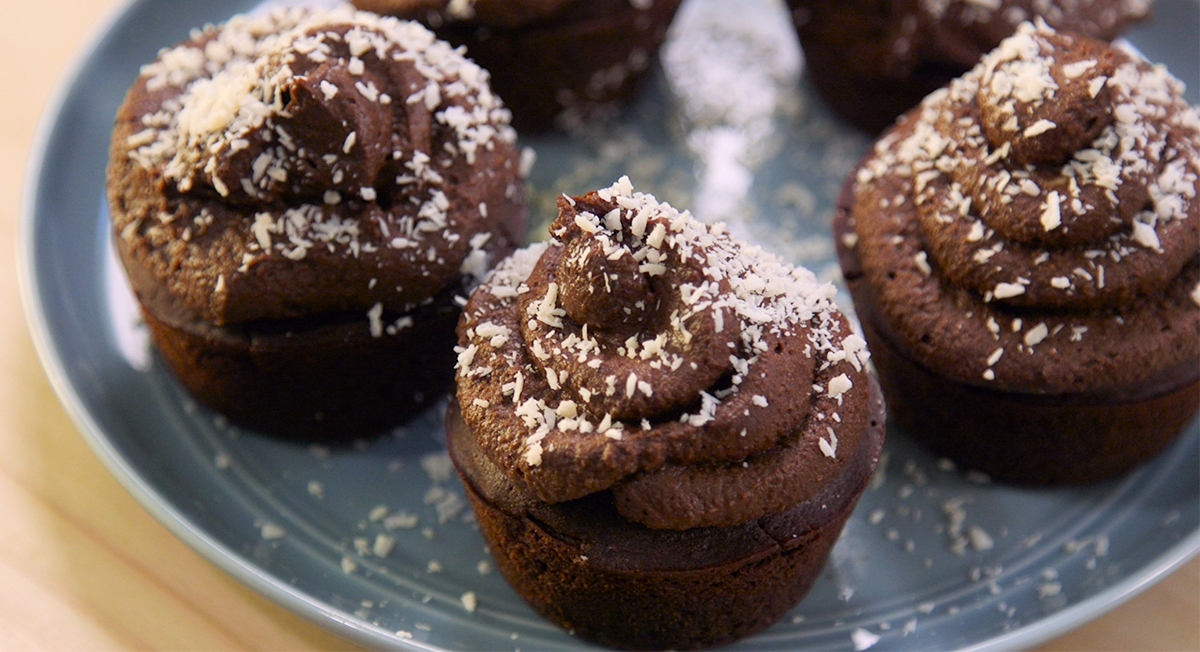 Double Chocolate Cupcakes
Dreamt up by vegan and gluten-free baker Cassandra Bodzak, these cupcakes showcase how much fun plant-based baking can be—and how unexpected ingredients can work in your favor. (Who knew you could use sweet potato to make chocolate frosting?) Dark-chocolate aficionados in particular will love the intense richness from cocoa powder and bittersweet chocolate.
All the items on the list below are worth the investment—you'll use them over and over again in your vegan baking adventures.
Here's what you'll need:
For the cupcakes
2 cups chocolate almond milk
2 teaspoons apple cider vinegar
2 cups quinoa flour
¾ cup cocoa powder
½ cup date sugar
2 teaspoons baking powder
2 teaspoons baking soda
1 teaspoon salt
½ teaspoon pumpkin pie spice
½ cup unsweetened applesauce
½ cup maple syrup
1 tablespoon vanilla extract
1 teaspoon almond extract
½ cup coconut oil
For the frosting
4 ounces unsweetened chocolate, chopped
¼ cup cashew butter
2 tablespoons coconut oil
½ cup sweet potato puree
¼ cup carob or cacao powder
3 tablespoons date sugar
Pinch of salt
10 to 15 drops vanilla stevia
Unsweetened shredded coconut, for garnish
See the full recipe here and watch the video for a step-by-step how-to.
Full disclosure: I adapted this recipe a bit when I made these myself and they didn't come out quite as beautifully as Cassandra's original version. I attempted to make my own purée from a fresh sweet potato, but I couldn't get the perfect consistency and ended up with frosting that had a few chunks and wasn't easy to spread. Canned sweet potato purée is easier to work with. I also made my own quinoa flour, which took forever! You can take a shortcut and buy it ready-made.
Coconut-Lime Cupcakes
On the other end of the spectrum, try something lighter and fruity. Here's another recipe from Bodzak that's tart and tropical.
Shop for these ingredients:
1 cup coconut milk
1 teaspoon apple cider vinegar
1 ¼ cup gluten-free flour
2 tablespoon cornstarch
¾ cup sugar
½ teaspoon baking powder
¾ teaspoon baking soda
Pinch of salt
⅓ cup coconut oil
1 teaspoon vanilla extract
Juice of 4 limes
See the full recipe here. Frost the cupcakes with Bodzak's own take on vegan buttercream icing.
How to make regular cupcake recipes vegan-friendly
You've already learned how to substitute for butter, eggs, and honey. Put it into practice with our food editor Merce Muse's ultimate carrot cupcake recipe. The spiced flavor, incredible moistness, and smooth cream cheese frosting—carrot cake is undeniable, and this rendition even has a tropical twist. Here it is modified to omit eggs, honey, butter, and cream cheese.
Vegan Carrot Cupcakes
Ingredients
For the cake
3 cups almond flour
1 teaspoon sea salt
1 teaspoon baking soda
3 teaspoons ground cinnamon
2 teaspoons ground cardamom
5 flax eggs (5 tablespoons ground flaxseed plus 1 cup water, mixed)
½ cup light agave nectar
3 tablespoons maple syrup
2 tablespoons sugar
¼ cup grapeseed oil
3 cups grated carrots
½ cup chopped canned pineapple, drained
1 cup walnuts, chopped
½ cup shredded coconut
For the frosting
8 tablespoons Earth Balance vegan butter, room temperature
12 ounces vegan cream cheese, room temperature
½ cup plus 2 tablespoons powdered sugar
1 teaspoon vanilla extract
1 teaspoon orange blossom water (optional)
Shredded coconut, for garnish
Instructions
Preheat the oven to 350 degrees and grease muffin tins with nonstick spray or vegan butter.
In a large bowl, whisk together almond flour with the salt, baking soda, cinnamon, and cardamom to combine and break up any lumps in the flour.
In a small bowl, whisk together the flax eggs, agave, maple syrup, sugar, and oil.
Fold the wet ingredients into the dry. Sprinkle the carrots, pineapple, walnuts, and coconut over the batter and gently fold until incorporated. Pour the batter into the prepared muffin tin, distributing it evenly between all 12 cups. Bake until cakes are cooked through and lightly browned, 15 to 18 minutes. Let cool completely before removing from pan.
Meanwhile, add the vegan butter in the bowl of a stand mixer fitted with the paddle attachment and whip on medium-low to gently cream. While the mixer is still running, add in the vegan cream cheese, little by little, then increase the speed to medium and mix for 2 minutes. Turn the mixer off and add in the powdered sugar, vanilla, and orange blossom water, if using. Mix on low, gradually increasing the speed to high, then mix an additional 3 minutes.
When the cupcakes have fully cooled, frost the tops and sprinkle with shredded coconut.
And just like that, you can have your (vegan) cake and eat it, too.