Haven't yet jumped on the smoothie bandwagon? You're in for a treat. Not only are smoothies a sweet, simple way to sneak some superfoods and wellness-boosting essentials into your diet, but there are so many different flavor combos that that you're bound to find one that appeals to you. Plus, we can't help but get a thrill when we test a new recipe. From detoxifying green go-tos to hearty smoothie bowls and breakfast recipe favorites, here are our 10 favorite smoothie recipes, plus helpful tips and shopping lists to better your blend.
Are smoothies healthy?
When made with nutrient-packed ingredients, smoothies can be an easy, healthy way to get your daily vitamins and wellness essentials. However, it's important to avoid unhealthy ingredients like sugary juices and yogurts, preservative-loaded protein powders, and calorie-laden sweeteners and syrups. Instead, opt for whole food, vitamin-rich ingredients (see list below) that will keep you feeling fueled.
Can you drink smoothies for weight loss?
Healthy smoothies that don't involve the calorie-busters mentioned above and incorporate fat-burning ingredients can be a great source of nourishment for people working toward weight loss. If you're trying to get in shape and maintain a healthy weight, opt for energy-boosting, detoxifying recipes that focus more on green foods—and skip the ones that include added sugar.
How to Make a Smoothie
Making a smoothie may seem like a no-brainer (just toss a handful of ingredients in the blender!), but putting together a tasty, nutrient-packed smoothie with just the right texture takes some skill. The key is to combine produce, superfoods, and healthy wellness ingredients with a splash of liquid and possibly ice (or another thickening ingredient) to achieve a milkshake-like consistency. When filling up the blender, add the liquid first, followed by produce, then protein powder or nutrient boosters, and finally ice, if desired. Start your blender speed on low before increasing to blend evenly and thoroughly. Below is a quick list of what you need.
Things You Need
High-powered blender (or a whisk and some manpower)
Tall glass or mason jar
Handful of healthy ingredients (listed below)
Ice (optional)
Healthy Smoothie Ingredients
Liquids
Rice milk
Hemp milk
Cashew milk
Produce
Bananas
Blueberries
Strawberries
Raspberries
Spinach
Kale
Thickeners
Yogurt
Cashew butter
Avocado
Black beans
Ice
Wellness Boosters
Toppings
Chia seeds
Cacao nibs
Goji berries
Granola
Bee pollen
What are smoothie bowls?
If you prefer to get your nutrients by the spoonful, smoothie bowls are for you. They boast many of the same ingredients as smoothies, but are thicker in consistency and ideal for finishing off with superfood toppings. Try one as a hearty breakfast or midday power snack.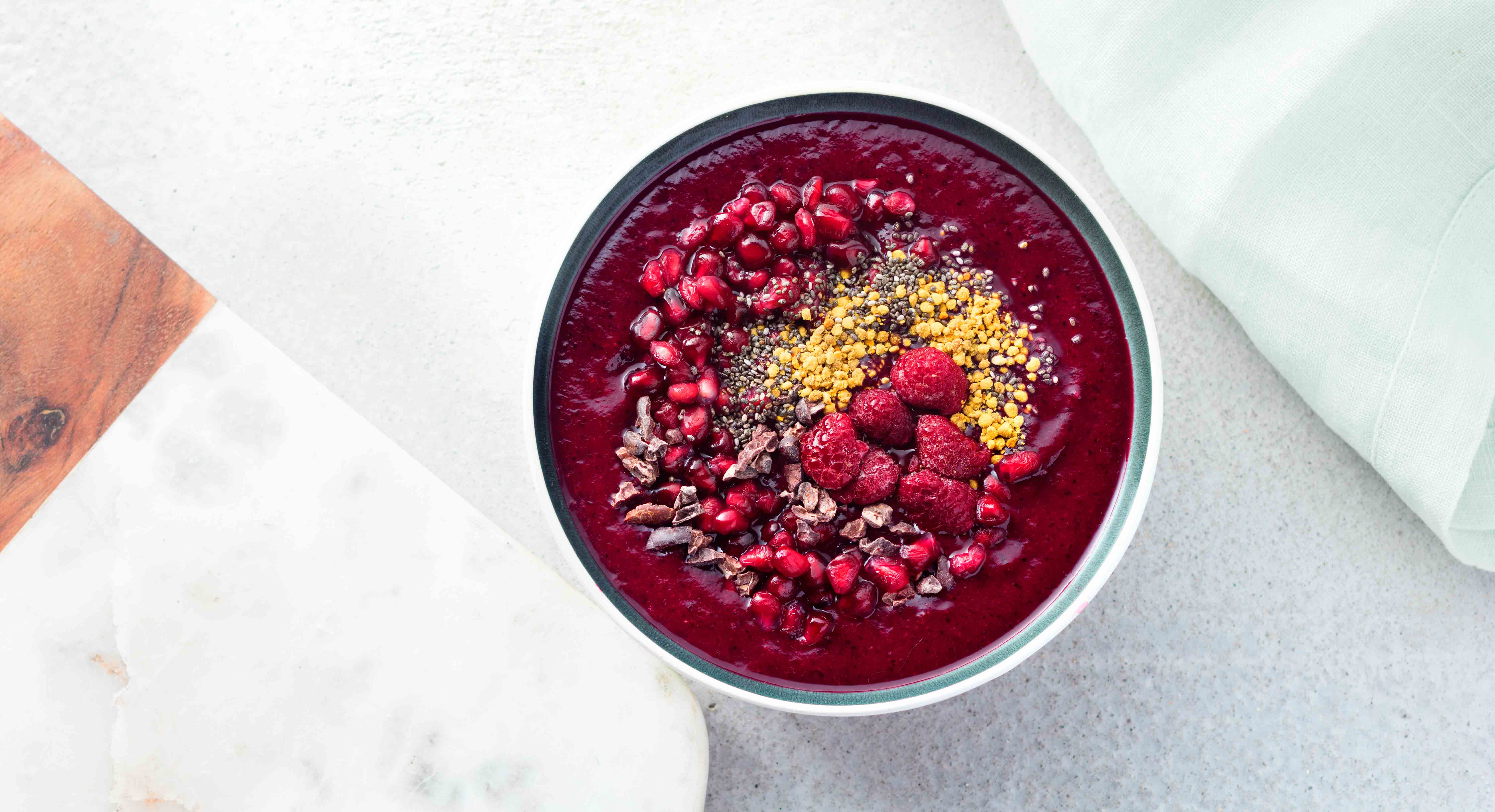 10 Best Smoothie Recipes
Supercharge your routine with these superfood smoothies (and find even more recipes here).
Support immunity while enjoying a sweet treat with this antioxidant-infused blend of blueberries, ground ginger, banana, almond butter, and almond milk.
This gorgeous green blend of kale, coconut water, pineapple, banana, and coconut oil kicks your metabolism into high gear.
Take a trip to the tropics with a beautiful mix of almond milk, banana, coconut almond protein powder, and a vibrant strawberry topping.
This smoothie will give you the blues in the best possible way thanks to a nutrient-packed blend of banana, coconut milk, almond butter, reishi mushroom powder, and blue spirulina extract.
Here's a genius recipe that combines layers of chocolate, vanilla, and strawberry smoothies, each filled with superfoods, for a world-class sip.
Hit refresh on your diet with a refreshing and detoxifying blend of cucumber, green apples, coconut water, mint leaves, and lime.
This beauty-boosting bowl promotes a glowing complexion with ingredients like açai, blueberries, and a beauty elixir of wheatgrass, alfalfa, and adaptogenic herbs.
This high-powered smoothie starts your day with a burst of energy thanks to maca powder, hemp hearts, almond milk, raspberries, and pineapple.
Spinach, mango, pineapple, and bananas make this leafy green favorite nutrient-rich and full of flavor.
This smoothie bowl recipe brings together cacao creamer, gluten-free rolled oats, almond butter, almond milk, and a handful of good-for-you toppings. And because it's warmed on the stove rather than served cold, it's perfect for chilly winter mornings.