What's changing the way we think about breakfast while dominating our Instagram feeds? Smoothie bowls. With vibrant colors and artfully arranged toppings, not only are these superfood-powered blends a feast for the eyes, but they're also a genius meal hack for fueling up during the busy week. Grab a spoon, and get ready to dig into this rising food trend!
How to Make a Smoothie Bowl
We've shared how to make the perfect smoothie, but smoothie bowls are a little different due to their thicker consistency.
Build a Smoothie Bowl Base
Whether you're going for a raw smoothie bowl, a frozen smoothie bowl, or even a detox smoothie bowl, to make it right, it's all about that base.
Fresh or frozen fruit
Frozen fruit will help create a thicker consistency that stands up to your smoothie bowl toppings (think frozen banana, mango, or avocado), but you don't have to freeze your fruit to create a thick base, just be sure to blend fresh fruit with thickening ingredients like yogurt or nut butter.
How to thicken a smoothie bowl
Frozen fruit, nut butter, and yogurt are great smoothie bowl ingredients since they help to create a thicker base, but don't be afraid to think outside the box (or bowl) by using unexpected, nutrient-rich ingredients like black beans or even frozen cauliflower rice. These neutral-flavored thickeners pair well with just about any of your smoothie bowl go-tos and will help keep you fueled.
A liquid
Even with a smoothie bowl, you'll want to add just enough liquid to create a creamy texture —and these days, the selection of liquids go well beyond cow's milk. From coconut water to almond, cashew, hemp, or rice milk, there's a plethora plant-based options to choose from, ensuring your bowl is brimming with good-for-you ingredients.
Ice
While ice isn't exactly taboo when it comes to smoothie bowls, you also run the risk of encountering ice chunks, diluting the flavor of your bowl, or changing the texture from creamy to icy. A good rule of thumb? Stick to three parts frozen ingredients and two parts liquid for just the right amount of thickness.
Pick the Best Smoothie Bowl Toppings
Pile on the superfoods with these nutrient-dense smoothie bowl toppings.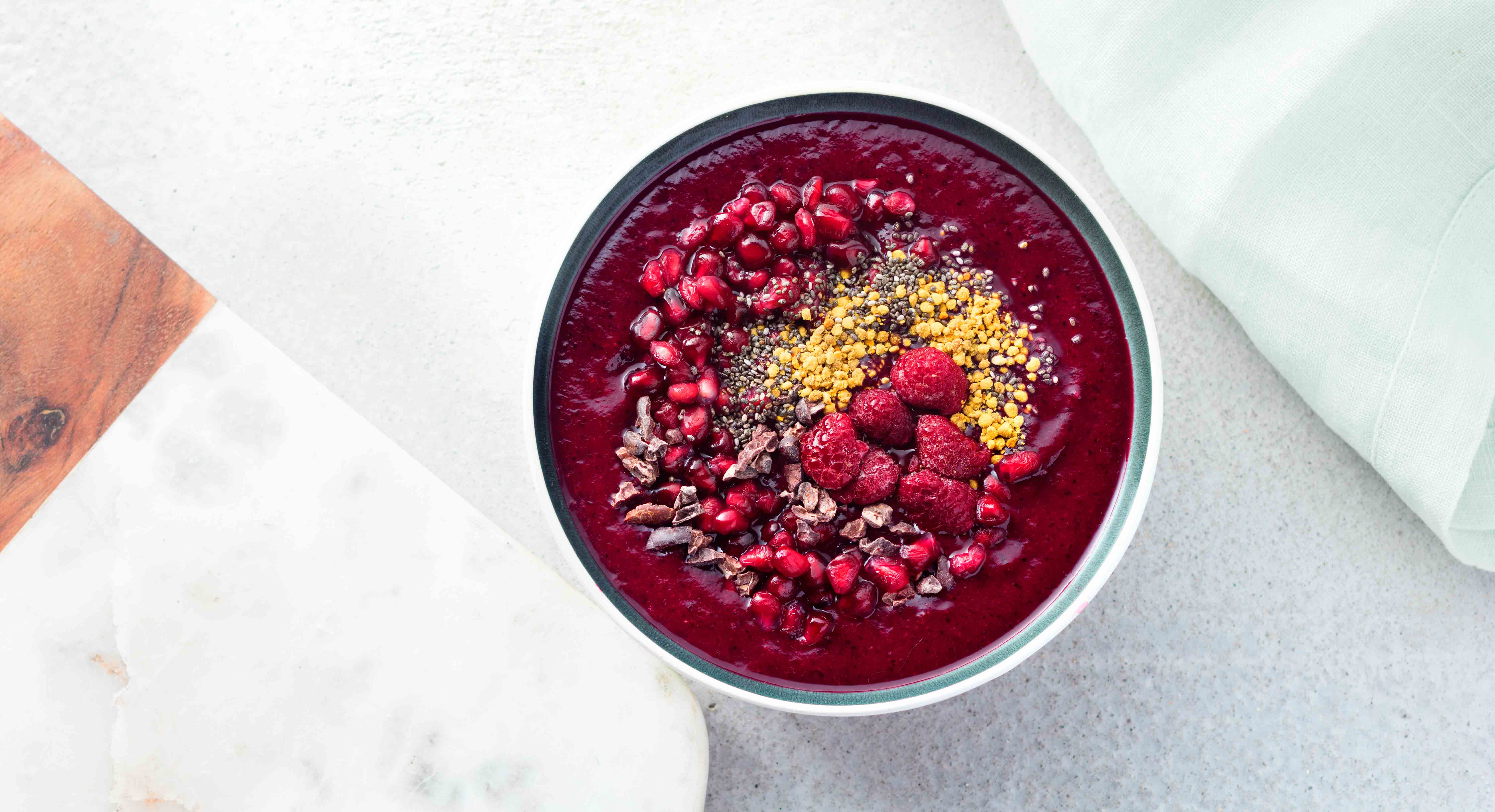 Beloved as an ancient superfood, cacao nibs include antioxidants, magnesium, and satisfy those chocolate cravings without the sugar.
These tiny but mighty seeds deliver protein, fiber, antioxidants, omega-3s, and add tasty crunch.
The most nutritious, tender part of the hemp seed, each serving provides 10g of protein along with omega-3 and 6.
Made from shredded, fresh coconuts that are dried without added sugar, oil, or preservatives, this natural topping adds a touch of subtle sweetness.
With antioxidants, more than 20 vitamins and minerals, and essential amino acids, these ancient super berries pack a punch.
Get a gluten-free dose of energy with hemp seeds, quinoa flakes, gluten-free oats, dried blueberries, and coconut sugar.
Add Nutritious Smoothie Bowl Boosters
Need a boost? We've rounded up our favorite bowl additions.
With four types of collagen protein (bovine, chicken, fish, and egg), this dairy-free, odorless, and tasteless supplement adds nutrients seamlessly.
Wellmade Organic Greens & More Superfood Blend Original
Looking for a way to sneak more greens into your diet? This naturally energizing and detoxifying blend includes alkalizing greens, field-grown wheatgrass, and tons of antioxidants, vitamins, and minerals.
This brain health and immunity booster is powered by beehive super nutrients, including propolis, bee pollen, and royal jelly.
Sun Potion Organic Reishi Powder
Revel in the magic of this mushroom powder that works to provide immunity support and stress relief.
New Chapter Fermented Turmeric Boosted Powder
Here's a genius booster blended with fermented turmeric, probiotics, and whole foods, which makes it easier for the body to digest.
New Chapter Fermented Black Seed Powder
This unique supplement includes black seed (also known as nigella), aloe, and turmeric that's fermented so it's gentle on tummies.
Navitas Organics Acai Powder
Sourced from organic açai berries that grow in the Amazon rainforest, this freeze-dried powder is formulated to deliver optimal levels of nutrients like antioxidants and fiber.
8 Best Smoothie Bowl Recipes
Ready to stir things up? Here are the smoothie bowl recipes we can't stop craving (and you can find even more here).
If you're a PB&J devotee, get ready to jam out to this bowl of goodness, made with creamy peanut butter, rolled oats, maca powder, and grape jelly.
Not all smoothie bowls need to be cold in order to be delicious. This warm, filling blend includes cacao creamer, gluten-free rolled oats, almond butter, almond milk, and a handful of good-for-you toppings.
Give your bowl and exotic spin with luscious dragon fruit whipped together with coconut collagen powder, almond milk, banana, and grapes. Top with pumpkin seeds, shredded coconut, and frozen berries.
If mermaids ate smoothie bowls, we're pretty sure this one would top the list thanks to a beautifying mix of pineapple and banana along with avocado, spinach, and plant-based superfood powder. Top it off with dragon fruit and star fruit, and you might just reel one in.
This tropical bowl served up in half a coconut is almost too pretty to eat with its gorgeous sliced mango rose-shaped topping, but the mixture of banana, kale, matcha powder, and coconut water will make you think again.
Start the day with a nutrient-rich pick-me-up of kale, baby spinach, minced ginger, cucumber, pear, and MCT oil for added omegas.
You just can't beet the beautiful color of this smoothie bowl, made with beets, frozen pineapple, blueberries, grated ginger, and coconut water and topped with bee pollen, cacao nibs, and fresh berries.
Beauty starts from within, which is why this genius bowl loads up on beautifying ingredients like açai, blueberries, and a beauty elixir of wheatgrass, alfalfa, and adaptogenic herbs.