With warmer weather on the horizon, we're betting some spring cleaning energy won't be far behind. If you're feeling the itch to refresh some neglected spaces around the house, head to the pantry. Specifically, consider revisiting your relationship to the different types of cooking oils. Not sure where to start? That's where Thrive Market comes in. Our guide makes it easy to decipher which bottle to reach for when—plus, we're celebrating the launch of some very special new oils too!
What Are Cooking Oils?
Oil is fat, and as we've learned from chef Samin Nosrat, an essential kitchen ingredient. Her popular cookbook Salt, Fat, Acid, Heat: Mastering the Elements of Good Cooking, offers some tried-and-true advice for home cooks: "Season food with the proper amount of salt at the proper moment; choose the optimal medium of fat to convey the flavor of your ingredients; balance and animate those ingredients with acid; apply the right type and quantity of heat for the proper amount of time—do all this and you will turn out vibrant and beautiful food, with or without a recipe." Even if it seems like an extra step, choosing the right kind of oil for your dish is one small (but impactful) way to enhance your daily cooking and as Nosrat points out, create vibrant food in the process.
How to Choose Cooking Oil
Deciphering which oil to use comes down to the kind of cooking you'll be doing. For example, an oil better suited for drizzling (like your best tin of olive oil) will behave very differently in a hot pan, which is a nice way of saying it could turn your dinner into something a bit less edible. To avoid a mishap, be sure to take into account an oil's smoke point. That is, the temperature it can reach before the fats start breaking down, forming potentially toxic fumes, and scorching your ingredients. Here's a quick breakdown for low, medium, and high heat cooking.
Low heat: Nut and seed oils thrive here, as well as aromatic unrefined olive oils. Add low heat oils as a raw ingredient in salad dressings, or flavor foods like roasted vegetables, dips, or meat right before serving.
Medium heat: A less refined olive oil, peanut oil, or high heat oil (see below) is a great choice for a quick sauté or oven temps less than 300°F.
High heat: If you're frying, roasting, grilling, or broiling, a high heat-friendly oil will do the trick. Choose refined olive oil, avocado oil, or coconut oil.
Cooking Oil Storage Tips
When investing in a lineup of cooking oils, be sure to extend their shelf life by keeping them in a cool, dry cabinet away from the stove. When oils are exposed to heat and light, they can turn rancid and lose some of their nutritional value too. Lighter seed and nut oils can be stored in the fridge.
---
8 Best Cooking Oils to Add to Your Pantry
Whether you're a kitchen minimalist who sticks to the basics or you appreciate plenty of options, Thrive Market has a cooking oil (or two) for you. To keep it simple, our best cooking oils are organized from lowest to highest smoke point.
Our Certified Organic coconut oil is made from sustainably sourced coconuts in the Philippines and is a kitchen multitasker for everything from frying to baking. (Member Jessica from Georgia uses it for cooking and moisturizing her dry skin.) Over the years our lineup has grown from a single tub of organic virgin coconut oil—still a member favorite—to offering refined and regeneratively grown options, and even a buttery version. Regardless of your personal pick, coconut oil offers health benefits like cardiovascular support and potentially increasing good cholesterol.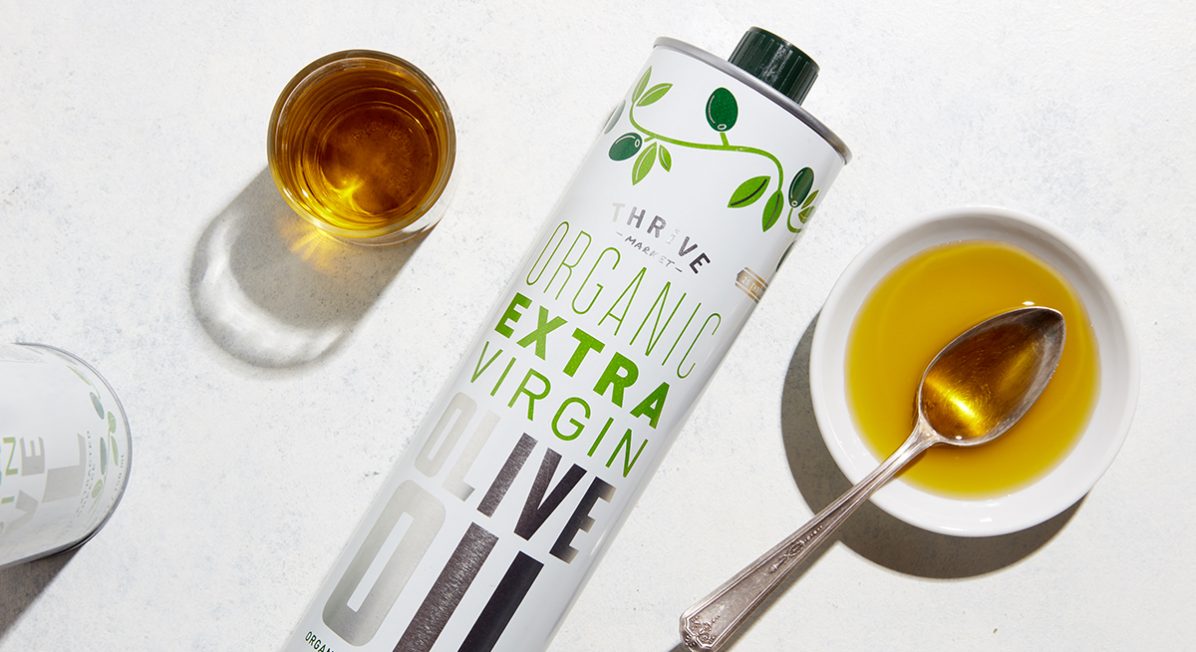 Also known as EVOO, extra virgin olive oil is a popular and versatile ingredient that's often what most people reach for when they see oil called for in a recipe. EVOO's roots are in the Mediterranean, where olive trees have thrived for centuries, but is also grown in similar climates around the world, like California and Morocco.
Olive oil is considered to be one of the healthiest oils in the world—you can thank antioxidants and nourishing fatty acids known as medium-chain triglycerides for that. As one of our O.G. products, Thrive Market members have a soft spot for this bottle of 100% Certified Organic Koroneiki olives grown and bottled on a single estate in western Crete. Karen from Arizona shares that "you can smell the fresh scent of olives whenever you open the can." We've gone on to develop a buttery bottle sourced with hand-picked Tunisian olives too.
Smoke point: 400°F
Cooking tips: No pantry is complete without EVOO. You can use this liquid gold for everything from a dipping sauce to finishing oven-roasted fish.
Flavor: Bright, fruity, and peppery
Recipe ideas: You might stock extra virgin olive oil for everyday cooking, but don't miss sweeter preparations like vegan olive oil skillet brownies or sophisticated chocolate and rosemary popsicles. You can also stream it into a food processor for DIY mayo.
This cooking staple is low in saturated fat and high in monounsaturated fat (one of the healthy fats). Many conventional canola oils are extracted using solvents and heat which may diminish nutrition and create trans fats, but not ours. Thrive Market Organic Canola Oil is expeller pressed from non-GMO rapeseed plants.
Smoke point: 400°F
Cooking tips: Canola oil is an all purpose cooking and frying oil. Coat your skillet before frying eggs, sautéing tofu, or grilling up peppers for fajitas.
Flavor: Essentially flavorless.
Recipe ideas: Whether you're vegan or not, canola oil adds moistness to muffins, pumpkin bread, and cakes. Use it in recipes for taco fillings, stews, meat marinades, as well as stir-frys.
Ghee is clarified butter and a pantry staple that's soy-, casein- and lactose-free, paleo, gluten-free, and ketogenic. Ours is made by slow-cooking butter from grass-fed cows until the milk proteins separate and delivers a range of nutritional benefits including vitamin A, vitamin E, and omega-3 fatty acids.
Smoke point: 400°F
Cooking tips: Ghee is similar to coconut oil in consistency, and works as a 1:1 swap for butter in many recipes. This ingredient has a long history of use in Indian cuisine, and shines in curry, bread, and rice dishes.
Flavor: Take your pick! Ghee has a light buttery flavor, but you can also amp things up with Himalayan salt and coconut oil.
Recipe ideas: Whip up a batch of ghee-infused drop biscuits, enrich a smoky eggplant curry, or try gluten-free blueberry muffins.
If you're the kind of cook who goes through a bottle of olive oil in a flash, meet an economical substitute that's just as versatile. Since grapeseed oil is made by repurposing the seeds of wine grapes, it's a sustainable pick for your kitchen, and ours is pressed from non-GMO grape seeds without the use of solvents. Nutritionally, this oil's claim to fame is delivering polyunsaturated fats (which contain omega-6 and omega-3 fatty acids), as well as vitamin E.
Smoke point: 420°F
Cooking tips: Grapeseed oil can stand up to sautéing and grilling with ease
Flavor: Neutral—this oil pleasantly fades into the background and lets other flavors shine.
Recipe ideas: Use grapeseed oil as the base of your favorite marinade or salad dressing. We also recommend it with poultry: Instant Pot Chicken Tinga Tacos or Sheet Pan Miso Chicken are winners for dinner.

Meet your pantry hero for searing and sautéing. This oil is high oleic (aka rich in monounsaturated acid) and pressed from organic sunflower seeds grown in the United States, Spain, and Ukraine. Paleo, ketogenic, and soy-free diets will definitely want a bottle on the shelf. Sunflower oil is also rich in omega-3s and believed to help lower "bad" cholesterol.
Smoke point: 450°F
Cooking tips: A high smoke point means you can switch between sautéing salmon and whisking a vinaigrette.
Flavor: As you might expect, sunflower oil has a light nutty flavor (with a rich and buttery texture), but it's not overpowering.
Recipe ideas: In addition to savory recipes like charring a pan full of Shishito peppers, sunflower oil compliments baked goods like cookies and quick breads.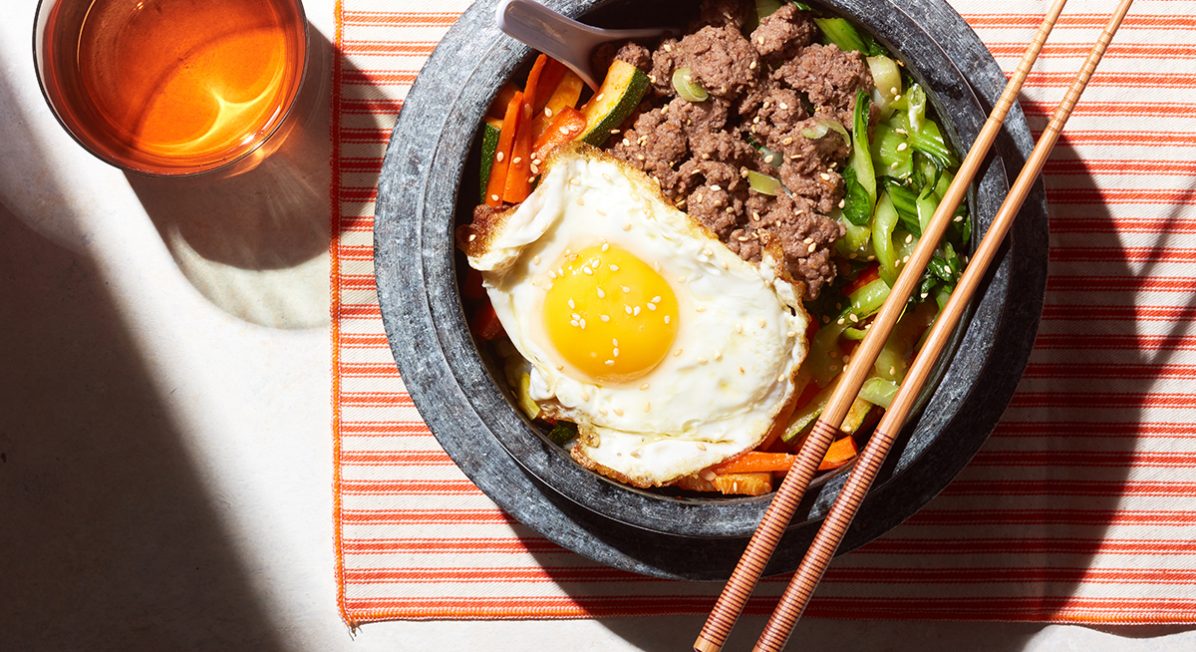 Ethically sourced from India and extracted from the husk of brown rice (the outermost layer), this oil is soy-free, gluten-free, organic, and plant-based. Rice bran oil is a byproduct of rice milling, so like grapeseed oil, makes for a sustainable way to build an oil collection.
Smoke point: 450°F
Cooking tips: If a recipe calls for high heat, you can safely use rice bran oil for deep-frying and stir-frying.
Flavor: Light and mild.
Recipe ideas: Rice bran oil is popular in Asian cuisines and enhances curries, stir-frys, and tempura.

To make our golden avocado oil, we use an ethical supply chain starring ripe Mexican fruit that's mechanically cold expeller pressed, not chemically extracted. The result is a nutritious, high smoke point and glyphosate-free staple that's always fresh and never mixed with other oils. And if you prefer the convenience of a can, you can spray away knowing it's propellant-free and doesn't contain any potentially harmful chemicals. On the nutrition front, avocado oil is known for its antioxidants, potassium, and vitamin E, and works with paleo, ketogenic, and kosher meal plans.
Smoke point: 500°F—the highest of any cooking oil
Cooking tips: Avocado oil makes a reliable olive oil alternative for a range of dishes like roasted vegetables, grilled chicken, and more. Off heat, use it as a drizzling oil for soups, guacamole, or even fruit like cantaloupe (don't forget to add a pinch of flaky salt). Some vegan recipes use avocado oil as a butter and dairy replacement.
Flavor: Rich and buttery with a creamy texture
Recipe ideas: Pan-roast fish using avocado oil and serve it alongside a vibrant citrus and fennel salad. Or, dress your popcorn, add a drizzle to smoothies, make hummus, or top your avocado toast for a double dose of healthy fats.