Alton Brown, Bobby Flay, and Giada De Laurentiis make it look so easy. As much as we admire these culinary masters, cooking—let alone whipping up healthy recipes—is not everyone's forte.
And when you think of "healthy," does it sometimes bum you out a little? Well, it doesn't have to! It's actually really easy (and often super fast!) to create balanced, filling meals that are not boring at all. All you need are some simple recipes—we've got you covered. Our guide to easy cooking features:
Quick recipes
Breakfast
Appetizers and sides
Mains
Smoothies
Snacks
Treats
Paleo, gluten-free, vegan—no matter your diet, here are 50 foolproof good-for-you recipes that range from light to hearty to snacky to sweet. Bon appetit!
1. Quick recipes (30 minutes or less)
It's not as intimidating as it sounds. You're just 20 minutes away from a Korean-inspired stir-fry dish that's low-carb and low-calorie, thanks to kelp noodles. (Paleo, Gluten-Free, Grain-Free, Vegan)
Making your own falafel at home is really easy. Fry them in avocado oil for an extra dose of beneficial fat, and pair with pita bread, a bowl of couscous, or salad. (Vegan, Gluten-Free)
Permission to eat fried foods, granted! A classic southern staple gets a healthful makeover with gluten-free batter and coconut oil. (Paleo, Gluten-Free)
Ditch the mayo and sugar and instead opt for a light, tangy coconut-based vinaigrette to dress your salad. With minimal cooking prowess and 15 minutes, you'll have a fresh side dish. (Vegan, Paleo, Gluten-Free, Grain-Free)
One word: bacon! It transforms an already dynamic dish of multicolored greens and apple cider vinegar. Bonus: it's ready in 10 minutes. (Paleo, Gluten-Free)
Creamed spinach sound complicated? Not at all. Try this side dish to reap the superfood-worthy nutrients of spinach. Make it dairy-free to heighten your health game even more. (Dairy-Free, Vegan, Gluten-Free, Paleo)
With tomatoes, garlic, lemon, and olive oil, fresh salsa can actually be a tasty vehicle for lots of nourishing ingredients. Jarred slow-roasted tomatoes are responsible for the robust sweetness—but it takes just five minutes to make. (Vegan, Paleo, Gluten-Free)
Another quick dip. Chickpeas are little powerhouses of protein, fiber, manganese, and folate. An added boost from pumpkin gives the recipe an autumnal taste. It's perfect in an earthy vegetable bowl. (Vegan, Raw, Paleo, Gluten-Free)
A lighter hummus than typical Mediterranean style, this recipe subs in roasted cauliflower for chickpeas. (Vegan, Paleo, Gluten-Free)
Fans of Mediterranean or Middle Eastern cuisine know it as muhammara, a flavorful dip comprised of peppers and walnuts. Whip it up in five minutes. (Gluten-Free, Vegetarian)
If you like Thai food, you'll love Laotian cuisine. Here's a super easy culinary experiment that takes just 15 minutes: a ground chicken stir-fry with fragrant lemongrass, tart lime juice, garlic, chiles and fish sauce (the latter lends an essential umami note). So many layers without any complex cooking required. (Paleo, Gluten-Free)
Fancy tuna hand rolls at your favorite sushi joint usually don't come cheap. So make your own version at home. Don't wanna mess with raw fish? You can actually play it safe with canned tuna. Coconut aminos and wasabi paste will give you the Asian flavor you crave, all wrapped up in nori, which is a great source of iodine (vital for women's health). (Paleo, Gluten-Free)
Flaky fish is easy to achieve with a foolproof 20-minute recipe. Marinara, spicy pepper, or tomato-basil sauce infuses delicate cod with rich flavor. (Paleo, Gluten-Free)
Free of MSG and packed with collagen-rich bone broth (which has plenty of health benefits), you'll never go back to your local Chinese place when you can have this 30-minute meal at home. Serve over a bed of brown rice or on its own for a low-carb dinner that's quicker than takeout, and a lot healthier, too! (Paleo, Gluten-Free)
For a healthy meal in a pinch, grab some quinoa spaghetti, ghee, fresh rosemary, and mushrooms (plus salt and pepper). The recipe explains how to poach an egg—a sophisticated way to elevate a simple pasta. (Vegetarian, Gluten-Free)
Thai food is known for its richness—and that often comes with added sugar and tons of carbs. Here's a lightened-up, low-carb version of red curry. (Grain-Free, Paleo, Gluten-Free, Dairy-Free)
When you think tacos, they often don't paint the healthiest picture. But we've got an interesting take on veggie tacos that are full of fiber and beneficial spices to give them tons of flavor. (Vegan, Raw, Paleo, Gluten-Free)
A 30-minute weeknight meal with very few ingredients, yet it's got two of your most important food groups: protein and kale. Yup, kale is basically in a league of its own as far as nutrition goes. (Paleo, Gluten-Free, Grain-Free)
Coconut flour, coconut oil, and a mix of spices transform a game-day favorite. (Paleo, Gluten-Free, Dairy-Free, Grain-Free)
2. Healthy breakfasts
All you need is seven minutes to whip up a fiber-rich breakfast. Flaxseeds, chia seeds, and hempseeds join forces to make a distinctive bowl of porridge full of vegetarian-friendly omega-3 fatty acids. Add coconut flakes for healthy fat and raspberries, golden berries, and goji berries for maximum antioxidants. (Vegetarian, Paleo, Gluten-Free)
Made-from-scratch pancakes made easy: just throw the ingredients into a blender, cook, flip, and get heaping plates of decadent, chocolatey pancakes in 20 minutes. The amped up (but quick) maple syrup recipe to match will change your breakfast game forever. (Vegetarian, Gluten-Free)
Two classic comfort foods come together with a rainbow of spices in a truly dessert-worthy baked breakfast platter that's guilt-free (we swear!). (Gluten-Free)
It really doesn't get easier than overnight oats. All you have to do is stir, let sit, stir again, and eat! But we've created a way to shake up boring old oats by infusing them with apple and spices. Perfect for a portable, make-ahead breakfast. (Vegetarian, Gluten-Free)
3. Easy, healthy appetizers and sides
A recipe that's such a cinch, all you've got to do is basically throw it in the oven. Assembling it is the hard part, but even that's kid stuff (seriously, get them to help here). Sweet potatoes are so rich in fiber and vitamins A and C; and spinach, kale, and avocado put this elevated baked potato over the top on nutrition. (Vegan, Paleo, Gluten-free)
We promise you won't miss the meat! These veggie buffalo bites feature cauliflower and the results are surprisingly satisfying. Choose your favorite hot sauce to achieve your desired heat. Pair the "wings" with a homemade vegan ranch to please omnivores and vegetarians alike. (Vegetarian, Paleo, Gluten-Free)
There are pretty much just four steps to making one sophisticated-sounding dish: roast, whisk, toss, and garnish. Pomegranate, fresh herbs, and a special tahini sauce add so much dimension to the blank canvas of cauliflower. (Vegetarian, Paleo, Gluten-Free)
Loaded with protein, good fat, and fiber—thanks to Greek yogurt, walnuts, eggplant, and olive oil—this recipe keeps you full! Throw in some antioxidant pomegranate seeds? Even better!
4. Main meals that are easy to make
The most succulent, fall-off-the-bone short ribs ever—and braising them in the slow cooker leaves you with plenty of free time for laundry day, family time at the park, or binge-watching Anthony Bourdain reruns. An easy, low-carb version of mashed "potatoes" (made with cauliflower) is the perfect complement. (Paleo, Gluten-Free)
Yes, pizza can be healthy! And making it from scratch is easier than you think. Try a recipe using a gluten-free crust mix. Load it up with marinated zucchini, artichoke hearts, and green olives, and go ahead and add an extra pizza night into your weekly meal plan. (Gluten-Free, Vegetarian)
So, so simple, but far from basic! Try your hand at quinoa pasta (psst: it's not really different from regular pasta, but it's got protein and it's gluten-free) with luscious goat cheese, sweet figs, crispy walnuts, and fresh herbs. (Gluten-Free)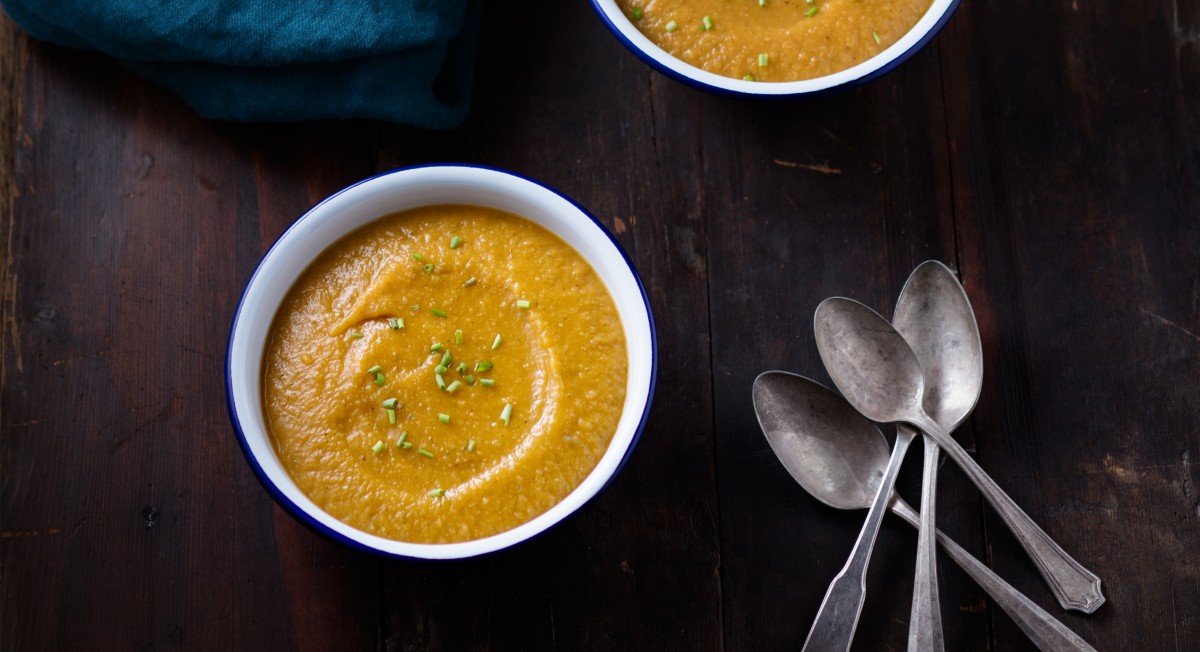 Upgrade a typical bisque by replacing butternut squash with kabocha. Pancetta makes a special appearance in a rich, creamy, warming bowl of soup. (Paleo, Gluten-Free)
Creamy tomato soup without actual cream? Sounds amazing, but how? Chickpeas are the secret ingredient, adding not only richness, but also extra fiber and vegan protein. All you need is one pot and a blender to whip it up. (Vegetarian, Gluten-Free)
A beautiful, rainbow-bright bowl of vegetable curry brightens up any dinner table. Its looks aren't everything either—the variety of veggies and spices provide a heaping serving of vitamins, minerals, and fiber. (To make it vegetarian- and vegan-friendly, hold the fish sauce.) (Paleo, Gluten-Free, Dairy-Free)
You'll barely have to lift a finger to create a masterful roast beef. All it takes is browning the beef for a couple of minutes, and then throwing it in the oven to let it do its thing for a couple of hours. But don't forget the mustard marinade—it's the key to turning the classic high-protein dish into a showstopper. (Paleo)
Shake up traditional roast chicken with our Mediterranean take. You'll have to marinate the chicken breasts for an hour first, but it's worth the wait! Fresh herbs and sesame seeds add depth. Serve with a green salad salad for a satisfying low-carb meal. (Grain-Free, Paleo, Gluten-Free)
Choose grass-fed beef for lean and mean, buttery sliders. Skipping the bread and wrapping them in lettuce leaves instead turns them from a guilty pleasure to a low-carb meal in an instant. (Grain-Free, Paleo, Gluten-Free)
5. Easy smoothies
Beets may sound intimidating, but get behind them—in Ayurvedic medicine, they're believed to have liver-cleansing properties. With antioxidant-rich raspberries, pomegranate seeds, and cacao nibs, as well as healing ginger and bee pollen, this ultra-nutritious breakfast bowl comes together in just 5 minutes. (Vegan, Raw, Paleo, Gluten-Free)
The closest you'll get to a sinless chocolate shake—and trust: it's just as good as the sugary stuff found at fast-food joints. Sweetened with a medjool date and made chocolatey and creamy with cacao, almond butter, and almond milk, it's an energizing way to satisfy a sweet tooth. (Vegan, Paleo, Gluten-Free)
6. Healthified snacks
Just four ingredients and 15 minutes to get the most amazing snack! Seriously, you'll kick your conventional chip habit after eating these. (Vegan, Paleo, Gluten-Free)
Don't get us wrong, we love our non-GMO, pre-packaged kale chips, but it's pretty fun and budget-friendly to make your own. You'll want: coconut oil, sesame oil, coconut aminos, sriracha, and shredded coconut. (Vegan, Paleo, Gluten-Free)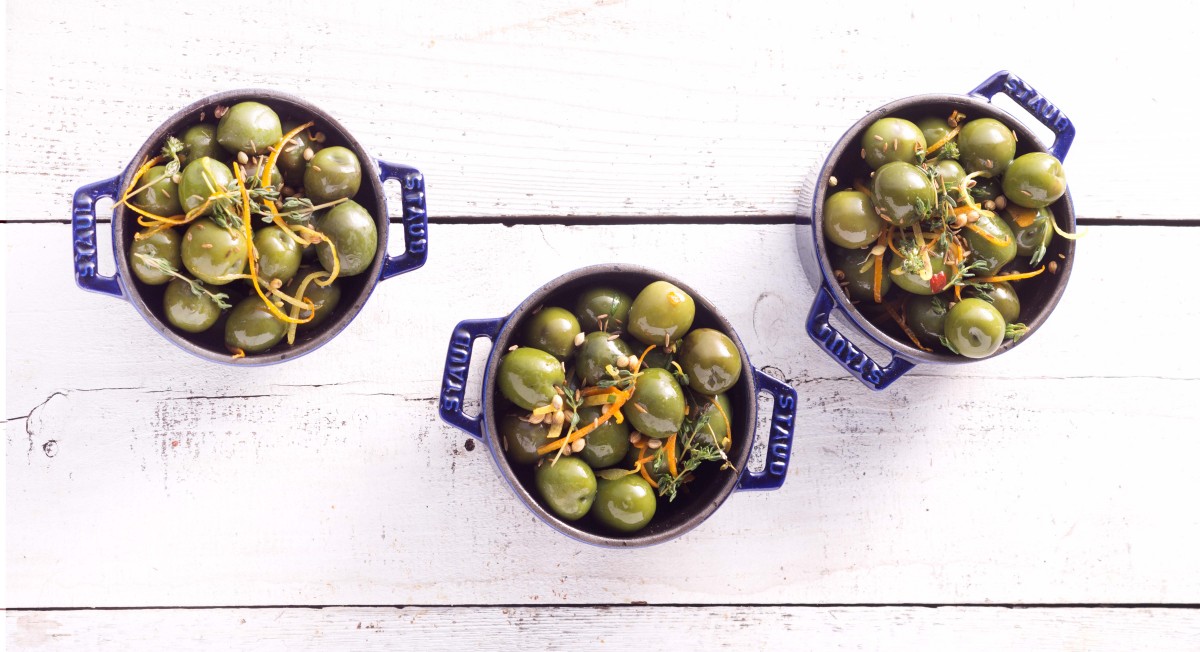 Spiced green olives make a fancy hors d'oeuvre or an addictive snack for one. Orange zest, thyme, coriander, and cumin do all the work to make these taste transcendent. (Vegan, Paleo, Gluten-Free)
A super-quick, irresistible, oh-so-poppable snack! Raw honey and almond butter are a better-for-you alternative to the usual corn syrup and marshmallows.
7. Quick, healthy treats
If you love creme brulee, here's a fruity dessert with a similar "crackable" caramelized crust. Raw honey, candied ginger, pomegranate seeds, and mint leaves bring out the natural sweetness of the grapefruit. (Paleo, Gluten-Free)
Yes, "raw cookies." Trust us, you'll get into these! Especially since they're no-bake and take very little effort. Almonds, vanilla, cinnamon, oats—all loveable ingredients—form the base. Top that with a homemade jam of mixed berries, raw honey, and chia seeds, and you've got a nutritious cookie that doesn't skimp at all on taste. (Raw, Dairy-Free, Gluten-Free)
Whip up a fresh, frozen treat and take your smoothie to go. Healthy fat and fiber on a stick—and mango and banana give it ample sweetness without added sugar. (Vegan, Raw, Paleo, Gluten-Free)
Vanilla ghee and brown rice are game-changers in a crispy, classic kids' favorite. (Gluten-Free)
Watch this video to try three simple sweet treat recipes that have no refined sugar whatsoever. Kids won't even notice they're packed with superfoods.
With these 50 easy, nutrient-packed recipes in your pocket, you've got some cooking to do! Do us a favor—when you're named the Next Food Network Star, give us a shout-out, would you?