With so many allergies, diets, and food preferences to consider, what's a host to do when planning a memorable Thanksgiving dinner menu? Don't sweat it, because we have recipes that everyone can feast on. From gluten-free pie to paleo Thanksgiving recipes like tart cranberry sauce, we've rounded up our top picks for festive foods that'll work for (almost) everyone.
Thanksgiving Meal Planning Tips
Two words: plan ahead. This is the secret to a successful and stress-free dinner party of any size.
Start a spreadsheet. Open a planner, a spreadsheet, or your favorite note-taking app and title it "Thanksgiving." A few weeks out, crack open your cookbooks, visit your favorite blogs, and read through guides like this one to brainstorm your menu.
A family affair. Include your family in brainstorming for the big day, and make a note of any special requests in your meal planning document. If you're not traveling or seeing extended family this year, take the opportunity to create a new tradition or try new dishes.
Share the load. If you're in a pandemic pod and safely hosting a group, ask them to bring a dish. Especially if someone has a special dietary requirement, it'll ensure there's something on the table they'll happily enjoy.
How to Use This Guide
Our guide has 21 Thanksgiving menu ideas to mix and match for your healthiest Thanksgiving dinner yet. Dishes are organized by category for easy scanning and include diet notes for reference. After browsing all the options, scroll down to our menu planner where you'll find custom menus based on your diet of choice.
---
Healthy Thanksgiving Appetizers
Set out something to tide you over until the main event.
Pumpkin Hummus (Gluten-Free, Vegan, Vegetarian)
Stay on brand with a seasonal hummus recipe that combines pumpkin puree with chickpeas for a healthy snack that'll keep you satisfied until dinner.
This make-ahead snack is the perfect nosh to leave on the counter. Make it paleo- and Whole30®-friendly by omitting the sugar and using ghee instead of butter.
---
Best Thanksgiving Turkey Recipes Ever
You can't have Thanksgiving without turkey (unless you're vegetarian or vegan, that is).
Butter-flavored coconut oil infuses the skin of this easy Thanksgiving turkey recipe that'll be the showstopper of your table. Baste the skin as it roasts for added crispness.
Hot tip: slather rich fat (like coconut oil) over the skin to help it get extra crisp. Aromatics like rosemary, sage, and thyme will make the kitchen smell divine, too.
Enhance every bite of turkey, mashed potatoes, and stuffing with a classic condiment sweetened with maple syrup. We upgraded this recipe with spicy ginger and tart goji berries for added nutrition.
If you're skipping out on the bird, serve this stunning vegetarian dish as your centerpiece instead.
---
Easy Thanksgiving Side Dishes
There's nothing boring about these creative Thanksgiving side dish ideas that work for everyone's diet.
One of the best Thanksgiving side dishes has to be stuffing. We've banned bread in this tasty recipe that combines pear, caramelized onions, and earthy kale. For a dairy-free option, swap out the ghee for EVOO or coconut oil. You can also make this dish vegan or vegetarian by using vegetable stock instead of chicken stock.
In the classic Thanksgiving side dishes department, nothing beats mashed potatoes. But even without cream, these silky potatoes melt in your mouth. The pumpkin swirl and rosemary gravy takes this mash from basic to next level—a beautiful addition to any Thanksgiving spread.
Don't be put off by the anchovies—they melt into a savory sauce that adds the perfect salty note to each bite. Bonus: this dish is ready in just 15 minutes. Roast the broccoli while the turkey rests and you'll be set for dinner.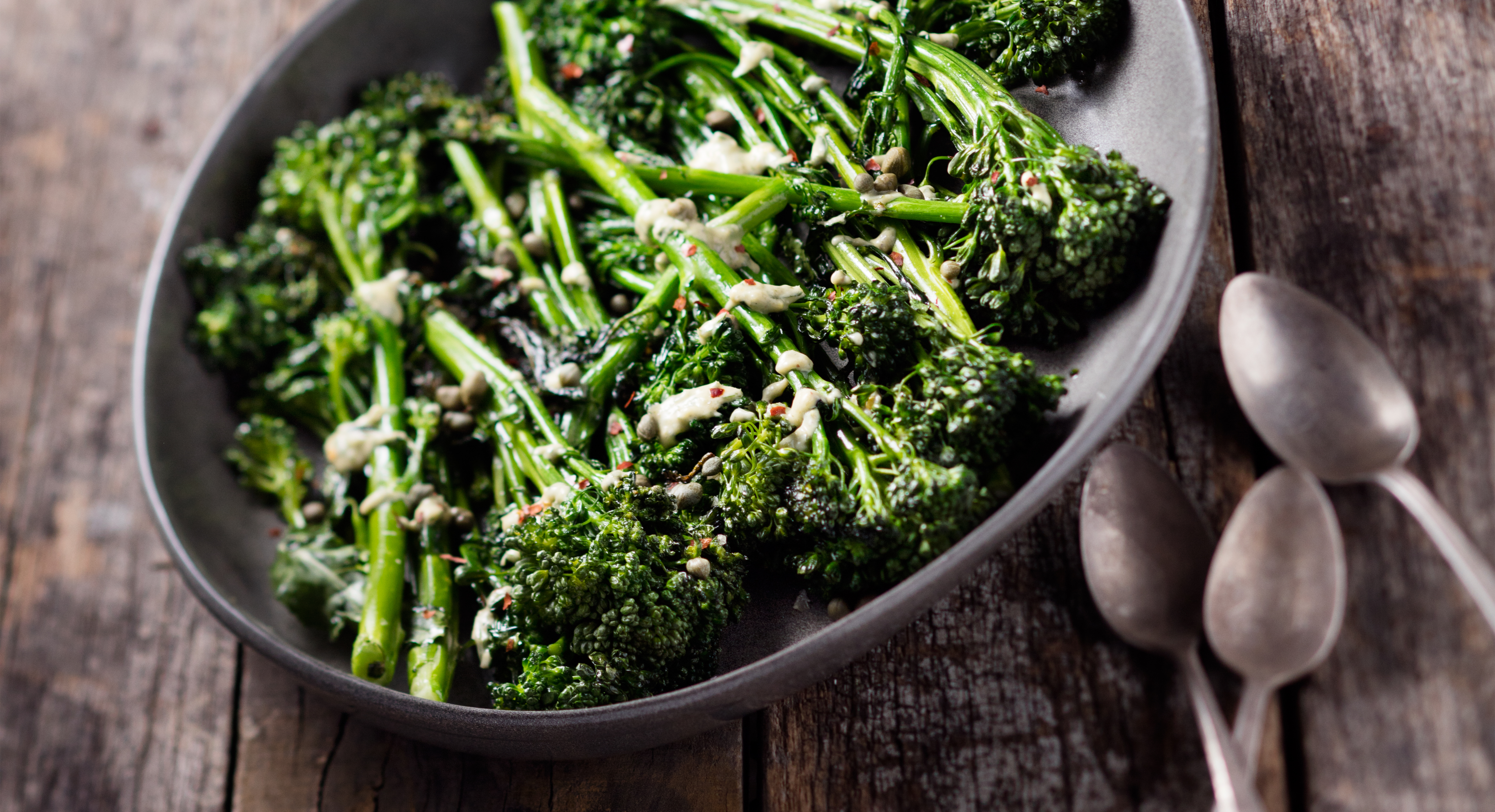 Green Bean Casserole (Keto, Vegan, Whole30®, Paleo, Gluten-Free)
Our modern spin on classic green bean casserole is a home run for just about every diet. The vegetables are baked with a cashew-based sauce, seasoned with nutmeg and sage, and finished with a crispy shallot topping.

Serve this silky cauliflower in lieu of potatoes and no one will miss the spuds. This veggie dish is made with lots of garlic, coconut milk for creaminess, and vegetable broth.
Another potato-free purée option is our parsnip and apple mash that uses coconut milk and ghee for richness. Make this side in advance, then keep it warm over a pot of simmering water until you're ready to serve.
Gluten-free baguettes let you recreate the stuffing recipes you crave without the potential stomach discomfort. Mushroom broth adds rich flavor, while a trio of dried herbs (sage, rosemary, and thyme) takes each bite to new heights.
Having something bright and fresh on the table helps balance richer dishes. (Plus, including a cold Thanksgiving side dish means you're not fighting for oven space.) Salty cheese, zesty lemon, and fresh mint mingle temptingly with crunchy Brussels.
If traditional rolls are off limits, bake a batch of our garlicky knots made with paleo-friendly flours and lots of fresh parsley.
Colorful Thanksgiving side dishes always make a statement. This vegan version of sweet potato casserole hits all the right flavor notes, and dairy-free mini marshmallows add a sweet topping.
---
Easy Thanksgiving Desserts
For a post-dinner treat, celebrate the season with Thanksgiving dessert recipes like paleo-friendly pie, keto pudding, a vegan crumble, and more.
Nothing against pumpkin pie, but pecan pie is just as worthy of your dessert spread. Traditional recipes are often made with corn syrup, but our maple syrup and date filling (and a simple gluten-free chocolate crust) make every bite irresistible.
A fall-inspired fruit crumble is the way to go for an easier-than-ever dessert. The topping is made from one of our favorite gluten-free granolas—just add a scoop of your favorite ice cream.
Pumpkin pie purists will love this paleo-friendly option made with a nutty crust, silky pumpkin filling, and lots of warm spices.
Pumpkin Truffles (Gluten-Free, Paleo, Vegan, Vegetarian)
Here's a make-ahead dessert that's almost too cute to eat. Each morsel features five simple ingredients including sweet pumpkin, two kinds of gluten-free flour (almond and coconut), chocolate chips, and maple syrup.
It's a departure from traditional pie, but this unique Thanksgiving dessert lightens things up after a big meal. Plus, the individual portions look cute in a cup. Make this the night before and leave it in the fridge until it's time to serve.
---
How to Plan a Thanksgiving Menu for 6 Diets
A dish for every diet means everyone can enjoy the bounty. Compiled from our recipes above, simply pick and choose your favorite recipes to create a dream menu.
Gluten-Free Thanksgiving Recipes
Pumpkin Hummus
Rosemary and Lemon Spiced Nuts
Garlic and Lemon Roast Turkey
Coconut Oil-Basted Turkey
Superberry-Ginger Cranberry Sauce
Caramelized Leek, Onion, and Mushroom Stuffing
Pan-Roasted Broccolini With Anchovy Sauce
Green Bean Casserole
Parsnip-Apple Purée
Mushroom Stuffing
Shaved Brussels Sprouts Salad
Thanksgiving Dinner Rolls
Sweet Potato Casserole
Pecan Pie With Chocolate Crust
Cranberry Pecan Apple Crumble
Maple Pumpkin Pie
Pumpkin Truffles
Pumpkin Spiced Chia Seed Pudding
Keto Thanksgiving Recipes
Garlic and Lemon Roast Turkey
Pan-Roasted Broccolini With Anchovy Sauce
Green Bean Casserole
Garlic and Herb Mashed Cauliflower
Shaved Brussels Sprouts Salad
Thanksgiving Dinner Rolls
Pumpkin Spiced Chia Seed Pudding
Paleo Thanksgiving Recipes
Garlic and Lemon Roast Turkey
Superberry-Ginger Cranberry Sauce
Whole Roasted Cauliflower
Caramelized Leek, Onion, and Mushroom Stuffing
Pan-Roasted Broccolini With Anchovy Sauce
Green Bean Casserole
Garlic and Herb Mashed Cauliflower
Parsnip-Apple Purée
Thanksgiving Dinner Rolls
Pecan Pie With Chocolate Crust
Maple Pumpkin Pie
Pumpkin Truffles
Vegan Thanksgiving Recipes
Pumpkin Hummus
Superberry-Ginger Cranberry Sauce
Pumpkin-Swirled Mashed Potatoes
Green Bean Casserole
Garlic and Herb Mashed Cauliflower
Mushroom Stuffing
Thanksgiving Dinner Rolls
Sweet Potato Casserole
Cranberry Pecan Apple Crumble
Pumpkin Truffles
Pumpkin Spiced Chia Seed Pudding
Vegetarian Thanksgiving Recipes
Pumpkin Hummus
Rosemary and Lemon Spiced Nuts
Superberry-Ginger Cranberry Sauce
Whole Roasted Cauliflower
Pumpkin-Swirled Mashed Potatoes
Garlic and Herb Mashed Cauliflower
Parsnip-Apple Purée
Mushroom Stuffing
Shaved Brussels Sprouts Salad
Thanksgiving Dinner Rolls
Sweet Potato Casserole
Pecan Pie With Chocolate Crust
Cranberry Pecan Apple Crumble
Maple Pecan Pie
Pumpkin Truffles
Pumpkin Spiced Chia Seed Pudding
Whole30® Thanksgiving Recipes
Pan-Roasted Broccolini With Anchovy Sauce
Green Bean Casserole
Garlic and Herb Mashed Cauliflower