Chopped salad. Shrimp fried rice. Coq au vin. Carne asada burrito bowl.
What do these foods have in common? On a gluten-free diet, they're all very much on the menu.
Eating gluten-free doesn't mean resigning yourself to a lifetime without pasta, pizza, and bread. Nor does it mean sticking with plain salads or chicken-and-veggies night after night. Expand your culinary horizons with these 40 recipes—all are completely gluten-free, and every single one will please your tastebuds.
Anyone with Celiac disease or a sensitivity knows how tricky it can be to avoid gluten. It seems to be hiding in just about every processed food—even ketchup and salad dressings. Consult this list of gluten-free foods to make sure your eats are safe.
Vegetarian recipes
A gluten-free crust mix makes this veg-heavy pie oh-so-easy. Pile on the cheese, zucchini, green olives, and artichoke hearts, then bake the whole thing until it's deliciously bubbly.
Marinating extra-firm tofu in orange juice and cayenne pepper punches up the flavor, and baking it locks in a wonderful crispiness. Serve slices over wheat-free soba noodles and baby bok choy for a satisfying meatless dinner.
A cashew "queso" sauce keeps these kale chip nachos totally vegan and Paleo-friendly. With jalapenos, avocado, and cilantro on top, this version is, dare we say it, even more flavorful than the original.
Thin ribbons of carrots (all you need is a peeler!) make an elegant substitute for noodles. Tossed in a spicy-sweet almond butter sauce, this raw take on a Thai favorite is mind-blowingly good.
Here's another pasta substitute for you: spiralized zucchini. "Zoodles" have an al dente texture and mild flavor, minus the carbs or gluten. Try them with protein-packed white beans and a medley of Mediterranean herbs for a light yet satisfying dinner.
Coconut curries have always been on the menu for gluten-free foodies—it's the noodles that so often accompany them that are off limits. Swap in zero-calorie shirataki fettuccine to keep things low-carb (and g-free, of course).
Craving angel hair swimming in thick cream sauce? Try gluten-free kelp noodles dressed in a lemony avocado sauce instead. Bonus: it's totally vegan!
Jap chae is a classic Korean stir-fry dish typically made with fried rice noodles, sliced veggies, and soy sauce. Here, coconut aminos and kelp noodles keep things strictly gluten-free.
All you need is some good-quality olive oil, fresh figs, creamy goat cheese, and flaky sea salt to take plain pasta from basic to divine. It's a deceptively simple yet sophisticated meal.
If any dish is made for Instagram, it's this stunning olive tapenade tart topped off with rows of roasted cherry tomatoes. Just remember to snap a pic before you slice into it! (Omit the anchovies for a vegetarian version.)
Spirulina—a dark green powdered algae—gives traditional risotto a burst of antioxidants and a lovely green hue. Add zucchini, leeks, and artichoke hearts for a veggie-packed dinner any foodie will enjoy.
Anything topped with a sunny-side-up egg pretty much has to be good. That's definitely true of this healthy take on bibimbap with stir-fried mushrooms, carrots, and zucchinis, and Gochujang, or Korean hot pepper paste.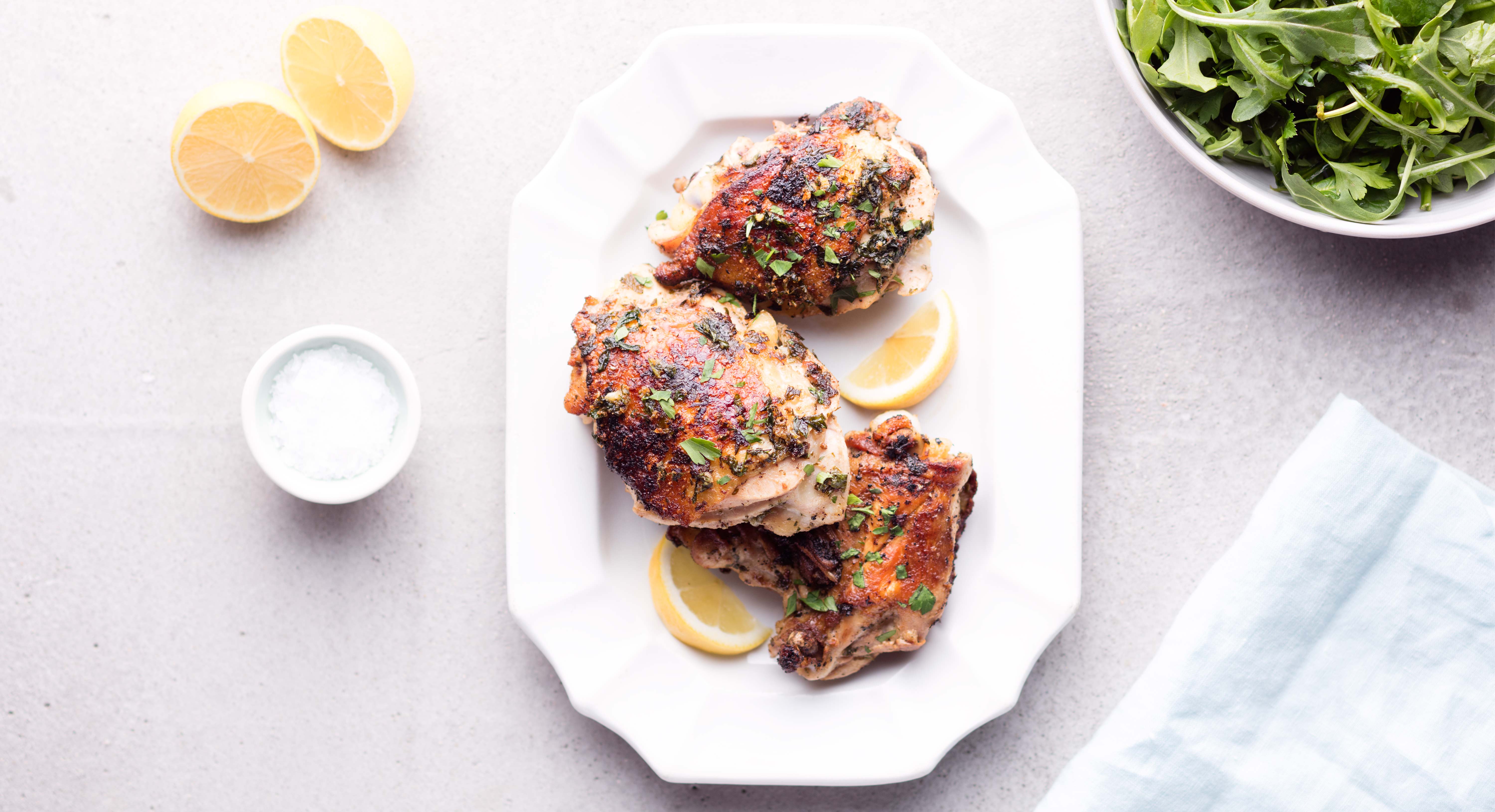 Chicken and turkey recipes
You can't get more classic—or easy—than a whole roast chicken. Here, garlic, rosemary, thyme, and lemon add savory flavor to the bird as it cooks. All you need is mashed potatoes or green salad on the side, and dinner is done.
You probably already have most of the key ingredients for this recipe in your fridge. Whole grain mustard and apple cider vinegar bring a delightful tanginess to the meat, and garlic and fresh herbs finish it off for extra flavor.
Baking chicken breasts on a bed of cherry tomatoes and black olives keeps the meat super moist. And when you do the protein and veggies all in the same pan, you cut down on cleanup time, too.
Fire up the grill! With a colorful marinade of yogurt, turmeric, and lemon these chicken kebabs are a must-try. Bright fennel slaw makes the perfect accompaniment.
Throw rice, boneless chicken thighs, and aromatics into a big pot, then simmer away. As the rice cooks, it essentially steams the chicken, locking in moisture and the flavors of garlic, ginger, and green chiles.
Don't be intimidated by the name "tagine"—it's really just the Moroccan version of stew. Lemon slices, briny green olives, and six colorful, warming spices make an appearance here.
As the combo of cinnamon, ginger, cardamom slowly simmers with sweet dried apricots and savory chicken breasts, the flavors meld together—in fact, the longer it sits, the better it tastes!
This simple stir-fry is quicker than ordering takeout from the local Chinese place. Just throw together some sliced chicken, snow peas, chile pepper, and cashews, and you've got dinner.
Fresh sage leaves, pine nuts, and dried cranberries make turkey meatballs seem totally gourmet. Serve them over spaghetti squash for a new take on traditional spaghetti and meatballs.
Beef and pork recipes
Put Chipotle to shame with a grain-free burrito bowl you can whip up at home with spice-rubbed steak, caramelized red onions, tomato, avocado, and cauliflower rice.
This bright green Argentinian sauce amps up pretty much any grilled meat, but tastes especially good with steak. Parsley, red pepper flakes, and pine nuts provide its signature flavor.
This Peruvian dish is sort of like a stir-fry topped with french fries, or, in this case, parsnip fries—because they're Paleo-friendly!
For the tastiest slow cooker meals, brown the meat in a frying pan first—that caramelization adds tons of extra flavor. Lots of balsamic vinegar and bone broth help tenderize the ribs, creating a melt-in-your-mouth texture you'll crave time after time.
Ah, pot roast—is there anything more comforting? Let the crock pot do all the work for you with this recipe that cooks the roast, carrots, onions, and sweet potatoes all at once.
It looks fancy, but it's a snap to put together—perfect for an on-the-fly dinner party.
Broccolini, a more-tender relative of broccoli, shares the spotlight with beef in this stir-fry, and gets tons of flavor from a savory blend of coconut aminos, garlic, ginger, and sesame oil.
Slathered in spicy tomato sauce and covered in gooey mozzarella, these meatballs would make any Italian grandmother proud, and they'll leave guests begging for seconds. If you're missing pasta, add some quinoa or rice noodles on the side.
Roasted red bell peppers, walnuts, and paprika come together in a sublimely smoky sauce that goes especially well with golden-brown pork chops.
Fish recipes
Poke—a raw Hawaiian seafood salad—is about as low-maintenance as it gets, pairing sushi-grade fish, sesame dressing, cucumber noodles, chopped avocado, and grated carrots. So refreshing.
Listen up, sardine haters—it's time you give the tiny fish another chance. Salty and briny, they bring tons of umami flavor to any dish.
Cauliflower rice saves the day yet again, this time, with sautéed vegetables and simply cooked salmon for a filling, low-key dinner.
Spring rolls are just as fun to make as they are tasty. Follow this easy guide to learn how to roll your own, then try customizing the recipe with any filling you like.
This sea bass gets its signature sweet and sour flavor from coconut sugar, lime juice—and fish sauce! The latter, a favorite among Thai chefs, is what really elevates the dish to gourmet status with its pungent signature flavor.
Get the elegance of a five-star restaurant meal at home by whipping up an umami broth filled with enoki and shitake mushrooms to go with pan-fried halibut.
This dish is all about balance—turmeric, coriander, and cumin bring welcome heat that plays well with a refreshing cucumber and Greek yogurt sauce.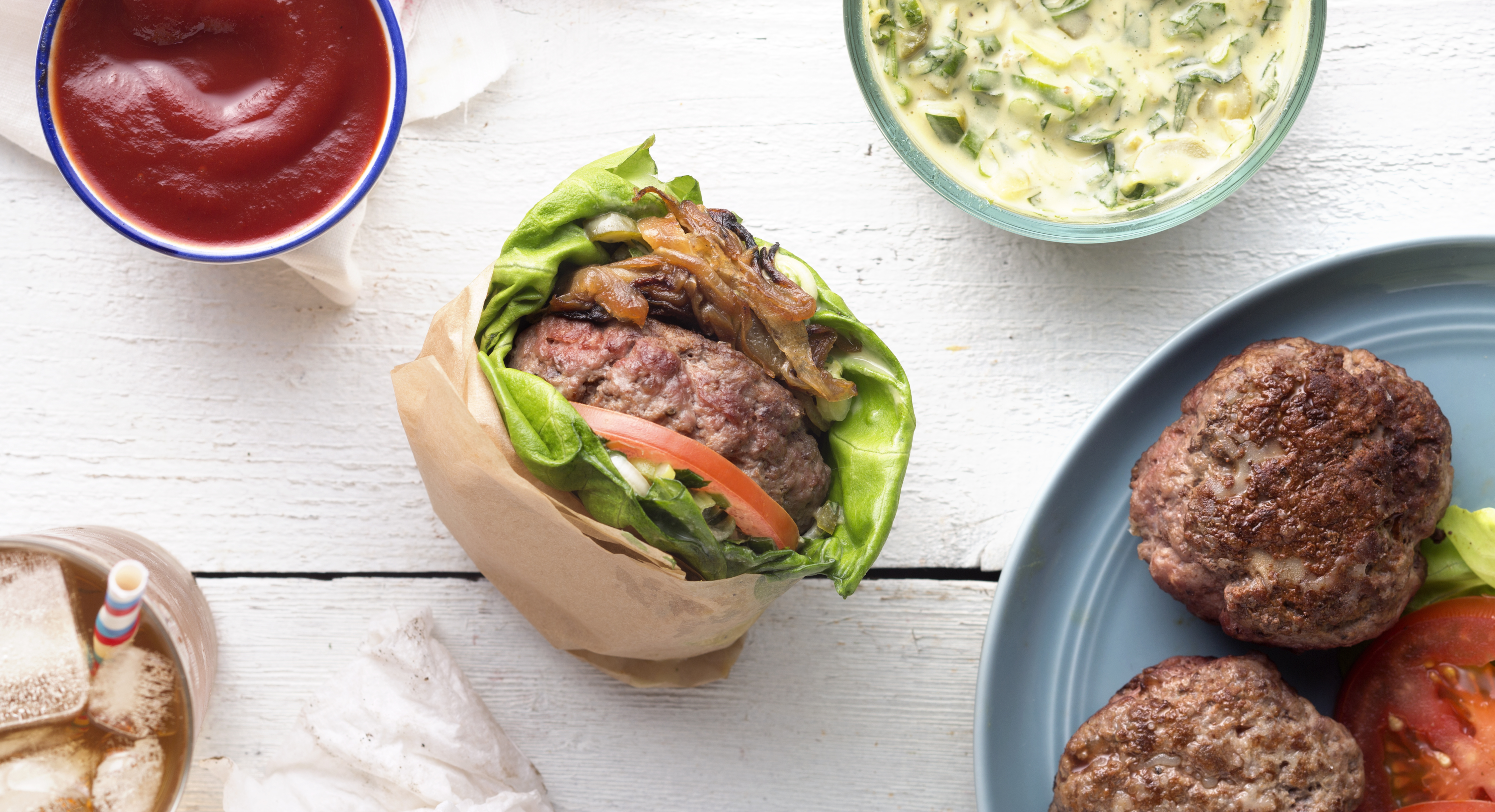 Kid-friendly recipes
Gluten-intolerant kiddos don't need to miss out on crispy chicken nuggets. Thanks to a coconut flour and flaxseed breading, these treats are totally wheat-free.
Whoa—potato chips and cornflakes on fish sticks? Oh yeah, this recipe packs some major crunch and majorly delicious flavor.
Fried in butter, doused in a creamy mustard sauce, and topped with caramelized onions, these sliders are decadent enough to please little fans of fast-food burgers.
Photo credit: Paul Delmont