Want fast food that's way healthier than a drive-thru meal? Power up your blender.
There's no doubt about it—when you don't have time to make a full meal, whipping up a smoothie in under a minute is the definition of clutch. You can completely customize your drink by adding in as many superfood nutrients or flavorful ingredients as you'd like. And because smoothies and shakes are liquid, your body is able to absorb the nutrients more quickly. That's why bodybuilders and athletes prefer to refuel with protein shakes or electrolyte drinks—they can get all the nutrients their muscles and tissues need way more quickly than if they had to sit down and eat a full meal. (A pre-made shake is a nutritious option on the go, too.)
But if you've ever accidentally caught a glimpse of the calorie counts of the smoothies at Jamba Juice, you know that liquid meals aren't always healthy. Even when they contain good-for-you ingredients, they might also be loaded with stuff you don't want—extra sugars, carbohydrates, and high-calorie fillers.
It helps to know your options. Here's the lowdown on what to look for in a meal replacement shake—plus our five favorites that suit almost every diet, and five-make-at-home recipes. Breakfast, lunch, or dinner, sip your heart out.
Supplements and pre-made drinks
When looking for a pre-formulated meal replacement drink, there are four things to pay attention to:
1: Calories
Drinks, shakes, or smoothies that are supposed to stand in for a full meal will have a significantly higher calorie count than, say, a snack or a pre-workout smoothie (which is just meant to tide you over). Look for formulations that have at least 350 to 400 calories to make sure it'll sustain you.
2: Protein
Because our bodies digest liquids more quickly than solids, we might get hungry sooner after a meal replacement shake than we would following a regular meal. Protein helps you feel more satiated and also boosts metabolism, so look for products with at least 15 grams per serving.
3: Fat
Look for shakes with anywhere from 10 to 15 grams of dietary fat from sources like nuts, avocado, coconut oil, or seeds; fats slow down nutrient absorption and digestion, so you won't be hungry an hour later. Plus, healthy fats are crucial for overall cell health and repair.
4: Fiber
It's recommended that adults get 25 grams of fiber daily, so try to choose a shake that has at least 5 grams per serving or more. Not only does fiber help with digestive regularity, but it's also a proven anti-inflammatory; researchers believe it works by feeding the healthy bacteria in the gut, and in turn those bacteria release substances that lower inflammation throughout the body. And, because fiber takes longer to digest (like protein and fat), it makes you feel fuller longer.
Best meal replacement shakes
Here are some of our favorite meal replacement shakes and supplements:
Whey protein is complicated—on one hand, it's a really great source of protein that's found naturally in dairy. On the other, it typically goes through a fair amount of processing and is often laced with chemicals, and can be difficult for some people to digest. Orgain's is a combination of organic whey and casein protein derived from grass-fed cow's milk is of the highest quality, with zero nasty fillers. It's also loaded with vitamins A and C, calcium, and iron, which work together to help rebuild muscle tissue and strengthen bones.
Garden of Life Raw Fit Powder
Calories: 190
Protein: 38 grams
Fat: 3 grams
Fiber: 6 grams
This vegan powder has a whopping 38 grams of protein thanks to a blend of sprouted grains, seeds, and vegetables. Usually protein powder can't rival a full meal in terms of varied nutrients and minerals, but Garden of Life's formula is an exception. Not only does it boast 25 percent of your daily fiber, it's also got over 3 billion CFUs of beneficial probiotic bacteria to help with digestion, plus 11 other essential nutrients. Add a scoop to 16 ounces of liquid for a filling meal replacement.
---
Homemade meal replacement smoothies
If you have a little more time, making your own meal replacement shakes and smoothies at home is ideal because you can customize them however you like. Just like when picking a pre-made option, it's important to add protein, healthy fat, and fiber.
Here are five of our favorite healthy smoothie recipes. Each is already full of fruits, veggies, and healthy fats—just add a scoop of protein powder and you're good to go.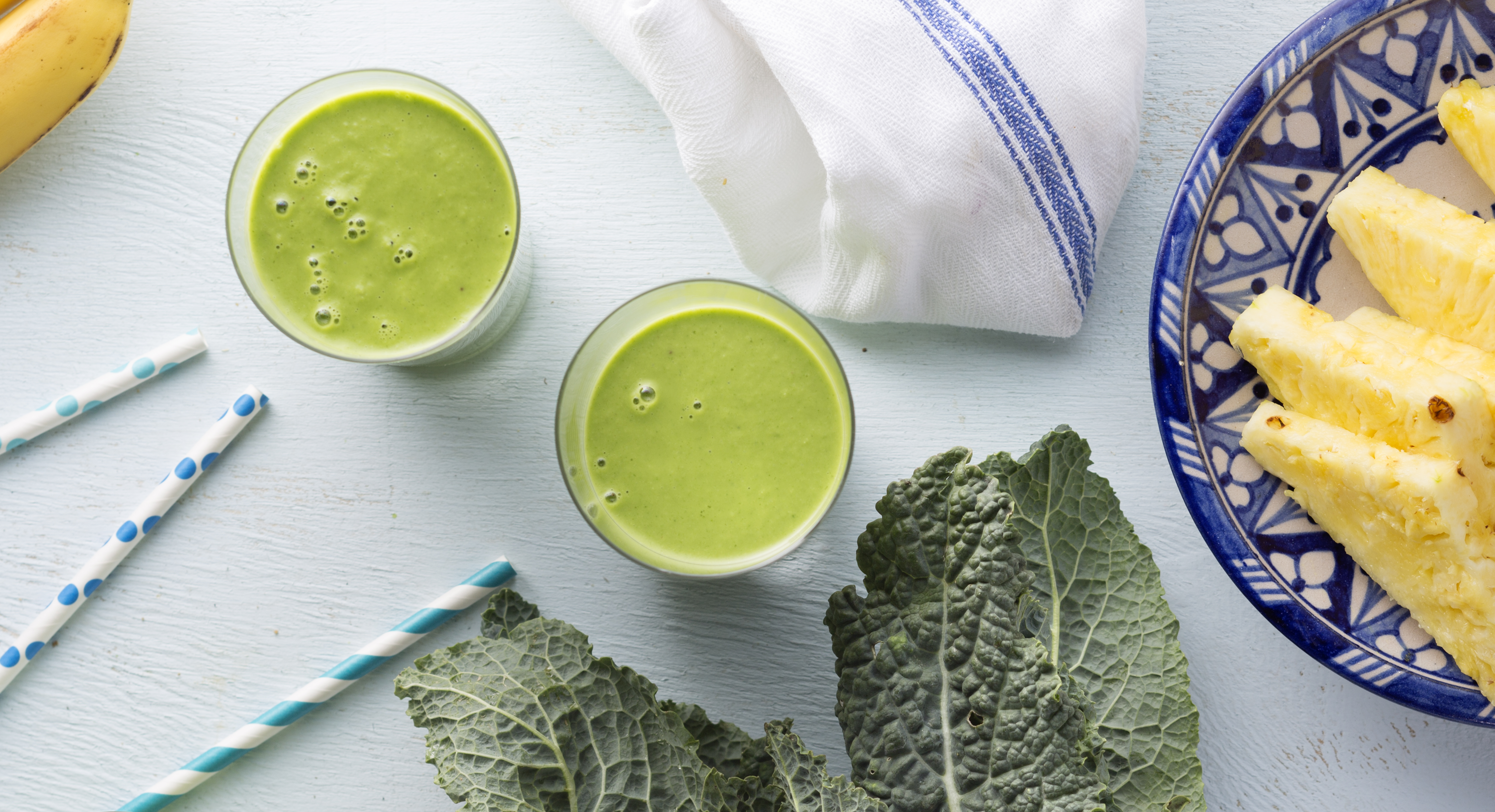 A little tropical and very refreshing, this green smoothie has coconut oil to rev your morning metabolism and keep you full all day long. Try adding a vegan, plant-based protein like Garden of Life Organic Plant Protein Powder, which won't mess with the fruity taste.
Yield: 1 smoothie
Total Time: 5 minutes
Ingredients
1 cup kale, de-ribbed
1 cup coconut water
1 cup frozen pineapple chunks
½ banana
1 tablespoon coconut oil
Instructions
Place all ingredients in a high-speed blender and blend on high until thoroughly combined.
If you went a little too hard on the carbs and snacks over the weekend, this minty concoction makes for a great Monday morning breakfast. Detoxifying cucumber paired with fiber-rich green apples encourages digestion to help banish any lingering bloat.
Yield: 2 to 4 smoothies
Total Time: 5 minutes
Ingredients
1 English cucumber
1 large or 2 medium-sized green apples, cored
1 cup coconut water
¼ cup mint leaves
Juice of 3 limes
Instructions
Place all ingredients in a blender and blend on high until smooth. Serve cold, with ice cubes if desired.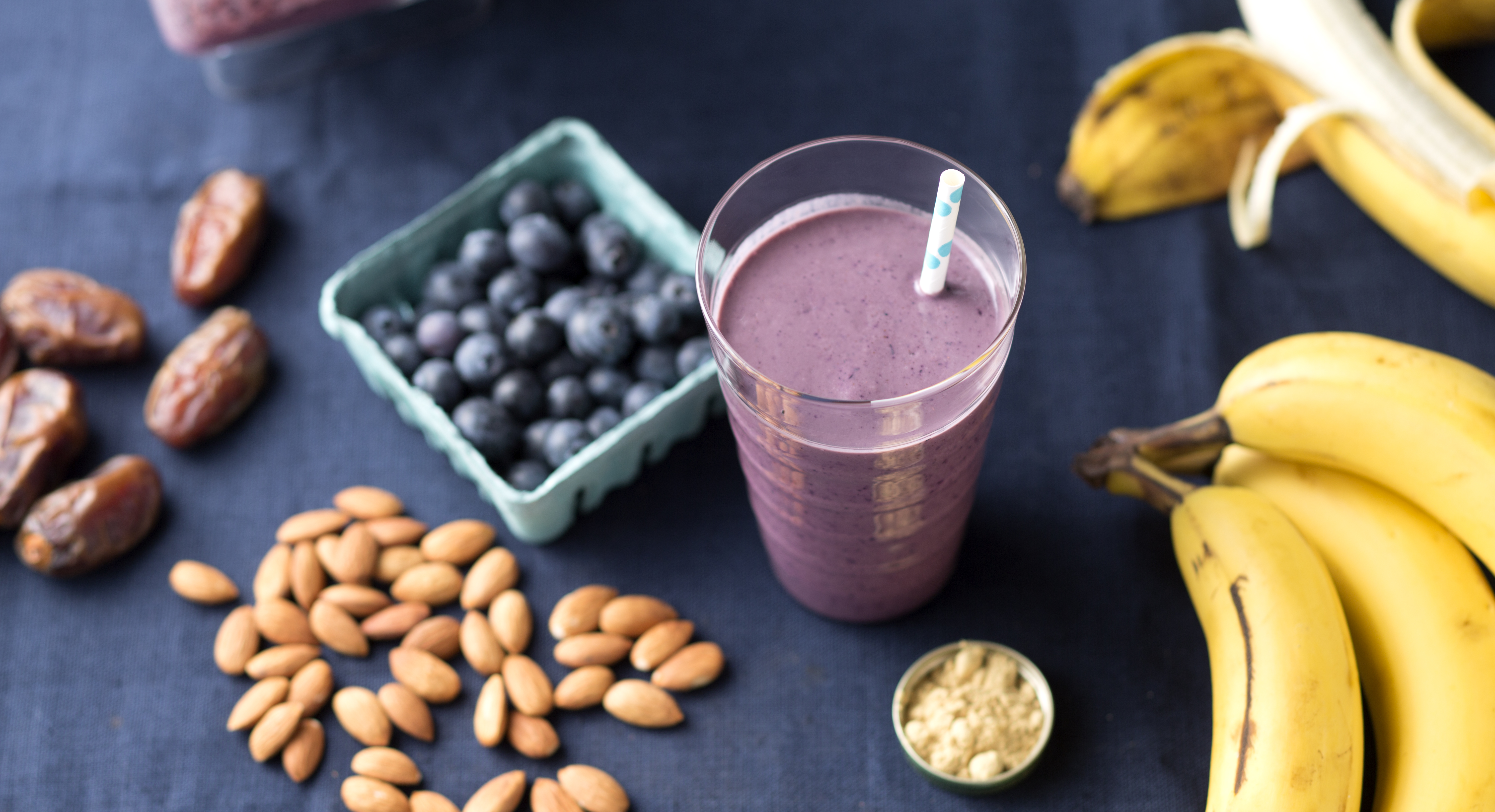 Here's a tip from our food editor Merce Muse: Adding half a frozen banana totally transforms the taste and texture of any blended drink by adding subtle sweetness and dairy-free creaminess. Bring out the smooth flavors of almond milk and almond butter with a vanilla protein powder; we love Vega One Nutritional Shake because it blends easily into any liquid.
Yield: 1 smoothie
Active Time: 5 minutes
Ingredients
½ frozen, peeled banana
2 tablespoons almond butter
1 Medjool date, pitted
½ cup blueberries, fresh or frozen
1 teaspoon ground ginger
Pinch sea salt
1 ½ cups almond milk
Instructions
Place all ingredients in a blender and blend on high until fully incorporated. Thin out with more almond milk as desired.
Three servings of fruits and veggies are packed into one serving of this little smoothie! Give the whole thing a boost of hemp protein and fiber by adding a serving of Manitoba Harvest Hemp Protein to the mix.
Yield: 2 smoothies
Active Time: 5 minutes
Ingredients
1 cup coconut water
½ cup baby spinach
1 frozen banana
1 cup frozen blueberries
1 Medjool date, pitted
2 tablespoons hemp seeds
1 tablespoon chia seeds
Instructions
Place all the ingredients in a blender and blend on high until well incorporated. Serve cold.
Bittersweet chocolate and sweet, fragrant pears are a classic combo, and here they come together with protein-packed almond butter and fiber-rich chia seeds. Want to make this taste even more like a rich chocolate milkshake? Blend in a scoop of Primal Kitchen Chocolate Primal Fuel for an additional 20 grams of protein and four grams of probiotic-friendly inulin fiber to improve digestion.
Yield: 1 serving
Total Time: 5 minutes
Ingredients
1 medium pear, roughly chopped
2 tablespoons cacao powder
2 tablespoons almond butter
2 teaspoons chia seeds
1 medjool date, pitted
1 cup almond milk
Large handful ice cubes
Instructions
Combine all ingredients in a blender and blend on high until smooth and creamy.
Wave goodbye to those sugar-filled cans of SlimFast—these upgraded meal replacement shakes are healthy, satisfying, and taste incredible.
Photo credit: Paul Delmont