Ever dreamed of playing in a real-life chocolate wonderland? Yep, us too. Thanks to one chocolatier in Somerville, Massachusetts, you can. And here's the best part: You don't even need a golden ticket to get in.
This year, some 20,000 sweets enthusiasts from all over the country flocked to Taza Chocolate's processing facility just outside Boston to watch the company's craft chocolatiers churn organic cacao beans into stone-ground bars. While there aren't any chocolate waterfalls or Oompa Loompas inside, the whole process from start to finish is nothing short of magical.
Wanna take a peek? (Warning: Be prepared for serious cravings.)
Taza co-founder Alex Whitmore hand-carves the granite millstones used throughout the stone-grinding process. Stone-grinding is an ancient Mayan and Aztec method, and it's pretty minimalistic compared to the heavy processing methods used to produce conventional mass-market candy bars. As a result, Taza's bars have a grittier texture, contain higher levels of cacao (and therefore more antioxidants!), and a bolder, fruitier flavor.
Whitmore does a "roast check" of Taza's organic, ethically sourced cacao beans. That red machine behind him is a Barth Sirocco Roaster, which officially kicks off the chocolate-making process.
Next up: Grinding. Taza uses traditional Mexican stone mills called molinos, pictured here, to crush the cacao beans into nibs.
Once the cacao nibs are ground, liquified chocolate flows out of the molinos. Is your mouth watering yet?
In Taza's heavy-duty mixing tank, the cacao is then combined with sustainable, organic sugar from The Native Green Cane Project.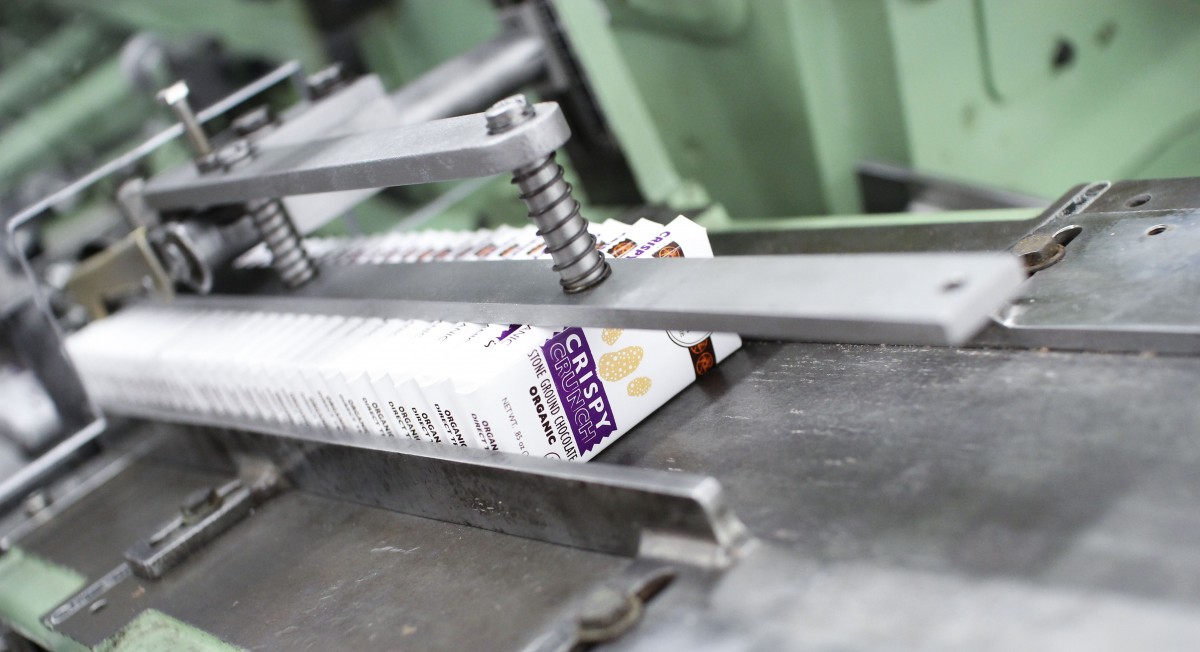 After more grinding, molding, and cooling, the stone-ground chocolate is beautifully packaged—and ready to be ripped open by hungry customers!
If you can't make it to Massachusetts for your own Taza factory tour, we suggest doing the next best thing: Order some of Taza's 100 percent stone-ground, dairy-free chocolate masterpieces right here on Thrive Market. After all, actually eating the chocolate is the best part, right?
Photo credit: Michael Piazza