It's high time sardines and anchovies get their due as the nutritional powerhouses, secret ingredients, and delicious fish they truly are. Not convinced? We get it. Anchovy fillets and sardines have a history of being somewhat … polarizing. But we're arguing part of the reason for their lack of love is simply not knowing enough about them—especially the best ways to eat and cook with these little fish. Today we're digging into the difference between anchovies and sardines, and sharing some of our best recipes to help make them a permanent fixture in your pantry.
What Are Anchovies?
Believe it or not, there are more than 140 species of anchovies swimming in our seas, although this small and oily fish is most commonly found in the Mediterranean, or farther north near Scandinavia. Anchovies are known for having short lifespans, a fast reproduction cycle, and low mercury content, making this fish a highly sustainable choice. Anchovies are typically packed in oil or water, and stocked on grocery store shelves with other canned fish.
What Are Sardines?
The name "sardine" was first used in English during the 15th century, and these small fish (that can grow up to 8 inches) are known for their white flesh and meaty texture. Sardines are also referred to as pilchards, and are believed to have originated near the Mediterranean island of Sardinia. Today, there are 18 different species that are classified as sardines or pilchards.
Top Q&A
Getting your anchovy questions answered is step number one in embracing this tiny fish.
Are anchovies healthy?
We're giving you the lowdown on the health benefits of anchovies in the next section, but the short answer is yes.
Are anchovies healthy?
We're giving you the lowdown on the health benefits of anchovies in the next section, but the short answer is yes.
Are canned sardines healthy?
See below! Short answer: yes.
What do anchovies taste like?
Anchovies have a distinct and let's be honest, aggressive flavor. The umami-like taste is due to the fact that anchovies are often cured in salt, then packaged in tins with olive oil. They are typically smaller and darker in color than sardines. (Check out our anchovy recipes below to try them for yourself!)
What do sardines taste like?
Compared to anchovies, sardines have a milder flavor that's less intense, yet still a bit briny. Sardines are a bit larger than anchovies and have a lighter color.
Does Caesar dressing have anchovies?
One legend believes Caesar salad was invented by Caesar Cardini, an Italian chef who immigrated to America before settling in Mexico to escape prohibition. Cardini's daughter claimed her father invented the now-famous recipe on July 4, 1924. Running short on supplies in his restaurant kitchen, Cardini threw together what he had available: lettuce, olive oil, a raw egg, croutons, Parmesan cheese, and Worcestershire sauce—then prepared it tableside to great fanfare. Another legend says Caesar's brother, Alex (a World War I air pilot), came to Tijuana to help his brother run the restaurant, then created a dressing that included anchovies for an appetizer named "Aviator's Salad" in honor of their clientele. So, does all Caesar dressing have anchovies? No. There are lots of anchovy-free recipes out there, including vegan options made with a blend of hummus, lemon, capers, garlic, and mustard.
How to eat canned sardines
Oh, the possibilities! Mash them with mayo like you would tuna, serve on a Spanish-inspired tapas platter with roasted tomatoes, cured ham, and olives, make a sardine salad, or chop them up to toss with pasta (don't forget the lemon zest, herbs, and generous piles of Parmesan). We also have extra canned sardine recipes below!
Are anchovies kosher?
Some brands of anchovies are kosher, like Wild Planet's White Anchovies in water. To be certain, just look for the seal when you're shopping.
Can cats eat sardines?
Modern Cat magazine shares that canned sardines are one of the people foods that are feline-approved. Just be sure to chop them into smaller pieces before adding the sardines to a meal.
Are anchovies shellfish?
No, anchovies are not a shellfish.
Why are anchovies so salty?
See above! Anchovies often taste saltier than other fish because they're salt-cured, then packed in oil.
Can dogs eat anchovies?
Fish is a popular food ingredient for dogs, which the American Kennel Club notes is due to the benefits of your pet enjoying omega-3 fatty acids. If you have a question about your dog's diet, be sure to check with your vet before switching up your dog's meals.
Do anchovies have bones?
Yes, anchovies have bones, but they're small and soft. Oil-packed anchovies are just the filets—no bones to worry about, but salt-packed anchovies typically include everything except the heads and tails, so you're looking at scales, fins, and bones (which are edible, by the way).
Anchovy Nutrition
A can of Wild Planet White Anchovies packed in olive oil offers the following nutritional benefits:
Calories: 160
Carbs: 0
Protein: 19g
Vitamin D: 2% daily value
Calcium: 20% daily value
Iron: 8% daily value
Anchovies also deliver omega-3 fatty acids. Harvard School of Public Health reports each 2-ounce serving of anchovies has 1,200 mg, which is the second highest amount for any fish, after salmon.
Benefits of Sardines
Are sardines good for you? Let's consult a quick list of sardines nutrition facts. Every can of Thrive Market Non-GMO Sardines in Water with Salt offers the following:
Sardines calories: 140
Sardines protein: 15g
Sardine calcium: 20% daily value
Iron: 8% daily value
Best Anchovies
A pantry must-have, here's our roundup of the best anchovies around.
Wild Planet White Anchovies in Extra Virgin Olive Oil
Each tin of Wild Planet's White Anchovies are sustainably caught and lightly salted—perfect for a snack or to add to salads or sauces. Bonus: Every serving has 19g of protein.
Crown Prince Anchovy Fillets
Reach for this jar any time you need to add extra umami flavor to a recipe. These anchovies are salt-cured for 3 to 12 months before being packed by hand in olive oil.
Crown Prince Anchovy Paste
When used sparingly, this paste can go practically undetected in recipes like tomato sauce, salad dressing, and anchovy butter. This Moroccan-sourced anchovy paste is known for adding a flavor no one can easily pin down, but it's oh so good.
Wellmade Fish Oil
If you prefer not to cook with them but still want to score big health benefits, try a fish oil supplement sourced from wild-caught anchovies, sardines, and mackerel.
Cooking With Anchovies
What anchovies lack in size, they make up for in big flavors. Don't be turned off! These stellar recipes bring out anchovies' best attributes.
Anchovy Pizza
Make gluten-free and paleo pizza a reality using cassava flour for your crust. Our topping is a dynamic blend of caramelized onions and anchovies, topped with arugula and lemon to lighten things up.
Whole Cauliflower Braised in Tomato Sauce
Anchovies and tomatoes were made for each other. This Mediterranean-inspired braised cauliflower simmers in a layered tomato sauce made with chili pepper, paprika, anchovies, and kalamata olives.
Pan-Roasted Broccolini With Anchovy Sauce
This 15-minute side dish cooks in a flash. Broccolini get a quick blast of heat in the oven, then a lick-the-spoon kind of sauce (featuring garlic, anchovies, parsley, and EVOO) drizzled on top.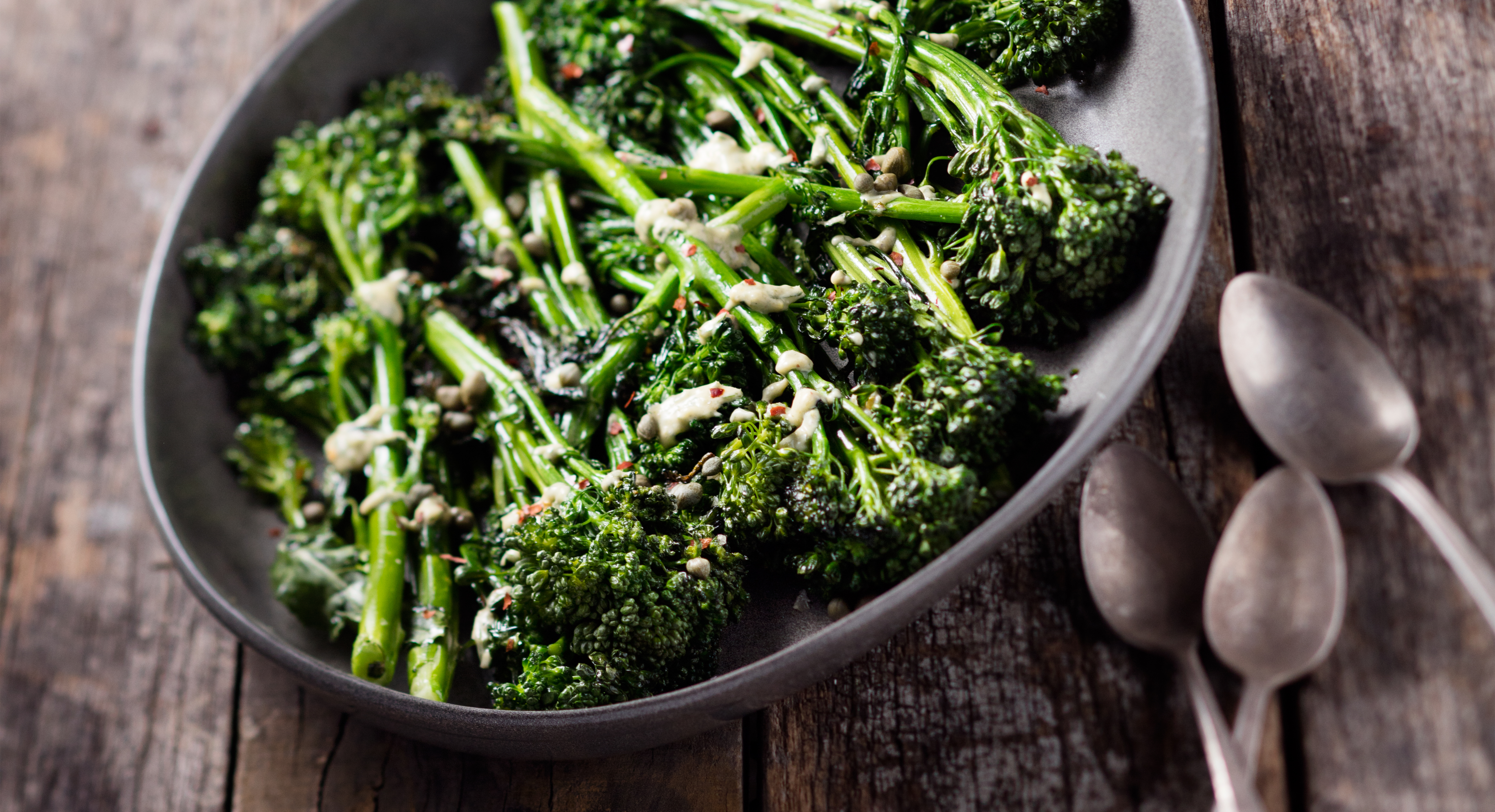 Roasted Tomato Tapenade Tart
Talk about a show stopper! Tapenade is a French olive spread made with anchovies and capers, and we use it as the base layer in a gluten-free tart topped with sweet, roasted cherry tomatoes.
Sardines Products
Line your pantry with our top picks for the best sardine brands.
Thrive Market Non-GMO Sardines in Extra Virgin Olive Oil
These fillets are sustainably caught, kosher, and gluten-free—plus, they add umami flavor to your dishes. Try smashing sardines on toast for a quick and wholesome lunch.
Crown Prince Skinless Boneless Sardines in Olive Oil
Sourced in Morocco and cold-pressed in extra virgin olive oil, these sardines are skinless and boneless. Ready to enjoy right out of the can, you'll love their fresh-from-the-sea flavor.
Wild Planet Wild Sardines in Extra Virgin Olive Oil, Lightly Smoked
Ketogenic, gluten-free, and paleo, this tin of sardines was cleaned, scaled, and lightly smoked before being preserved in extra virgin olive oil.
Recipes with Sardines
The answer to questions about how to eat sardines really comes down to personal preference. Some folks like them straight out of the can with other appetizers like olives and crackers while others cook them up in sauces. See below for sardine recipes that are not to be missed.
Sardine Pasta
Pasta Puttanesca is a great example of what a well-stocked pantry can do. And when you add sardines to tomato sauce, it's kitchen magic. The combo of crushed tomatoes, briny olives, capers, lots of garlic, and chopped sardines will wow your tastebuds—and dinner's ready in 30 minutes, too.
Sardine Caesar Salad
Make a restaurant-worthy starter right at home with classic ingredients like crisp romaine, salty Parmesan, and a creamy dressing. While many Caesar dressings use anchovies, this keto-friendly version calls for sardines instead.
Lemon-Fennel Salad With Sardines
If you're serving any braised dishes this winter, serve up a crisp salad on the side. Meaty sardines combine with zesty lemon, crunchy fennel, and ground sumac for brightness.
Lemon Sardine Pate
Need a trusty appetizer you can make in advance? Sardine pate for the win! This recipe is an elegant way to transform canned fish into something extra special, and everything comes together in the food processor making prep super simple.
Gluten-Free Spaghetti With Sardines, Arugula, and Artichokes
This springy pasta leverages two of the season's best offerings—peppery arugula and tender artichokes—with a briny sardines for a light dish you'll want to make on repeat.