When we sat down with Instagram fitness pro and ISSA-certified personal trainer Sami Clarke, we figured we'd talk about working out and healthy meal prep. We didn't fully expect to cover the mood-altering effects of spending time in nature, the transformational benefits of a daily meditation practice, and the lifelong journey to live in alignment with your personal deepest desires.
Clarke's point of view on fitness is expansive, incorporating nutrition, mindfulness, and self-care—all essential tools for anyone pursuing a healthier, more balanced life. Her holistic understanding of wellness is what guides Form, her digital fitness platform, which she launched in August of 2021. (For a taste of what Form has to offer, join the 14-day January Challenge, which includes workouts, meal plans from Gathered Nutrition, and a bundled Thrive Market membership.*) It's also undoubtedly part of what has helped her go from training a few model friends in between photoshoots to garnering nearly 500,000 devoted social media followers and counting.
"In 2021 I learned [that] when I'm grounded and aligned with who I am, everything flows," Clarke says of the journey that brought her to where she is today. "Being healthy is understanding what is best for you: your body, your mind, your atmosphere, your relationships."
Born Ready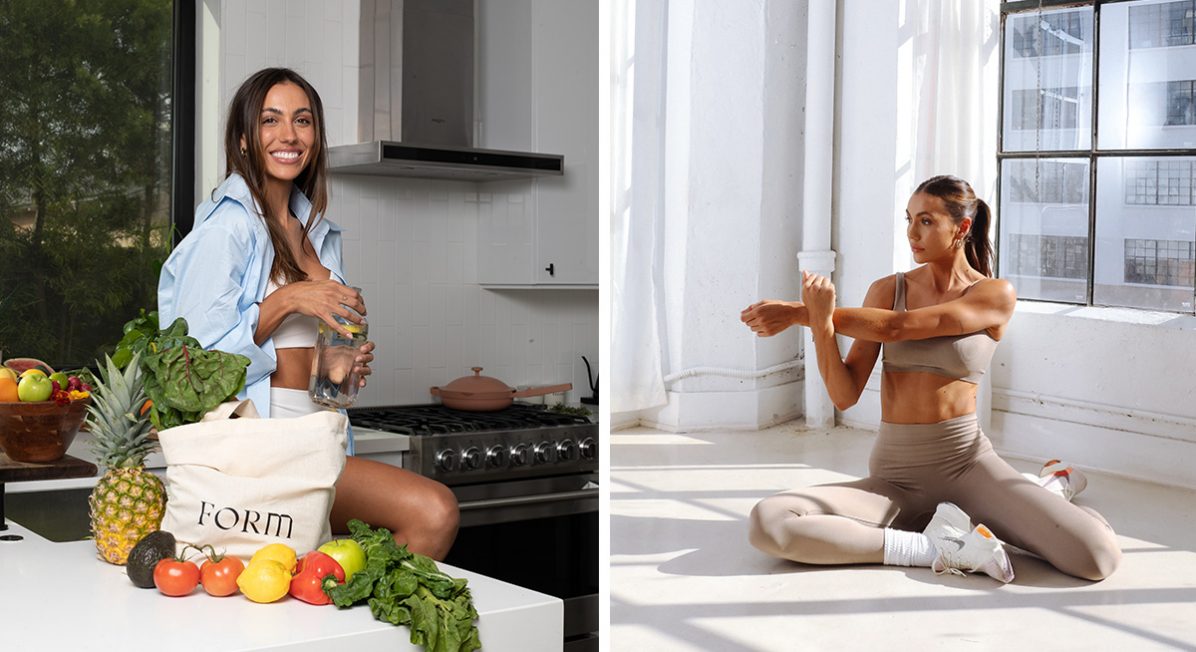 A former competitive dancer and cheerleader from a family of athletes, Clarke's appreciation for the importance of movement and nutrition was ingrained in her since childhood. She originally came to Los Angeles to model, but quickly realized her passion lay elsewhere. "The thing that lit me up, which I didn't understand then but I understand now, was when I would invite girls over to work out with me, guide them through workouts, and talk about taking care of yourself."
She felt most fulfilled in the role of coach, teaching her friends how to exercise efficiently and fuel their workouts with healthy, whole foods—all the tactics and tools she'd gathered throughout her life (and later, her certification training) that she knew would help them feel their best. "In the modeling industry, the conversation around food and working out can be tough," she reflects, adding that seeing someone break through their anxieties around eating and exercise was inspiring. "It's like this lightbulb that goes off."
Quarantine, Then a Calling
Two years of COVID isolation set Clarke on a mission. "Quarantine taught me that some people had no idea how to take care of themselves, and how important it is," she says. "It was a huge breakthrough for my industry, and also for my platform."
For Clarke, the renewed emphasis on self-care paired with the at-home workout boom necessitated by the pandemic was a recipe for success. "People were like, how do I do this? How do I stay sane and stay in shape mentally and physically?" Clarke's goal was to offer her audience an efficient, convenient workout they could do at home without dumbbells or machines—as she puts it, an accessible way to "crush a workout and get a good sweat in and connect to your body on a daily basis."
The benefits of regular exercise are numerous—more energy, better sleep, improved mental and physical health—but getting into a new routine can be a challenge. If you're overwhelmed by the options or concerned about the time commitment, Clarke has a message for you that's sure to inspire: "Those small habits that you put into your days are going to be the biggest game changers for your overall well-being."
---
The Music, Meditation and Motivation Tips Sami Clarke Swears By
What advice would you give to someone who wants to start a fitness regimen?
I would tell anyone to dabble in different things. Figure out what feels healthiest for you and your lifestyle. You have to figure out what works for you. Form is a great way to begin a new routine. It really gives you that start without having to create your own schedule.
What keeps you motivated?
One, I set my workout clothes on my bed the night before. I wake up and just put them on. If I get cozy it's just game over. I put my workout clothes on right away.
Two, I work out at the same time every day. I find if I say I'll do it later I never do it.
Three, I schedule my workouts and have my entire week planned out so I don't have to think about the workout when I go into it.
Four, I have my vision board as my desktop background, phone background, and on my wall. That's something I can look at that automatically gets me in the right mindset.
And I have an accountability partner. To have someone say, hey, we got this on the days that you don't is so beneficial. I would encourage anyone to find someone who can show up for you when you don't feel like it.
What are some of your daily rituals for well-being?
I absolutely can't go a day without my morning routine. Sometimes it's an hour, sometimes it's five minutes. Meditating—even if it's 5 minutes, though 20 minutes is my goal. Having that moment of stillness is just…the rest of the day is a blur. That pause is a nonnegotiable.
[I always take] a walk a day, even if it's five minutes outside. There is something that switches in the brain [when I'm] outdoors with Mother Nature, trees, fresh air. Even if it's raining. The other day I was in a funky mood. I went for my walk even though I didn't feel like it. My mood went from a 4 to an 8!
No phone time right when I wake up. I have a certain time that my team knows, we don't communicate before then. It allows me to have my "me" time before the brain clicks on.
Do you have any resolutions or intentions for 2022?
I'd love just a deep dive into me—to continue learning who I am, what I like, and what my purpose is. On a daily basis, making sure I prioritize that self-care time. Those five minutes in the morning. Taking myself on a date. Those things that were the most beneficial in 2021 that I want to bring into this year.
Who inspires you?
I call them my 'mentors I've never met,' and there are so many. The Holistic Psychologist [Dr. Nicole LePera] is a powerhouse. She's amazing for anyone who has dealt with any trauma or doesn't understand how to be a human—she breaks down how human we really are. And Mel Robbins. She has that badass vibe. She's someone I really admire.
What music gets you pumped to work out?
The DJs Two Friends get me in the zone. They play mixes of songs from when you were in middle school to now. When you are in the workout, you are singing and you feel like you're at the club.
Sami Clarke's Nutrition Tips and Favorite Healthy Products from Thrive Market
"People have so many 'dumb questions' about food, but they're not dumb at all," Clarke says. Here are the easy ways she fuels her heart-pumping workouts.
Oats
"I am an oat-aholic. So easy. I probably have overnight oats five times a week for super easy breakfasts and snacks."
Nuts and nut butters
"I love cashews. I'm a huge protein balls girl—nut butters with flax seeds and chia seeds. It tastes like a dessert."
Grab-and-go protein
"Hummus and veggies, hard boiled eggs, oven baked chickpeas. Tuna with vegan mayo is so easy with lettuce cups or in a salad."
No-recipe meals
"Lunch is when I'm throwing the most random things together. If I want to cook something but not think about it, I love a sheet pan meal. I'll just chop up whatever veggies and proteins I have. Stick it in the oven, and 25 minutes later it's ready. A Mexican bowl is something I probably always have [the ingredients for]–lettuce, corn, canned beans, rice. Heat it up. Avocado. Done deal."
Shop all of Sami's Thrive Market essentials here.
*Bundled Thrive Market membership included when you join before January 31, 2021.
---