Pork is so beloved that some chefs tattoo favorite cuts on their arm. But just because you're not ready for some permanent ink doesn't mean you can't show pork some love in the kitchen. We'll show you how with our ultimate guide!
How to Cook Pork
In this section we're breaking down the most popular cuts and sharing tips from temperature to seasonings to make it your best bite yet.
How to Make Pork Chops
Pork chops are arguably the most popular cut, with plenty of fat for added flavor. Beautifully marbled, bone-in chops are perfect for grilling and pan-frying, and the bone helps keep the chop nice and juicy.
How long to cook pork chops
Reach for your trusty cast-iron pan and turn up the heat. Lightly salt each side and cook on high heat, turning once the outside is golden. The pork chop cooking temperature should be around 140°F.
How to cook pork chops in the oven
The basic method is to preheat your oven to 350°F, then bake the chops for about 30 minutes, or until the internal temperature is 140°F. But don't forget the flavor! Try a bold marinade like soy sauce, lemon juice, Worcestershire sauce, and brown sugar, or a favorite dry rub.
How to Cook Pork Tenderloin
Pork tenderloin is the muscle that runs alongside the backbone, running from the hip to the shoulder. It's a lean, boneless cut that usually averages about a pound and is sold whole at your local grocery store or butcher.
Pork Tenderloin Cooking Time
This cut is perfect for quick cooking over high heat. Before you start, trim the tenderloin of any tough silverskin (or ask your butcher to do it before wrapping it up). The cooking time will depend on your method, but here are some guidelines:
Roasted Pork Tenderloin: Preheat your oven to 450°F and place a cast-iron skillet inside to heat up. Season pork as desired (salt and pepper will do, or try a rub), then use oven mitts to remove the pan from the oven. Coat the bottom with a turn of oil, then place the pork in the pan and slide it into the oven; roast for 10 minutes. Flip the pork, reduce the oven temp to 400°F, and roast for 10 minutes more, or until the internal temperature is 140°F. Let the tenderloin rest for at least 10 minutes before slicing, to allow juices to redistribute!
Pork Tenderloin in a Stir-Fry: For a quick-cooking stir-fry, slice pork into ½-inch thick pieces and prep any other ingredients like an onion or other veggies. Heat a turn of neutral oil (like canola) in a large sauté pan over medium-high heat, then add pork and cook until edges begin to brown and the pieces are cooked through, about 5 to 7 minutes. Once you remove the pork from the pan, cook up your favorite veggies to add before mixing it all together and serving over a bed of rice or quinoa.
Slow-Cooked Pork
Looking for a roast that cooks low and slow? Opt for pork butt—a cut from the upper shoulder, not the rump—that's ideal for braising and creating meat so tender it falls off the bone and shreds with ease. The name might be confusing, but it'll make sense once you know the backstory. During the Revolutionary War, large barrels, aka butts, were used to transfer pork throughout New England, and the name stuck!
How to cook a pork roast in a crock pot
Instead of turning on your oven, let the slow-cooker do the work! All you'll need to do is add your ingredients to the pot, turn it on, and walk away. Here's an easy recipe to try from blogger Pinch of Yum! Whether you opt for smoky flavors like chili powder and paprika for pulled pork sandwiches, or go south of the border with cumin and cayenne for carnitas tacos, you're practically guaranteed to have a crowd-pleasing dish.
How to Cook Ground Pork
For sauces, meatballs, or sausages, look no further than a pound of ground pork. With a higher fat content than other meats, it's ideal for lending flavor to your favorite dishes. And don't be afraid to mix it up—as in, combine pork with beef for your next burger patty or meatball mix for a juicy combo that can bind without added eggs or breadcrumbs. Crumble it over pizza before sliding your pie in the oven, too!
How to Cook Bacon
There's something special about the smell of bacon in the morning, but is there a better way to cook it than frying it in a skillet? If you haven't tried baking your bacon in the oven, you're in for a mess-free way to get those crispy strips every time.
Cook bacon in the oven
There are three reasons we love baking bacon in the oven instead of cooking it on the stovetop.
There's less grease, so no splattering!
It's hands-off
You can batch-cook for a crowd (or freeze for later)
Here's a basic recipe for making 1 pound of bacon in the oven:
Preheat the oven to 400°F and line a baking sheet with aluminum foil. Lay bacon strips in one flat layer on top of the foil. And don't let the pieces overlap, or they won't crisp up.
Bake for 15 to 20 minutes—check on them periodically, because the cooking time will vary depending on the thickness of your bacon. Remove to a paper towel to cool and soak up excess grease.
And for even crispier bacon, put strips on a cooling rack, and place the cooling rack on top of the foil. Elevating the bacon allows air to circulate and add extra crunch.
Pork Recipes
Get ready for some serious flavor bombs—these pork recipes are savory, sweet, and oh so satisfying.
Get on Thai time with these Whole30-approved lettuce cups. A flavorful pork filling is marinated with traditional flavors like ginger, lime, and fish sauce, and your meal stays light thanks to crunchy greens that stand in for taco shells.
Start your morning off right with this filling waffle sammy. It starts with savory cheese and pepper waffles, then homemade sausage patties, plus a runny egg cooked sunny side up. This is one hearty breakfast you'll love to chow down on!
Keep those napkins handy for this finger-licking-good dish that's really worth the mess. The ribs start with a spicy dry rub before being baked until tender. Coating the meat in barbecue sauce while it cooks makes every bite extra tender.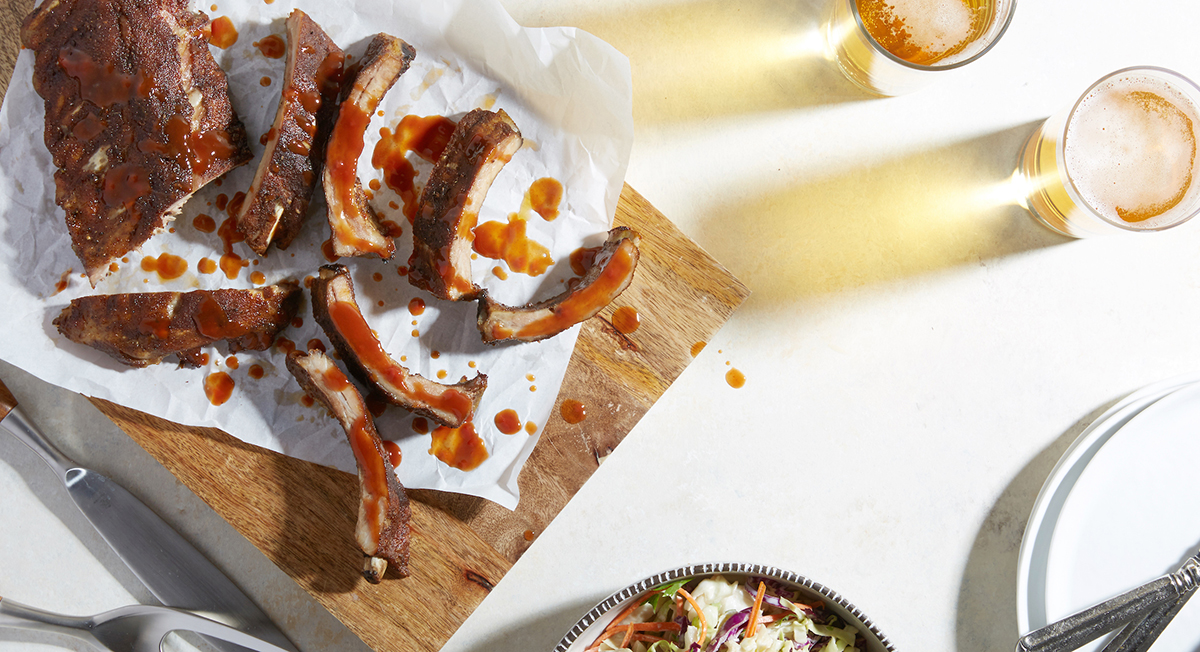 A perfectly cooked pork chop makes for an elegant supper, especially when it's paired with a Spanish-inspired walnut and red pepper sauce.
Try your hand at homemade sausage with this easy recipe! It combines ground pork, fennel, and sweet maple syrup for a morning-ready addition to your Paleo plate.
Marinades are known for adding flavor in a hurry. For these cups, we used a sauce with a chili pepper kick. It's Whole30-approved, delivers 3 ounces of protein, and the portable size makes a great option for party snacks or something to grab on the go.
Bacon gets even better with maple syrup, paprika, and cinnamon! This candied version is a perfect pairing for cocktails, like dunking into a Bloody Mary or garnishing an Old Fashioned.
Fulfill those BLT sandwich cravings with this salad that nixes bread and adds in creamy hard-boiled eggs and a helping of avocado. What's not to love?
Here's our Thrive Market twist on a classic British breakfast. For our dippers, we opt for fresh asparagus wrapped in bacon, which is perfect for gluten-free and Paleo eaters.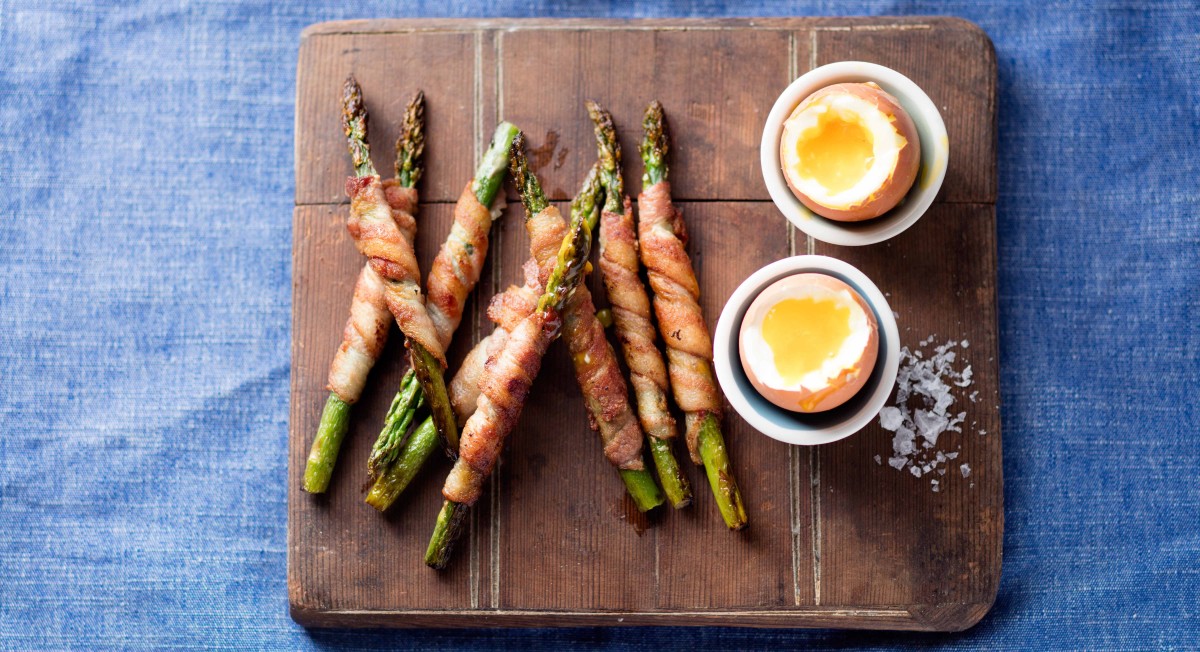 For potlucks or picnics, tote along this chilled salad that's made with a creamy, coconut oil mayo-based dressing. The crumbled bacon lends just the right salty notes.
Introducing: Thrive Market Pastured Pork Box
Pork lovers, we've thought of everything. Our bundle comes with six favorite cuts that are frozen and ready to store until it's time for dinner. Our pork is part of a carefully planned grazing system in rural Georgia where multiple species are rotated around the farm's land according to what's best for the animals and the soil. The hogs are Step 5 in the Global Animal Partnership and Certified Humane, instead of living in mud or being confined to pens, the animals spend their days foraging the forest and pasture floor, feasting on acorns, nuts, and grass.
Here's what's inside!
Boneless Boston Pork But
2 Bone-In Pork Rib Chops
2 Boneless Pork Loin Chops
Ground Pork
Sugar Free Bacon
Pork Baby Back Racks