You can't cook without salt. Professional chefs and home cooks know this to be true, but which salt is best, and what is the difference between kosher salt and sea salt? These are two of the most popular salts in recipes, but they're not always interchangeable. Keep reading to learn when to add a pinch of kosher salt to your dish, and when to reach for sea salt, and what the differences are between each.
What Is Kosher Salt?
Kosher salt starts out as sea water, which leaves crystals behind when water evaporates. Where kosher salt differs from sea salt is in flake size. Kosher salt crystals are larger and rougher in texture than many other salt crystals, which is why chefs like Thomas Keller use it throughout the cooking process, but "save the flaky crunch and light clean flavor of Maldon sea salt for finishing."
What Is Sea Salt?
As the name suggests, sea salt is sourced from bodies of water. The most popular location is the Mediterranean, but sea salt companies can be found all over the world and coast to coast, from Oregon to Cape Cod.
History of Kosher Salt
Today's kosher salt isn't technically a kosher food (unless it's processed and labeled as such), but it has origins in the Jewish culinary tradition of removing the blood from meat. Koshering salt had larger crystals that help draw the liquid from meat, and was easier to rinse off afterwards.
Is Kosher Salt Iodized?
Kosher salt is not iodized. Because it doesn't have iodine (which can add a bitter taste to foods), kosher salt is considered to be superior to table salt when it comes to seasoning foods.
What Is Kosher Salt Used For?
Why cook with kosher salt? Both professional chefs and home cooks trust kosher salt in the kitchen as a must-have ingredient because it's easy to pinch and offers consistent, clean flavor. In addition to seasoning recipes while cooking, here are a few more suggestions for how to use kosher salt:
Salt pasta water
Brine meats
Create dry rubs
Salt the rim of a margarita glass
---
How Is Sea Salt Harvested?
From small family businesses to larger operations, sea salt harvesting can range in scale. In general, the journey from water to your kitchen starts with shallow ponds. As sun and wind do their work, the water evaporates and leaves behind white salt crystals. Harvesters scoop salt and transfer it to an area where it's rinsed and cleaned. Fun fact: sea salt can take on various hues (like pink) based on the different types of clay or algae that may be present in the water.
Sea Salt In Cooking
Sea salt can be used like kosher salt to season ingredients; where it differs is in its coarser texture and unique flavor is often better suited for adding a finishing touch (like sprinkling on a batch of chocolate chip cookies or enhancing grilled fish, for example). As Fine Cooking shares, sea salts are most commonly used just before serving a dish. "Their flavor nuances and distinct colors and textures are apt to be lost when added during the cooking process; plus, they're expensive to pour into the pasta pot."
If a recipe calls for kosher salt but you only have sea salt on hand (or vice versa), don't fret! You can easily substitute one for the other. One teaspoon of sea salt is equal to about 1 1/4 teaspoon of kosher salt.
Other Uses For Sea Salt
In addition to seasoning food, there are myriad of ways to use sea salt in the kitchen and around the house. Here are some ways to use it:
The flakes act as a gentle abrasive to absorb grease and wipe pans clean.
Remove fish smells
Similar to baking soda, sea salt has odor-absorbing properties that works wonders on your cutting boards.
Just add sea salt, an oil (like jojoba or coconut oil), and your favorite essential oils for a soothing scrub to leave skin feeling smooth.
Draw a foot bath
Soak tired feet in a sea salt and water bath for instant invigoration.
Soothe a sore throat
Gargling with a warm water and sea salt tonic is believed to help ease symptoms of a sore throat.
Best Sea Salt for Cooking
Yes, there's a sea salt for every occasion—here's our best lineup.
Selina Naturally Light Grey Celtic Sea Salt
Hand-harvested and unrefined, Selina Naturally's sea salt still contains an array of vital trace elements. The gray hue comes from the clay lining of the salt beds—add this salt to your favorite grinder and keep it close by.
Thrive Market Mediterranean Sea Salt
Our sea salt is harvested using a natural solar process, and the fine grind makes this salt ideal for seasoning everything from dressings to soups.
Hepp's Salt Co Black Truffle Finishing Sea Salt
You don't need a special occasion to use this black truffle finishing salt. Enjoy it sprinkled over grilled meats, roasted vegetables, popcorn, or a soft goat cheese.
Maldon Sea Salt Flakes
Maldon sea salt is well known for its large crystals and flaky texture. With a clean taste, the flakes are right at home on sliced tomatoes, crostini, or even a brownie.
Recipes With Sea Salt
Don't keep sea salt on the sidelines—here are a few ways to let this ingredient shine.
Vegan Olive Oil Skillet Brownies
Many desserts benefit from a final pinch of salt, and skillet brownies are an excellent example. Ready in only 30 minutes, this crave-worthy recipe is gluten-free and made with pantry staples like cocoa powder and maple syrup.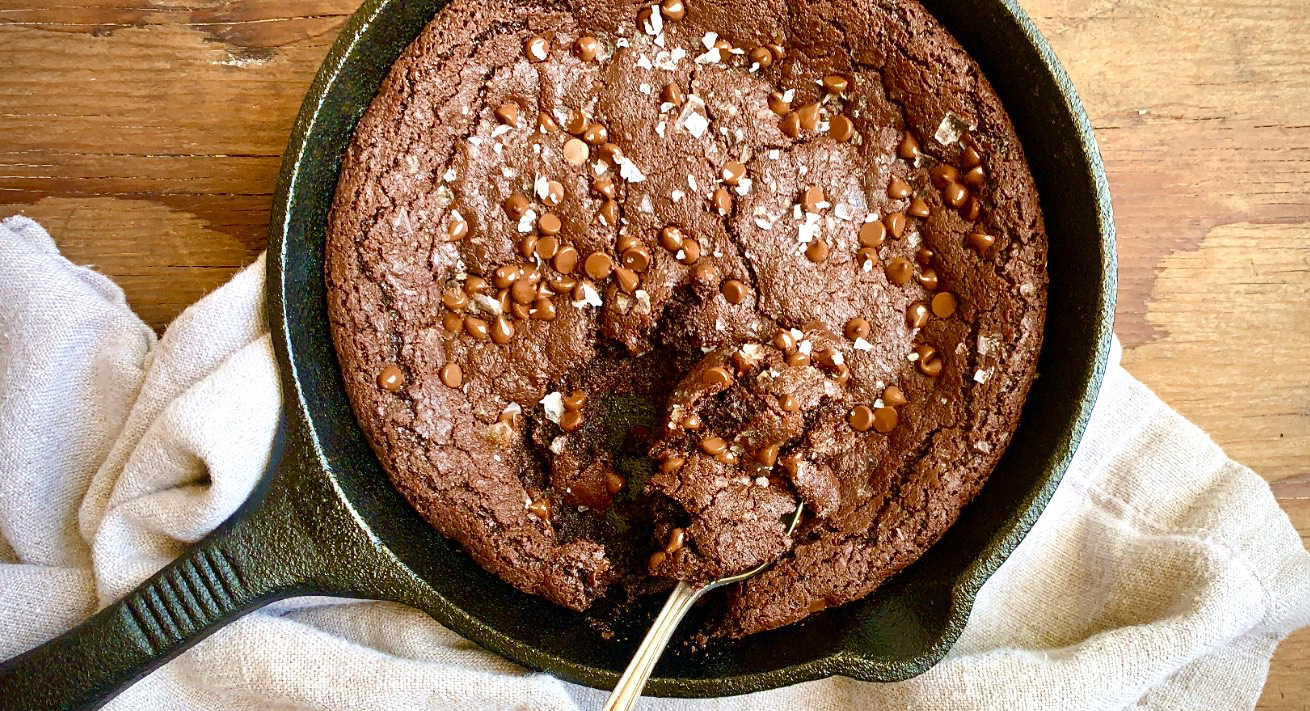 Air-Fried Duck Fat French Fries
Duck fat makes everything taste better—including French fries. This recipe cooks up crisp and golden, and the finishing touch is—you guessed it—flaky salt.
Fluffy Scrambled Eggs
The first secret to fluffy scrambled eggs is all about cooking them low and slow. The second secret is finishing your plate with a pinch of flaky salt and fragrant chives.
---
Should You Choose Kosher Salt or Sea Salt?
The bottom line: your kitchen needs both sea salt and kosher salt. Just think of it like keeping a salt wardrobe that's ready for any type of recipe! Kosher salt is best for everyday cooking, including seasoning ingredients while you cook, and flavoring pasta water. With its more nuanced flavor, sea salt is the better pick for finishing your dish.