Smithsonian Magazine reports that according to legend, the world's first chickens were discovered in ancient Greece. The bird has only climbed in popularity since then, becoming one of the most common animal proteins on American dinner tables night after night. From frying to baking, chicken is a versatile ingredient that can be added to a variety of recipes. Chicken is featured in cuisines around the world, so you can easily enjoy the flavors of Morocco, Italy, Mexico, and many other countries just by swapping some of your base ingredients like herbs and spices. Toss shredded chicken into a dinner salad, simmer chicken thighs adobo-style in a garlicky broth, roast a whole bird in the oven alongside root vegetables, or deep fry it for a crunchy summertime picnic. So the next time you're figuring out dinner, we suggest cooking chicken—especially if you need leftovers to last you through the week.
The Most Popular Cuts of Chicken
Learning how to cook chicken breasts, thighs, and even a whole bird is an indispensable kitchen skill. With such a versatile ingredient, you'll be able to eat all week long after batch-cooking your favorite cut. Simply slather on any herbs and spices—we like lemon zest, dried rosemary and thyme, or grated garlic—to your cut of choice before cooking. Here are three basic recipes to add to your repertoire.
Baked Boneless Chicken Breast Recipe
Ingredients
6 boneless Thrive Market Free-Range Organic Chicken Breasts
2 tablespoons Thrive Market Extra Virgin Olive Oil
Salt
Ground black pepper
Instructions
Preheat oven to 400°F. Place chicken breasts in a large bowl and toss with olive oil, salt, and pepper until well coated; arrange on a foil-lined sheet tray. Bake for 22 to 26 minutes, or until internal temperature reads 160°F. Rest 5 minutes before slicing.
Stove-Top Chicken Thighs Recipe
Ingredients
8 Thrive Market Bone-In Free-Range Organic Chicken Thighs
Salt
Ground black pepper
1 tablespoon Thrive Market Extra Virgin Olive Oil
Instructions
Sprinkle chicken thighs generously with salt and pepper. Heat 1 tablespoon olive oil in a large (11- to 12-inch) cast-iron skillet over medium heat. When the oil is hot, sear the chicken, skin side down, for 15 minutes without moving, or until the skin is golden brown. Turn chicken pieces with tongs and continue cooking until thighs reach 155°F to 160°F. Rest 5 minutes before serving.
Roast Chicken Recipe
Ingredients
1 (5- to 6-pound) whole chicken
Salt
Ground black pepper
Lemon, optional
Fresh herbs, optional
Kitchen twine
2 tablespoons unsalted butter, melted
Instructions
Preheat oven to 425°F. Liberally salt and pepper the inside and outside of the chicken. If desired, stuff the cavity with lemon halves and herbs. Tie the legs together with kitchen twine and brush the outside of the chicken with melted butter. Arrange chicken in a roasting pan and roast for 1 ½ hours, or until the juices run clear. Cover with foil and let rest for 20 minutes before carving.
---
Thrive Market's Best Recipes for Free-Range Chicken
It's time to make Thrive Market your chicken HQ. Our lineup includes free-range and organic birds raised on family farms in Virginia where they spend most of their time pecking, climbing, and flapping outdoors. You can fill your cart with breasts, thighs, whole chicken, and even tenders for your family's most discerning eaters.
For easy meal prep, try breaking up chicken into different categories like bowls, wraps, and salads. Chicken works perfectly for salad night (pick up a rotisserie chicken at the store and you're good to go), on top of a burrito bowl, or rolled up in a Caesar salad-inspired wrap. Here are some of our favorite recipes for every night of the week.
Start the week by roasting a whole bird that'll give you leftovers for tomorrow's dinner. Add some roasted veggies, baked sweet potatoes, or a spinach salad to make it a meal.
Use leftover shredded chicken for this comforting soup that'll help everyone ease into the week. Freeze any leftovers for an easy meal when you don't have anything planned, or enjoy it for lunches at home.
Here's another flavorful roast chicken recipe that'll do double duty for tomorrow's dinner. Enjoy these herb-slathered thighs with roasted potatoes or rice pilaf.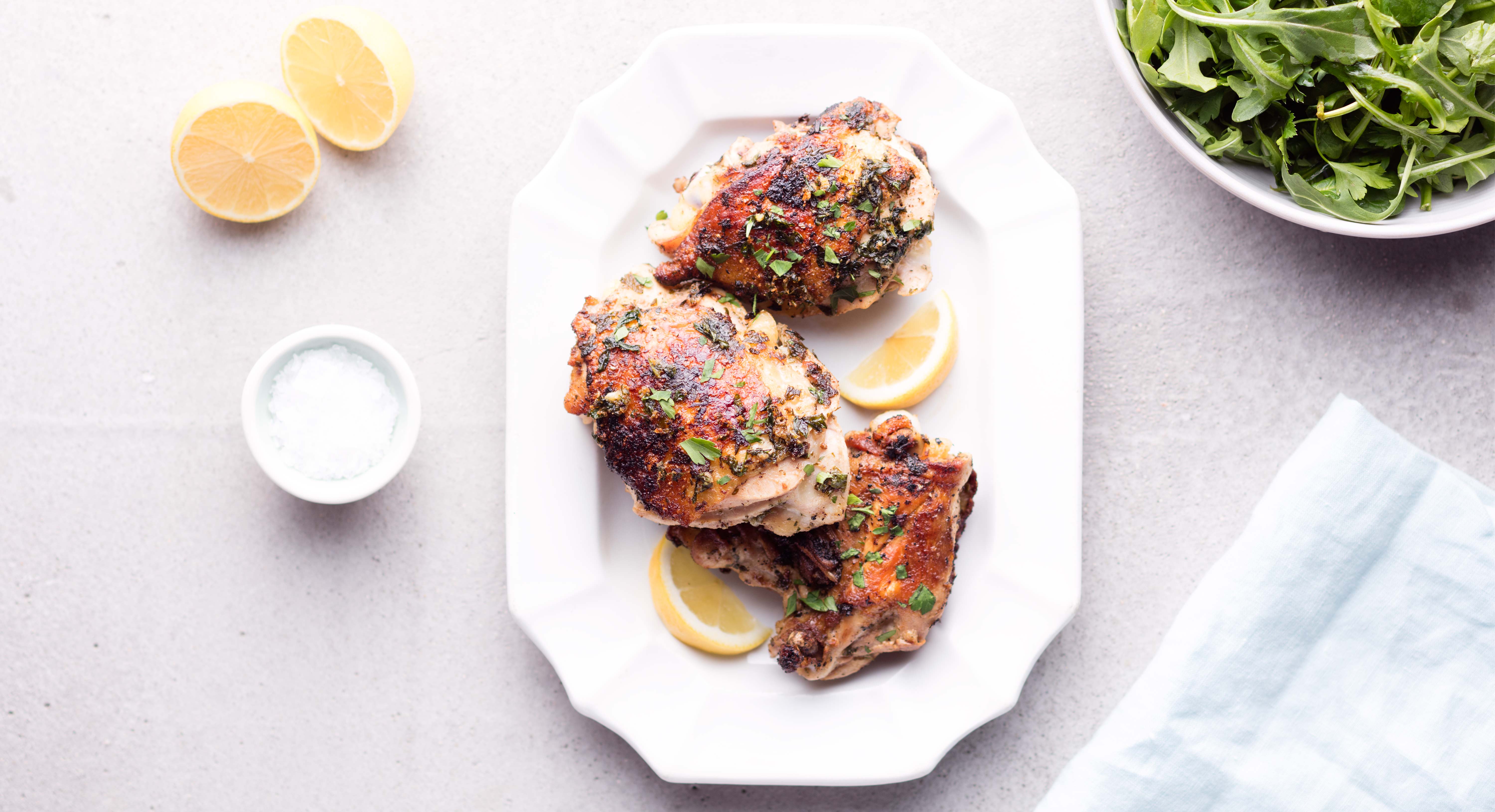 This Asian-inspired wrap is the perfect vehicle for leftover chicken breasts or thighs. Roll it up alongside sticky rice, sliced cucumber, and a drizzle of almond butter sesame sauce.
Here's a family-friendly option that'll get your kids to finish their dinner. Dredge chicken in coconut flour flavored with onion powder, garlic, and pepper for a perfectly crispy coating.
Your skillet will sizzle with these flavorful grilled chicken fajitas. Cook the breasts alongside colorful peppers and onions, and you've got the perfect filling for warm tortillas. Don't forget the gluten-free corn chips and salsa!
Saturday: Leftovers
If Saturday is always a busy family day, plan on leftovers to make dinner a breeze. Prep a big bowl of salad with crunchy vegetables, goat cheese, nuts, and your favorite dressing, then shred or chop whatever chicken you have left for the week to add some protein to every bowl.