As National Pack Your Lunch Day, March 10 is an official food holiday for those jazzed about trying new healthy school lunch ideas, but we know parents everywhere are probably rolling their eyes. Isn't that every day for those with preschool and elementary school students at home? We know the process can be tedious, but with a stash of reusable containers, a little weekend prep, and a handy checklist of what to include in your kids' midday meal, you'll be a lunch-packing pro in no time.
Sustainable Packaging: Lunch Box Ideas for School
Not all schools have refrigeration options, so keep that in mind when you're packing healthy school lunches in the morning. For example, if you're thinking of sending a cup of last night's soup, be sure you have the right thermos handy. Also, many younger kids aren't ready for a full-size sandwich, and appreciate the variety that comes with filling up the smaller compartments within a larger bento box. Check out some of the reusable lunch gear our members swear by.
Bentology Insulated Bento Jar, Black
Soup lovers, this one's for you. This insulated and vacuum-sealed jar helps keep up to 17 ounces of stew or broth warm for six hours.
"We purchased three of these! They work great for our kids' lunches and are easy to open and easy to clean."
—Heather, North Carolina
Bee's Wrap Assorted Sandwich Wrap, 3-Pack
Make your kitchen more sustainable by using natural wraps as an alternative to plastic. Made with organic cotton and coated with jojoba oil and beeswax, these washable and reusable pieces easily wrap around sandwiches, snacks, fruit, and more.
"I haven't looked back. I've bought these and love them. They're great for all types of food and snacks, and a super easy transition away from plastic!"
—Garrett, California
Bentology Bento Box Classic 6 Piece Set
A navy and green bento box is one of the best kids' lunch boxes for school. Four different compartments allow you to mix and match ingredients for a one-of-a-kind meal that's never boring.
"This is easy for my 9-year-old to open!"
—Nicole, Minnesota
Thrive Market Insulated Lunch Tote, Gray
Our handy tote comes in a neutral color will keep your meal protected until lunchtime. Made from recycled plastic, the insulated lining helps keep sandwiches and wraps cool for hours, and a collapsible design means storage is a breeze.
"I love it for bringing my food to work!"
—Viola, Mass.
Thrive Market Stainless Steel Nesting Trio
Dishwasher safe and BPA-free, this collection of stainless steel nesting containers can easily store snacks, salads, and more.
"I don't like using plastic containers for my son's lunches, so these are great for putting leftovers or snacks in."
—Rebecca, California
---
Tips for Healthy School Lunches
Streamlining lunch prep is all about planning ahead. Here are four of our best tips for making the process feel less stressful—especially when you're trying to get everyone out the door.
Prep on Sunday. Not that we want to add more to your plate on a day off, but it's a lot easier to do it now than on Monday morning. And we're talking simple stuff—spoon hummus into its container, boil eggs, or slice carrots, peppers, or other veggies so they're ready to go. The idea is to get organized now so weekday mornings are more of a grab-and-go situation instead of a scramble to cook breakfast and assemble lunch at the same time. Feeling ambitious? Go ahead and pack lunches while you clean up the kitchen.
Get the family involved. You have the final say on what goes into a daily meal, but including a few preferences (as appropriate) will make kids more excited to eat. Before heading to the store, ask which fruit they'd like this week, or if there's a particular sandwich that sounds good. Older kids can help pack their own lunches, too!
Keep things simple. Children appreciate a good routine, so let's embrace it. While it might be fun to change things up sometimes, sticking to foods you know work (and are simple to prepare) is the easiest way to go. This approach means less stress for you, and you can embrace creativity during the family meals instead.
Know (and follow) the rules. Every school has different requirements when it comes to what you can and can't send. Be sure to review the policies before the start of the school year and brainstorm potential meal ideas so you're never at a loss for what to pack.
---
What to Pack for School Lunch
Leftovers are an easy way to go when you have them, but you can also build a healthy school lunch around sandwiches, dips, and of course, protein that'll keep kids full until dinner. Don't forget a snack or two!
Sandwiches
Sandwiches are one of the most popular lunch items around! Snag these combos for inspiration.
Nut butter and jelly: If your school doesn't have restrictions for nut allergies, go wild combining peanut, cashew, or almond butters with your favorite fruit spread. If you can't send nuts to school, swap in sunflower seed butter for the same vibe!
Tuna and pesto: Mixing canned tuna with mayo is a reliable combo, but have you tried pesto? The herbaceous sauce is a fresh addition to fish—spoon it into a wrap and roll it up for an easy sandwich alternative.
Ham, mustard, and cheese: Eat like a Parisian—if only for an afternoon. Spread a thin layer of spicy Dijon over a baguette (or regular mustard, if your little ones are sensitive to spice), then add a layer of thinly sliced prosciutto and a few slices of gruyere cheese.
Veggie: Need vegetarian lunches for school? Build the ultimate veggie sandwich. Use hummus or mashed avocado as a base, then layer on thinly sliced veggies like zucchini, lettuce, tomato, or cucumber. If dairy is in your diet, an herbed goat cheese spread is easy to make ahead and will last all week.
Protein
Making sure your little one has enough fuel to sail through nap time, play time, and story hour before pickup is a top priority. Fill those tummies with protein-rich ingredients they'll devour.
Hard boiled eggs: With 6 grams of protein per egg, versatile boiled eggs make a great addition to school lunches. Get our guide to a perfectly boiled egg on the blog.
Bean dips: We'll talk more about dips in the next section, but bean dips are a great way to add more protein to a lunch spread. Try black beans, white beans, or pinto beans.
Cheese: From cheese sticks to wedges of cheddar or Gruyère, cheese provides some protein to round out a meal. Just add crackers for a satisfying snack!
Jerky: Our Thrive Market Organic Turkey Jerky delivers 11g of protein per serving—enough to help keep kids and teens full.
Dips and Dippers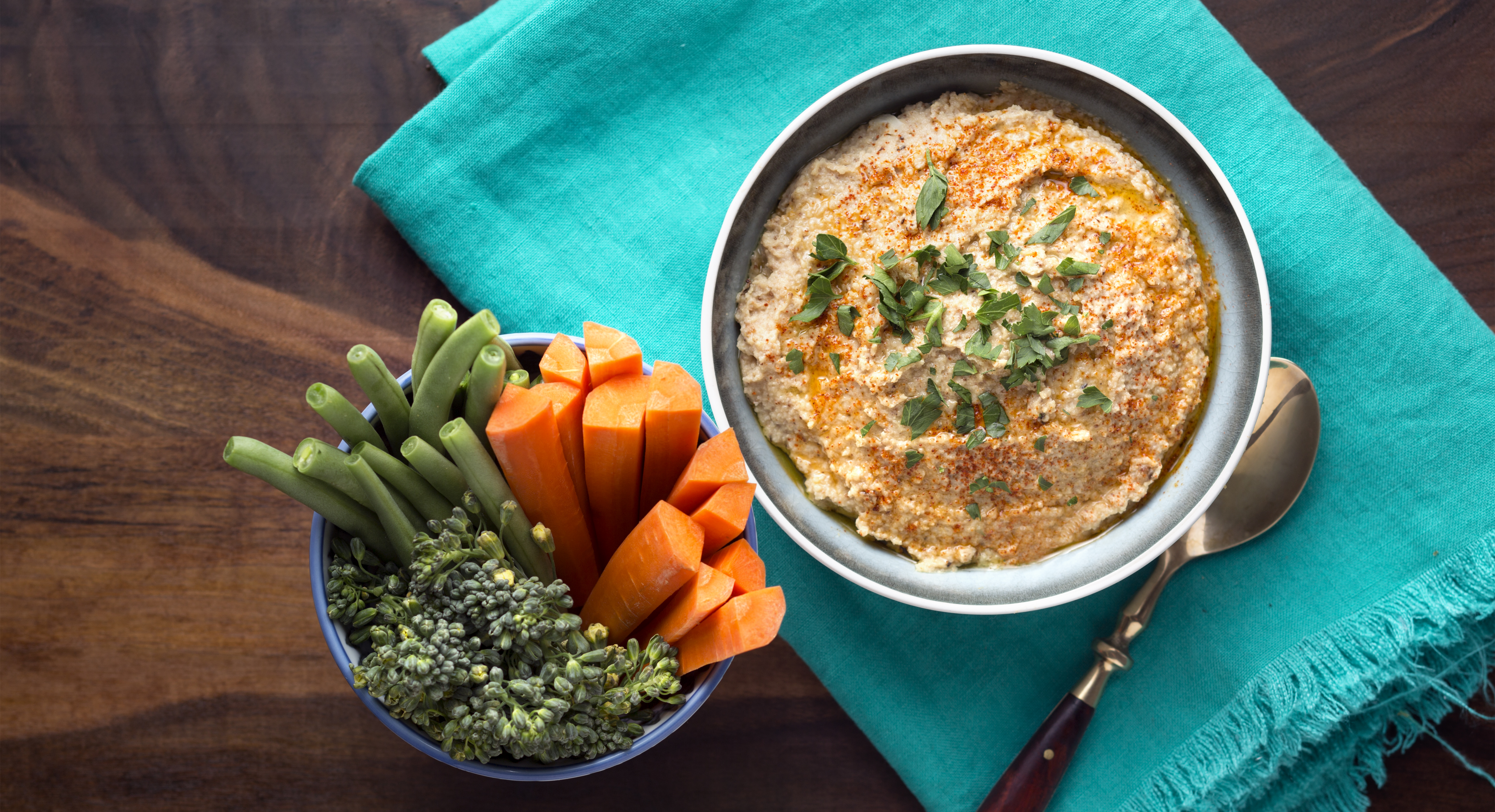 Dippers like carrot and celery sticks are easy for kid-sized fingers and go well with dips like hummus or herbed yogurt. Some lunch boxes come with a circular insert just for the occasion, or you can purchase separate round containers to include.
Dippers
Carrots
Celery
Peppers
Cucumbers
Crackers
Pita chips
Pita bread
Dips
Hummus
Black bean dip
Muhammara (red pepper dip)
Greek-style yogurt
Other Snacks
Something sweet: Small fruits like blueberries, sliced strawberries, or half of a banana make great additions. Some schools don't allow grapes (even when cut) because they can be a choking hazard, so be sure to check before packing them.
Roasted veggies: If you're making roasted cauliflower or broccoli for dinner, cook a little extra to use in lunches throughout the week.
Crackers: Today's cracker options are nothing like what you had growing up. Now, they're made with beans, pea protein, beets, and other nourishing ingredients that offer a little extra nutrition to go with the crunch.
Nuts: Make a batch of trail mix and you can use it in lunches all week. Almonds, cashews, raisins, pepitas, and even a handful of chocolate chips make a dynamite combo.
---
Healthy Lunch Snacks for School
We've stocked ThriveMarket.com with everything you need to pack a healthy school lunch. Brands like Blue Diamond, My Super Foods, and Annie's are always at the top of our members' grocery lists. Here are some of our best member-approved snacks!
Peatos Crunchy Puffs, Masala
For a chip alternative, nothing beats Peatos, a crunchy snack brand that delivers 4g of protein per serving and is made with lentil and pea flour plus masala seasoning and onion powder.
Beanfields Black Bean Bean & Rice Chips
We never said chips are all bad—especially when they're made with wholesome beans. Each serving offers 5g of protein, and is Certified Gluten-Free, too.
My Super Foods My Super Pops Popcorn Chips, Kettle
Certified Gluten-Free and vegan, kids will love these mini popcorn bites packed with superfoods like quinoa, chia, and flax.
Thrive Market Organic Beef Jerky
Sourced from pasture-raised, grass-fed beef, every batch is marinated in apple cider vinegar, honey, and spices before being smoked low and slow. It's a winner for school lunch ideas for teens.
Simple Mills Fine Ground Sea Salt Almond Flour Crackers
Made with almond flour (and perfectly addicting), this box of crackers is ideal for rounding out lunch. Each bite is also paleo, vegan, vegetarian, and Certified Gluten-Free.
Thrive Market Organic Thompson Seedless Raisins
For little fingers, nothing beats the ease of grabbing sweet raisins—but they're great for the whole family, too. This snack is made from organic white grapes and no artificial chemicals.
Thrive Market Organic Beet Crackers
Every cracker gets its vibrant pink hue from organic beets. This crunchy snack is gluten-free and made from wholesome ingredients such as chia seeds and stone-ground white corn. They're satisfying solo, but pair well with cheese or hummus (see above!)
Annie's Organic Cheddar Bunny Crackers
If there's a kid that doesn't devour Annie's cheddar bunnies, we haven't met them. Every nibble is baked with real organic cheese and organic wheat flour—no preservatives or artificial colors involved.
KIND Kids Chewy Chocolate Chip Bars
These soft, sweet snack bars are great for giving your kids a mid-afternoon boost. They'll love the chocolate chips, and you'll love that they're not made with any preservatives, dyes, or artificial flavors.