With gluten-free eating on the rise, the desire to find alternative grain solutions continues to grow. And we're here to tell you it's ok to branch out from brown rice or stray from quinoa. In fact, there are many grains and seeds rooted in ancient cultures that are finding their way back onto the plate, like millet and amaranth. One may be a whole grain and the other a seed, but both readily available (and affordable) meal enhancers are great sources of protein, nourishment, and delicious flavor. Here's a closer look at why you might want to stock up on these pantry staples.
What Is Millet?
While you may know it as an ingredient in bird seed, millet is a whole grain that actually dates back to more than 7000 years ago when used during the Neolithic Era. Naturally gluten-free, millet can be used in a variety of dishes (similar to quinoa or rice) from sides to salads to stews and porridge. The small, round grains have a nice chewy texture and nutty flavor, plus millet is packed with key vitamins and minerals, making it a welcome addition to many recipes (1).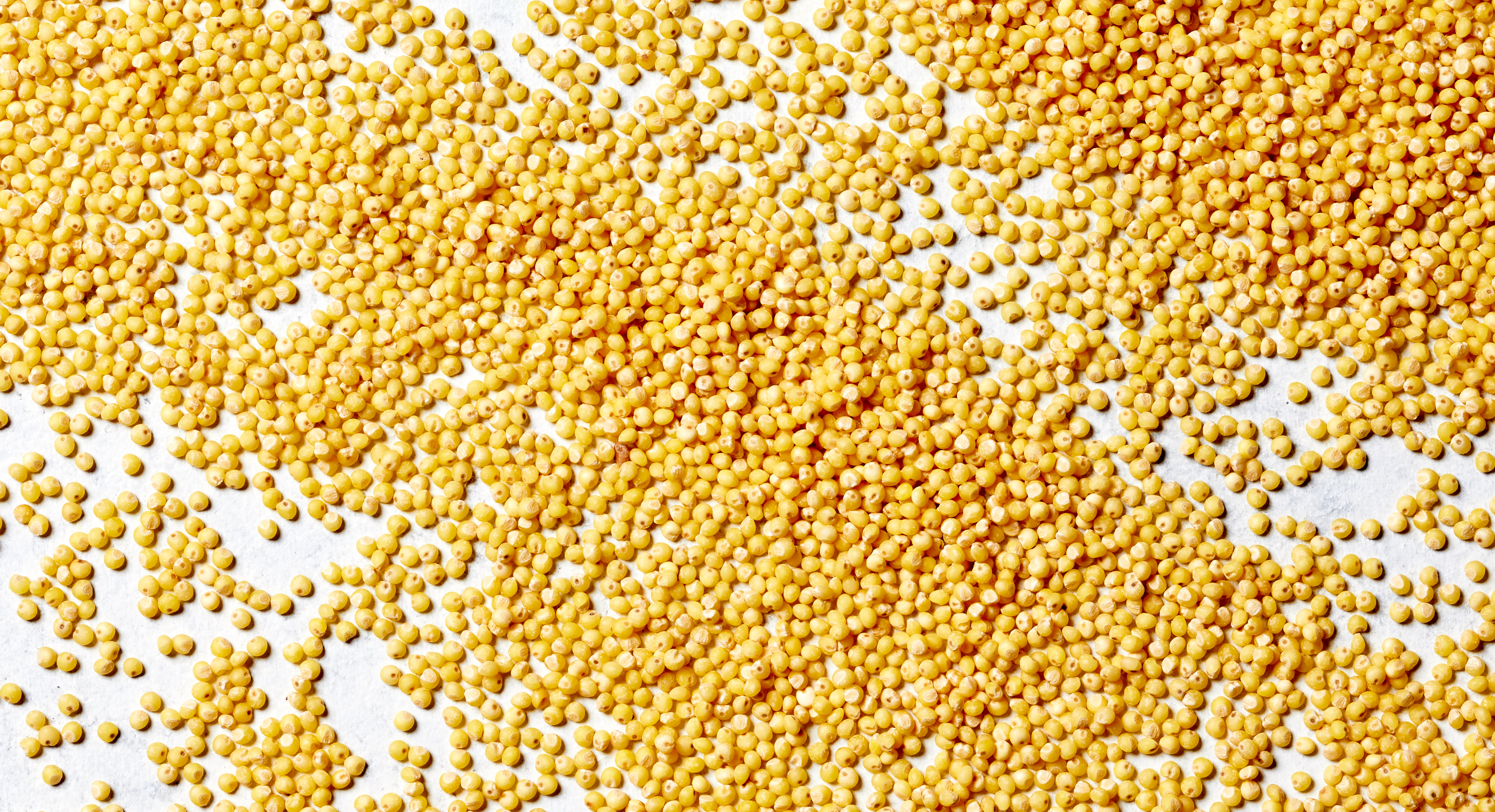 Millet Nutrition
Millet is considered a high protein grain, delivering about 5g of protein per ¼ cup serving. It's also a good choice for those following a low cholesterol diet as it is may help support good cholesterol in the body and regulate blood sugar. A source of dietary fiber (boasting about 3g per serving), millet includes vitamins and minerals like vitamin B6, folate, and magnesium (1).
Millet and quinoa are similar in size and are gluten-free, but where these ingredients differ is their nutritional content. Quinoa is a complete protein and contains all nine of the essential amino acids (2). Millet, like most other grains, lacks the amino acid lysine and offers lower protein (3).
Cooking Millet
Wait just a millet! Making the most of this ancient grain is easier than you think.
Millet on the stove
Cooking millet on the stove is easy. First, rinse the millet thoroughly, then simply add one part grain to two parts water and cook over medium heat. Once the saucepan reaches a boil, bring it down to a simmer and cook for 10 to 15 minutes, or until the water is fully absorbed by the millet. Fluff with a fork and enjoy.
Millet flour
If you're looking for an all-purpose flour alternative or baking a gluten-free dish, millet flour is a wonderful go-to, especially when combined with other flours (too much millet flour tends to make things a bit dry). To whip up your own millet flour, use a spice grinder or grain mill (or high-powered blender). Rinse the millet and let it soak for 30 minutes before draining and allowing to dry completely. Using your grinder, pulse the millet into a fine powder, then store in the freezer for added freshness.
Millet Products
Looking for a few welcome additions to your gluten-free shopping list? These millet must-haves more than make the cut.
Arrowhead Mills Organic Millet Flour
Great for flatbreads, cookies, or pancakes, this organic, gluten-free flour boasts 35g of whole grains per serving.
Lotus Foods Millet & Brown Rice Ramen
Even the gluten-intolerant can enjoy a steaming bowl of ramen thanks to these flavorful noodles, made with millet and hearty brown rice.
Rich and chocolatey, you'll hardly notice that this raw sprout protein blend also includes organic pea protein, amaranth sprout, quinoa sprout, and millet sprout for a nutrient boost.
Millet Recipes
We have a feeling even your ancestors would be jealous of these ancient-grain based dishes.
Tired of the same old oatmeal? Give millet porridge a try, made with cooked millet, unsweetened almond milk, coconut flakes, maple syrup, and raw honey.
Crispy noodle "buns," made with millet ramen noodles, make this unique burger equal parts conversation-sparking and crave-worthy.
---
What Is Amaranth?
Often referred to as an ancient grain, amaranth is actually a seed that was first cultivated in Mesoamerica about 8,000 years ago. Back then, it was known as huautli, meaning "the smallest giver of life," and was grown in large batches (like maize) as a food staple for the ancient Aztecs since it was drought-tolerant and thrived in less-than-ideal conditions (4). Naturally gluten-free, amaranth has a malty, nutty flavor so it easily adapts to both sweet and savory dishes.
Amaranth Nutrition
Not only does ¼ cup serving of amaranth deliver about 7g of protein, but the gluten-free ancient seed is actually a source of complete protein. That means it contains all essential amino acids, including lysine. Amaranth also contains calcium, iron, dietary fiber, and vitamin C (5).
Amaranth vs. Quinoa
Amaranth and quinoa are both gluten-free seeds with a lot to offer. Amaranth contains slightly more protein than quinoa, with 9g of protein compared to quinoa's 8g. Both ingredients have short cooking times—a big help in the kitchen. Quinoa cooks in about 15 minutes, while amaranth takes up to 20 minutes to cook through. One more pronounced difference, though, is flavor. Quinoa is more mild in flavor (and easily absorbs whatever it's paired with), while amaranth has a more distinctive nuttiness and herbal note that some say is reminiscent of hay.
How to Cook Amaranth
Simmered on the stove, tossed into stews, cooked with other grains, puffed for added texture, or pulverized into flour, there's no wrong way to enjoy amaranth.
Amaranth on the stove
Similar to cream of wheat, amaranth can be made into a comforting porridge when cooked on its own. Simply add 1 ½ cups liquid to ½ cup amaranth and bring it to a boil before simmering for about 20 minutes (or until all liquid is absorbed). You can also add amaranth to your favorite soups and stews by including a handful in the steamy broth as it cooks, or even include a couple tablespoons of amaranth in a batch of quinoa or brown rice.
How to puff amaranth
Want to add crunch to your salads, soups, or veggies? You can puff amaranth in a hot, dry skillet. Just add it to a dry skillet and warm over medium heat. Shake the pan lightly and stir the seeds until they pop and give off a nutty aroma.
How to make amaranth flour
Great for pancakes, scones, muffins, or quick breads, amaranth flour is relatively easy to create at home. Using a coffee grinder, spice grinder, or grain mill, add just a few tablespoons of amaranth at a time and grind into a soft, fine powder. Store in the freezer for a few months.
Amaranth Products
Snag these amaranth pantry staples and to add a protein and nutrient boost to your next meal.
Bob's Red Mill Organic Amaranth Flour
This 100% stone-ground, gluten-free flour has an earthy, nutty flavor and is ideal for grain-free baking when used to replace 25% of your recipe's flour.
This plant-based vegan protein powder features 13 raw, organic sprouts, including pea protein, sprouted brown rice, amaranth sprout, and millet sprout.
Ancient Grain Gluten-Free Pasta
Whip up a hearty bowl of gluten-free pasta thanks to noodles made from quinoa, amaranth, and brown rice.
Fuel up with a gluten-free cereal of corn flakes, quinoa puffs, flaxseed, amaranth, and a touch of vanilla sweetness.
Think amaranth is for the birds? These scrumptiously seeded recipes are anything but boring.
This traditional Mexican amaranth candy is made even more snackable thanks to pumpkin seeds, raw honey, raisins, and pecans.
Simple but satisfying, this nourishing salad pairs cauliflower roasted in ground coriander with chopped lettuce, amaranth, lemon vinaigrette, and red pepper flakes.
This comforting stew combines amaranth with fire-roasted tomatoes, black beans, onions, garlic, avocado, and a blend of zesty Mexican spices.