Once the heat rolls in, you know ripe and juicy tomatoes won't be far behind. When your farmer's market haul starts overflowing, it's time to enjoy one of summer's most-loved ingredients. In addition to easy tomato recipes, we're looking at some of the most popular tomato varieties, sharing tips for how to cook tomatoes, plus plenty of no-cook ideas for the hottest days of the year.
Most Popular Tomato Varieties
Whether you browse supermarket shelves or roam your local market, here are some of the best tomato varieties to look for—especially during peak season.
Beefsteak: If you love making homemade salsa, beefsteak tomatoes are your best bet. Large and meaty, these tomatoes have a mild flavor and are ideal to serve alongside wraps and burgers as well as your favorite salsa recipes.
Cherry: Versatile and colorful, cherry tomatoes come in a range of shades (like red, orange, yellow, and purple) and add a burst of sweetness to any dish. They're also one of the most popular tomato varieties. Slice them to enjoy raw in salads, sauté for sauces, or marinate in oil for a quick riff on bruschetta.
Grape: Grape tomatoes have a slightly thicker skin than cherry tomatoes, so they hold up well to a variety of cooking methods. Plus, you can use them interchangeably with cherry tomatoes.
Heirloom: Prized for their flavor and vibrancy, heirloom varieties can be traced back many generations and are often heavy for their size when held in your hand. They come in all sizes and colors—just take a turn through your summer market to see what the best picks are. Popular heirloom tomato varieties include: Cherokee purple, Brandywine, Black Krim, and Green Zebra.
Roma: Romas are Italian plum tomatoes with lots of fresh flavor. Their uses are endless—try a fresh pasta sauce with lots of basil and garlic, chop them for bruschetta (a classic preparation), or slow roast them by the tray for extra concentrated flavor.
Tomatoes on the Vine: These glossy tomatoes are typically sold still attached to the vine, and lend sweetness to your recipes. They're the perfect addition for your favorite tomato soup recipe, adding to stews, or serving alongside a build-your-own sandwich platter.
Ways to Cook With Tomatoes
A peak season tomato needs little more than a sprinkle of flaky sea salt, but there are lots of ways to flex your cooking chops.
Sauté: Need an idea for how to cook cherry tomatoes? They burst quickly when sautéed right on the stove top. You need little more than olive oil, salt, and pepper to do them justice, but add in a few sliced garlic cloves and a dash of crushed red pepper for good measure. Cherry or grape tomatoes shine here—spoon the tomatoes over fish or chicken, serve with grilled bread, or toss with pasta or rice.
Slow-Roast: Jammy, slow-roasted tomatoes are practically irresistible. When cooked low and slow, the sweet flavor concentrates and turns thick, similar to the consistency of your favorite fruit jam. These kinds of tomatoes are perfect for tossing with pasta or enjoying as an appetizer with goat cheese and crusty bread.
Fry: Another way to cook tomatoes is a light fry. Large, firm tomatoes are best here (try green or beefsteak tomatoes) and are complemented by a crunchy exterior made with fresh breadcrumbs, salt, and pepper.
Ideas for (Almost) No-Cook Tomato Dishes
We have 10 easy tomato recipes for you below, but just to get your wheels turning, here are lots of inventive ways to slip tomatoes into lots of different meals.
Bruschetta: Chop tomatoes and marinate them with olive oil, salt, and pepper. For a little kick, grate a large garlic clove into the bowl as well.
Greek-inspired salad: Toss halved cherry tomatoes with chopped romaine, smashed kalamata olives, a can of drained garbanzo beans, and crumbled feta cheese.
Salsa: Fresh salsa is a great way to transform larger tomato varieties like beefsteak or Roma tomatoes. Blitz them in a food processor with fresh cilantro, garlic, chipotle, lots of lime juice, and salt.
Roasted tomatoes: You can't go wrong with a pan of roasted cherry or grape tomatoes. It's a done-for-you pasta sauce, juicy appetizer on a cheese and charcuterie plate, or the base of a comforting soup.
Enchilada sauce: No need to purchase jarred enchilada sauce—just add tomatoes, garlic, chopped onion, and lots of spices (like cumin and chili powder) to a blender.
Pickled tomatoes: Just like cucumbers, beets, or green beans, tomatoes can also be pickled and stored in the pantry for a gray winter day.
Tomato Sauce Recipe
Everyone needs a fresh tomato sauce recipe up their sleeve. And here's the real secret: you hardly need a recipe at all! Aside from tomatoes, olive oil, and salt, other ingredients that boost flavor (like garlic and chili flakes) are optional. Here's a simple primer on how to cook tomato sauce—you'll be able to dress a bowl of pasta in no time at all!
Ingredients
5 pounds tomatoes, halved
½ teaspoon sea salt, plus more to taste
2 tablespoons extra virgin olive oil
1 tablespoon tomato paste (optional)
1 garlic clove, grated (optional)
Torn basil (optional)
Instructions
Squeeze seeds from tomatoes and discard. Press the cut side of a tomato against the large holes of a box grater, or push through a food mill; discard skins. Add pulp to a saucepan and warm over medium heat. Add salt, olive oil, and tomato paste and garlic (if using). Bring to a boil, then simmer for 10 to 15 minutes, or until thickened slightly. Taste and add more salt if needed. Finish with fresh basil just before serving.
---
10 Must-Try Fresh Tomato Recipes
From summer-ready salads to baked dishes when the weather cools down, these 10 recipes make it easy to enjoy tomatoes all year long.
Watermelon and Tomato Salad Recipe
Here's a refreshing warm-weather combo: sweet watermelon cubes with juicy tomato chunks. Toss it up with fresh mint, a few spices, and flaky salt for the perfect summer appetizer or side.
Tomato and Olive Oil Salad
When the heat is sweltering, we're all about embracing a no-cook philosophy. Enter: a five-minute tomato salad recipe. After slicing up a few heirloom tomatoes, sprinkle the plate with flaky salt, pepper, and a few thinly sliced shallots.
Italian-Baked Chicken With Cherry Tomatoes
Here's a simple way to learn how to cook chicken breast in tomato sauce: bake it. The bursting juices of cherry tomatoes add a sweet touch to this easy baked chicken recipe. The whole dish comes together in one pan—just add a fresh salad and dinner's done.
Baked Sausages With Roasted Tomatoes
Another one-pot wonder, baked sausages work for lunch or dinner. Sweet and savory ingredients (think: garlic, balsamic vinegar, sweet Italian sausage, and cherry tomatoes) ensure every bite bursts with flavor.
White Bean Purée With Spinach and Roasted Tomatoes
Here's a vegan dish that's big on flavor. The white bean purée serves as a creamy base for tender spinach and roasted cherry tomatoes. Just add grilled baguette slices for a memorable appetizer.
Roasted Tomato Salsa
It's convenient to open a can of jarred salsa, but making this condiment yourself is super easy too. Our recipe starts with slow-roasted tomatoes and builds flavor with garlic, onion powder, shallots, and more. (Add a canned chipotle for extra smoky flavor!)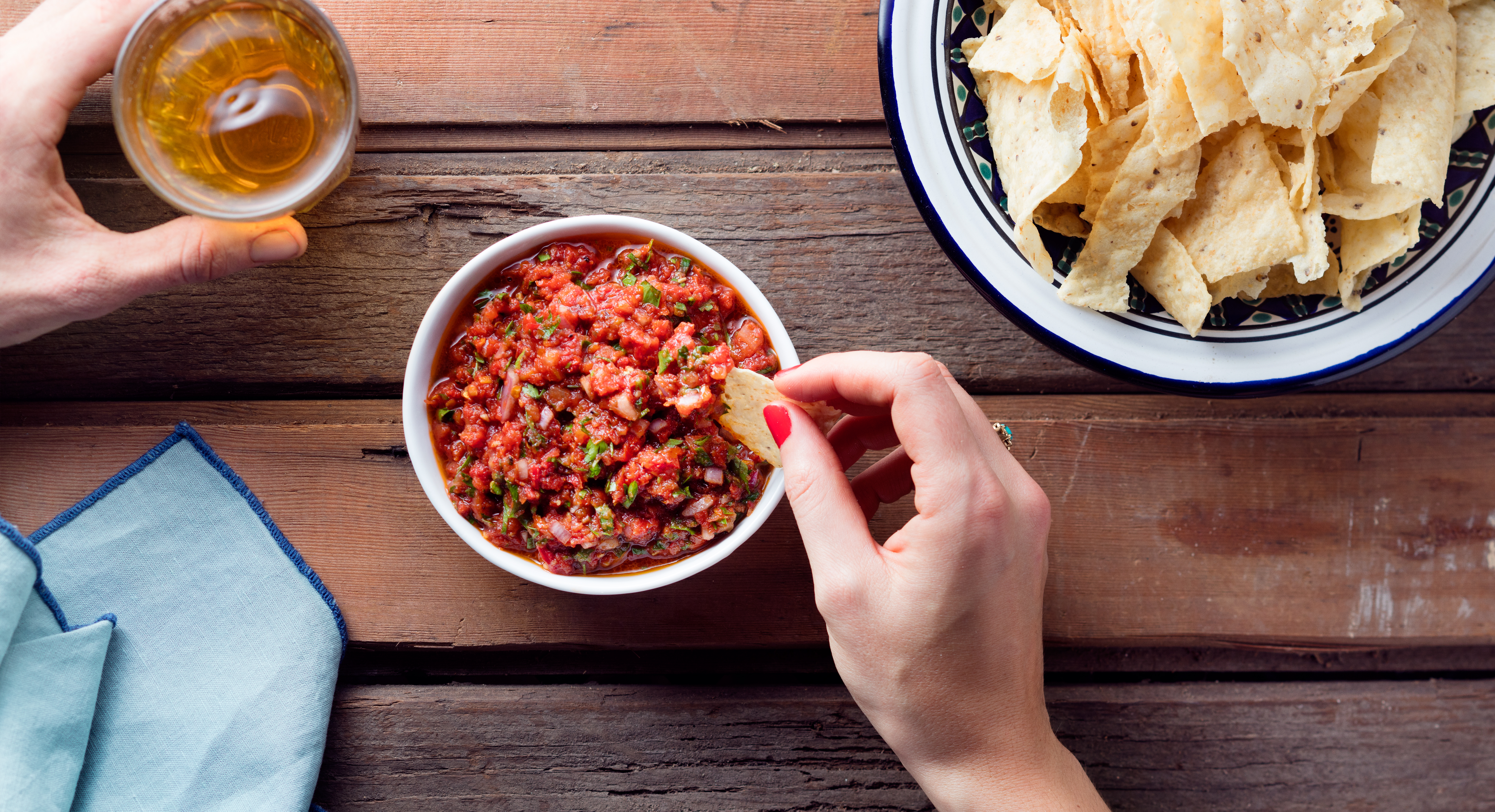 Baked Eggs in Tomato Cups
Impress your brunch guests with baked eggs in tomato cups. The clever recipe hollows out beefsteak tomatoes, then fills them with an egg before baking. Besides the impressive plating, we love not having to stand at the stove to fry eggs.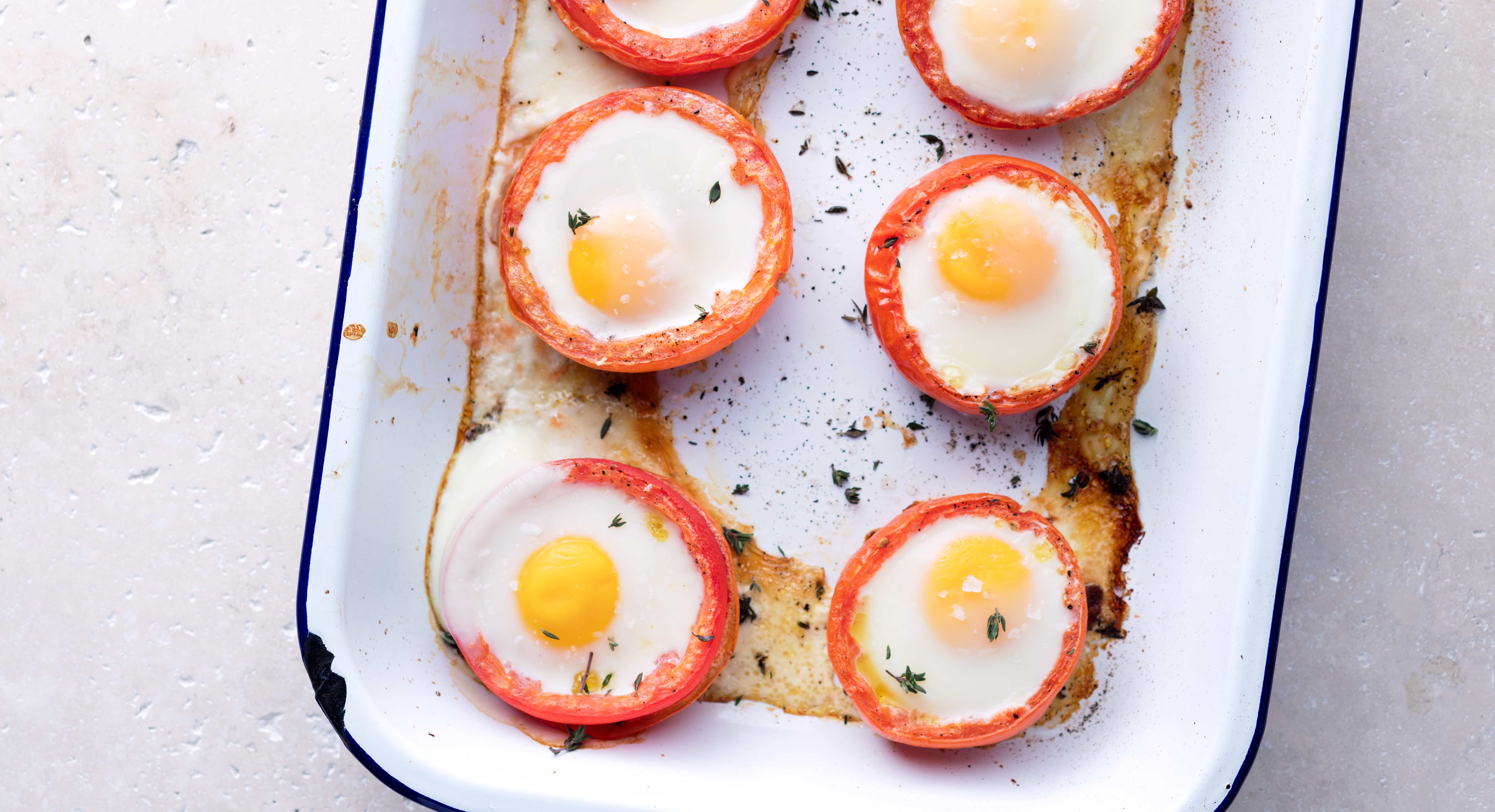 Poached Cod In Tomato Sauce
Poached cod is a light-yet-satisfying supper, especially when the whole dish comes together in about 20 minutes.
Tapenade and Roasted Tomato Tart Recipe
Could this tomato tart be any more gorgeous? This French-inspired recipe is gluten-free thanks to an almond flour crust, and features a layer of briny olive spread underneath coriander-scented tomatoes.
One-Pot Eggs In Purgatory
A double punch of tomato flavor (from canned tomatoes and tomato paste) makes this recipe extra flavorful. Enjoy it for breakfast, lunch, or dinner—everything cooks up in 30 minutes.