The keto diet is having a moment. This high-fat, low-carb eating plan can reportedly accelerate weight loss and protect the brain. But if you're trying to cut back on your consumption of animal products—whether for your health, environmental reasons, or both—a diet that requires loading up on meat and dairy might not appeal. Plant-based keto is the logical meeting place of these two trends…but is it even possible? Can you eat plant-based and still reap the benefits of the ketogenic diet?
To find the answer, we asked a health expert who literally wrote the book on vegan keto. Dr. Will Cole is a leading functional medicine practitioner and bestselling author of several books, including Intuitive Fasting: The Flexible Four-Week Plan to Recharge Your Metabolism and Renew Your Health, his latest (which you can order here). Over email, he gave us the full scoop about how to keep it plant based while following the keto diet.
First off, is vegan keto—meaning no meat, eggs, or dairy—possible?
Yes—in fact, Dr. Cole recommends it. His first book (fittingly titled Ketotarian) offers a "plant-forward, clean keto approach" that he says is the key to "true body health." In it, he explains how to adhere to the keto diet as a vegan as well as a vegetarian and pescatarian, suggesting there are more ways to personalize this seemingly restrictive lifestyle than you may have thought. "Ketotarian leverages all of the benefits of eating a high-fat diet without the inflammatory effects of dairy and conventional, processed meats," he adds.
A good vegan keto meal plan includes "plant-based superfoods like sea vegetables" as well as onions, Brussels sprouts, cabbage, cauliflower, and mushrooms, which contain B vitamins that Dr. Cole says "naturally support methylation pathways in the body." (Side note: the methylation cycle is how the body regulates biochemical processes related to hormones, digestion, brain health, gene expression, and immunity.)
With not only meat, eggs, and dairy off the menu, but also legumes (which are central to many a plant-based diet, but not allowed on keto), you may be wondering where the protein comes from. We were, so we asked; Dr. Cole happily shared his favorites. They include fermented, non-GMO soy products like natto and organic tempeh; spirulina (a blue-green algae); nutritional yeast; peas; hemp hearts and seeds; nuts; artichokes, which offer a hefty (for a vegetable) 4 grams of protein; and protein powder made from the protein-rich seed sacha inchi.
Can you do vegetarian keto, i.e. keep eggs and dairy, but cut out meat?
Yes again—but keep the emphasis on the aforementioned vegetables. "While the Ketotarian lifestyle focuses [on] being plant based, organic and pasture-raised eggs are a nutrient-dense option that provide both clean protein and healthy fats," Dr. Cole explains, adding that grass-fed ghee is also a recommended source of fuel on a vegetarian keto diet.
Will you get the same results from a vegetarian or vegan keto diet as a regular keto diet?
Better, in fact, Dr. Cole says. And not only that, but they're more likely to last. "The Ketotarian diet takes the best qualities from the ketogenic and vegan/vegetarian diets, and creates a lifestyle that's much better for overall brain health, weight loss, and health issues in general," he adds.
Since the Ketotarian diet is still low in carbohydrates, moderate in protein, and high in fat, it is designed to trigger a state of ketosis—the goal of the conventional keto diet, in which the body burns fat instead of sugar for energy. The difference is that the enhanced focus on whole foods adds "an anti-inflammatory, antioxidant-rich, plant-based twist," Dr. Cole explains. To boost the health benefits of the keto diet, he suggests pairing the Ketotarian eating plan with flexible intermittent fasting to deepen ketosis (a topic his new book, a practical combination of expert guidance and healthy recipes, explores in detail).
Unlike the conventional keto diet, which fully excludes fruit, starchy vegetables, and grains, Dr. Cole's plant-based take on keto actually permits these foods occasionally. This approach offers a bit more wiggle room that he feels makes the diet more sustainable in the long run. "I advocate for most people to adopt a cyclical Ketotarian approach. Implementing clean carb cycling by increasing foods like fruits, sweet potatoes, and rice periodically allows for more flexibility," he explains, adding that it also supports gut health and hormone support.
What might a vegan keto meal plan look like?
For a flavorful day of plant-rich keto eating, Dr. Cole offers a sample menu made up of recipes from his book, Ketotarian. Unless you're practicing intermittent fasting, your day might start with a bowl of berry and coconut chia pudding. For lunch, try a medley of roasted vegetables with olive basil pesto, followed by an afternoon avocado protein smoothie. For dinner, Dr. Cole suggests more roasted vegetables, this time served in Bibb lettuce wraps with a generous helping of homemade guacamole.
Should people doing plant-based keto take supplements?
In general, Dr. Cole's advice is consistent with that of many health pros; most of your nutrients should come from food. That said, he believes supplements can help to "fill in nutritional gaps or take a person's health to the next level." He suggests vitamin D, magnesium, turmeric, methylated B complex, vitamin K2, and a probiotic to round out your plant-based keto diet.
Dr. Cole adds that while supplements themselves are no substitute for a wholesome diet, the act of taking a daily supplement could have its own benefits. "Functional medicine sees the body as one whole unit, inextricably linked and woven together to form one perfect masterpiece," he says. "There is no one supplement that is the best option for everyone, but choosing to make deliberate decisions like taking daily supplements will truly help you take those steps toward optimal health!"
What are some of the best vegan keto foods?
To prepare all manner of vegan keto recipes, stock your kitchen with healthy fats and non-starchy vegetables. "A good rule of thumb is if you're eating healthy fat, add some non-starchy vegetables; and if you're eating non-starchy vegetables, add some healthy fat," Dr. Cole advises. His go-to vegan keto food list includes:
Coconut in all forms
Avocado and avocado oil
Olives
Nuts
Seeds
Non-starchy vegetables (think: broccoli, cauliflower, mushrooms, asparagus)
If you're going the vegetarian route, you can add pasture-raised eggs and grass-fed ghee, and, if you eat fish, wild-caught seafood.
Try These Vegan Keto Recipes
Each of these vegan keto recipes is powered by plant-based fats.
Vegan Keto Walnut Milk Recipe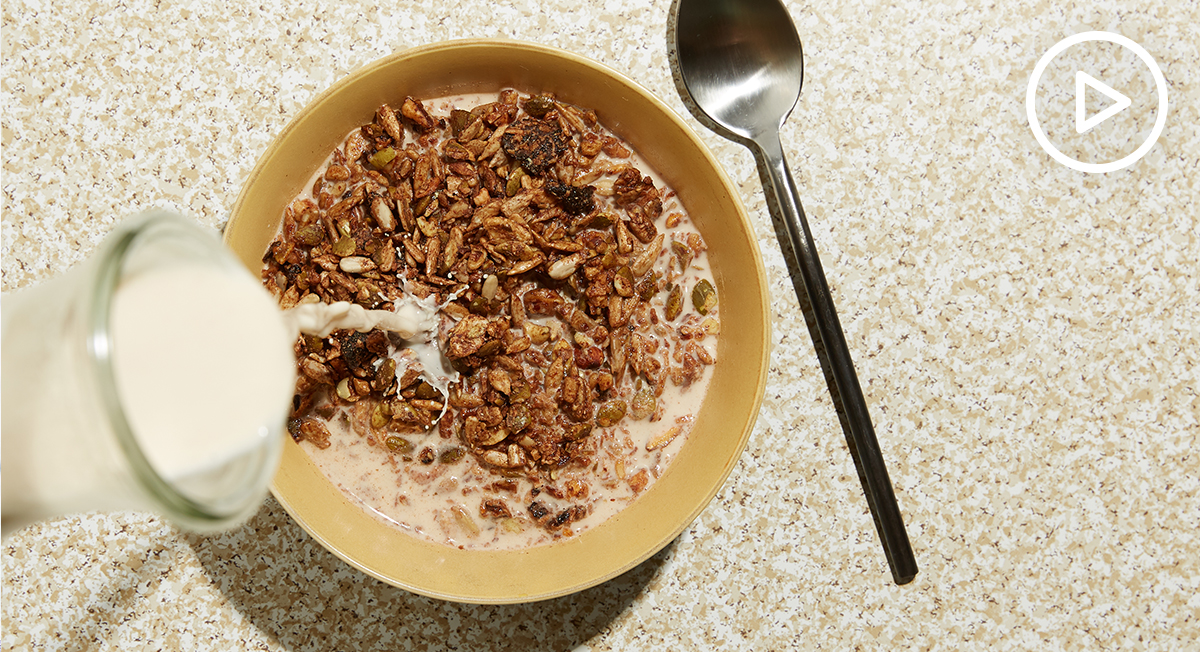 To mix up your vegan keto breakfast routine, try a bowl of grain-free granola with a splash of DIY walnut milk.
Vegan Portobello au Poivre Recipe
Portobello mushrooms and a coconut milk sauce make for a main course so hearty, you won't miss the meat.
Vegan Keto Buckeyes Recipe
The classic combo of peanut butter and (dairy-free) chocolate makes this vegan keto dessert totally irresistible.
Shop Dr. Cole's Top Vegan Keto Foods
Ready to give the Ketotarian diet a whirl? Add Dr. Cole's plant-based ketogenic staples to your next Thrive Market order.
Thrive Market MCT Oil
This versatile oil made from ethically sourced coconuts adds easy-digesting fats to smoothies, coffee, and salad dressings.
Thrive Market No Sugar Added Almond Butter
Made from a single ingredient—almonds—this creamy spread is a plant-based keto kitchen staple.
Thrive Market Organic Coconut Milk, Regular
With rich flavor and a silky texture, this organic coconut milk is equally essential for sweet and savory vegan keto recipes.
Flackers Flax Seed Crackers
Craving the crunch of a cracker on keto? Dr. Cole recommends these seedy snacks made from sprouted flax—and very little else.
Dr. Will Cole photo credit: Tamara Muth-King
For more, check out our ultimate guide to the keto diet!
Recipe photo credit (from Intuitive Fasting: The Flexible Four-Week Plan to Recharge Your Metabolism and Renew Your Health): Julia Gartland