On the Greek island of Ikaria, living to the ripe old age of 100 is the norm. It's all thanks to the convivial culture and their incredible, delectable food.
Wine, olives, and long, joyful meals alfresco—that Mediterranean life is basically a dream. But it's actually pretty feasigrapealians do. Fresh fish, olive oil, and pasta? Doesn't necessarily sound like a diet, but trust us—this might be one of the healthiest ways you could possibly choose to eat.
Aside from utilizing some of the most wholesome ingredients available at the market, Mediterranean cuisine is flavorful and the "rules" of the diet are flexible, making it pretty easy to stick to long-term. Here's why it might be perfect for you—and how to shop for and prepare all the nutritious foods.
Why the Mediterranean diet is so healthy
In the 1960s, people living on islands surrounding the Mediterranean Sea had minimal access to medical care—yet they boasted a long adult life expectancy and low rates of chronic disease. Researchers attribute this to their traditional way of eating, consisting of whole, unprocessed foods and healthy fats, including whole grains, vegetables, fruits, fish, nuts, dairy, and pure oils.
But other key lifestyle factors probably also play a role. Culturally, Mediterranean people are active, place a high value on family and relationships, and prioritize stress relief. Complement your diet with these healthy habits and you'll likely reap the most positive results.
What are the health benefits of a Mediterranean diet?
Strengthens your heart
Studies have shown that a Mediterranean diet is effective at reducing the likelihood of heart attacks, strokes, and heart disease. It's known to lower LDL cholesterol—the "bad" kind that clogs arteries and puts you at higher risk for cardiovascular issues.
Fights chronic diseases
The diet has been linked to fewer cases of chronic disease, including some types of cancer.
Boosts mental health
According to psychiatrist Dr. Samantha Boardman:
"While there is no single ingredient that will put you in a better mood or prevent memory loss, a great deal of evidence suggests that following a Mediterranean diet can boost your psychological fitness."
Eating lots of sugar, processed food, and fatty meats has been correlated to depression and anxiety. In the Mediterranean, these foods are shunned in favor of healthier ones like legumes, whole grains, nuts and seeds, olive oil, antioxidant-rich fruits and vegetables, seafood, and lean meat only in moderation.
One study found that eating this way could curb the risk of depression by 30 percent. And research on its potential to ward off mental illnesses like dementia looks promising.
Helps maintain a healthy body weight
In a study published in the journal Lancet Diabetes & Endocrinology, participants who ate a diet rich in healthy fat from olive oil, coconut oil and nuts were able to lose more weight over the course of five years than those who ate low-fat meals. More and more evidence is coming to light that certain types of dietary fat, like some of those eaten in the Mediterranean, can actually be good for you.
"Healthy cell walls made from high-quality fats are better able to metabolize insulin, which keeps blood sugar regulated. Without proper blood-sugar control, the body stores fat for a rainy day. The right fats increase fat burning, cut your hunger, and reduce fat storage, and help you lose weight." —Dr. Mark Hyman
What to eat on the Mediterranean diet
The best thing about the Mediterranean diet? The food you can eat is satisfying and actually tastes good! There are so many options, and emphasizing healthy fats, herbs, and spices means your daily meals will automatically have tons of flavor. Here's a shopping list of everything you can and should eat—plus what you should limit and avoid.
Also note the recommended servings especially if you're trying to watch your weight. While beneficial fats from fish, oils, nuts, and seeds can be good for the heart and even help you stay slimmer, eating too much can really up your calorie intake, and potentially lead to weight gain. If you're concerned about this, you can skew toward fewer servings of those foods and instead eat more vegetables, legumes, and whole grains.
Mediterranean diet grocery list
Seafood
Serving size: 3 ounces
Recommended servings: 2 to 3 per week
Anchovies
Clams
Cod
Crab
Flounder
Halibut
Herring
Lobster
Mackerel
Monkfish
Mussels
Sardines
Sea bass
Shrimp
Squid
Fruits
Serving size: 1 small fresh fruit or ¼ cup dried fruit
Recommended servings: 2 to 4 per day  
Apple
Apricot
Avocado
Banana
Blackberries
Blueberries
Cantaloupe
Carob
Cherimoya
Cherries
Coconut
Cranberries
Currants
Dried fruits (all types)
Figs
Grapes
Grapefruit
Guava
Honeydew melon
Kiwi
Kumquat
Lemon
Lime
Mango
Orange
Papaya
Passion fruit
Peach
Pear
Persimmon
Pineapple
Plum
Pluot
Pomegranate
Quince
Raspberries
Strawberries
Tamarind
Tangerine
Tomato (all types)
Watermelon
Vegetables
Serving size: 1 cup raw or ½ cup cooked
Recommended servings: 4 to 8 per day
Acorn squash
Alfalfa
Algae
Artichoke
Arugula
Asparagus
Beet
Bell pepper
Broccoli
Broccoli rabe
Broccolini
Brussels sprouts
Cabbage
Cauliflower
Carrot
Celery
Corn
Cucumber
Eggplant
Endive
Fennel
Garlic
Ginger
Green beans
Green onions
Kale
Leeks
Lettuce
Mushrooms
Mustard greens
Okra
Olives
Onion
Peas
Pepper
Potato
Pumpkin
Radish
Scallions
Shallots
Snap peas
Spinach
Squash
Sweet potato
Swiss chard
Turnip
Watercress
Zucchini
Fresh herbs
Recommended servings: Use to taste
Basil
Chives
Cilantro
Coriander
Cumin
Dill
Herbes de Provence
Marjoram
Mint
Oregano
Parsley
Rosemary
Sage
Tarragon
Thyme
Dried herbs and spices
Recommended servings: Use to taste
Grains
Serving size: 1 slice bread or ½ cup cooked grains
Recommended serving: 4 to 6 per day
Amaranth
Barley
Bulgur wheat
Farro
Millet
Whole grain bread
Whole wheat bread
Whole wheat pasta
Whole wheat pita
Whole wheat couscous
Legumes
Serving size: ½ cup
Recommended servings: 1 to 3 per day
Black-eyed peas
Cannellini beans
Fava beans
Kidney beans
Lima beans
Navy beans
Nuts and seeds
Serving size: ¼ cup nuts, 1 tablespoon nut butter, or 2 tablespoons seeds
Recommended servings: 1 to 3 per day
Cooking fats
Serving size: 1 teaspoon
Recommended servings: 4 to 6 per day
Peanut oil
Pumpkin seed oil
Walnut oil
Condiments and other pantry staples
Recommended servings: Use as needed or heed serving size on the package
Baking powder
Cornmeal
Hummus
Olive tapenade
Polenta
Sauerkraut
Vanilla extract
Vegetable broth
White wine
White wine vinegar
Foods to eat in moderation on the Mediterranean diet
Recommended servings: No more than 1 to 3 per week
Butter
Cheese
Cream
Eggs
Honey
Milk
Poultry
Red wine
Yogurt
Foods to avoid on the Mediterranean diet
Fast food
Pork
Processed foods
Red meat
Refined sugar
Soda
Mediterranean diet meal plan
To stay on track, it might be helpful to make yourself a menu for the week ahead. Use this meal plan with recipes as a guideline.
Monday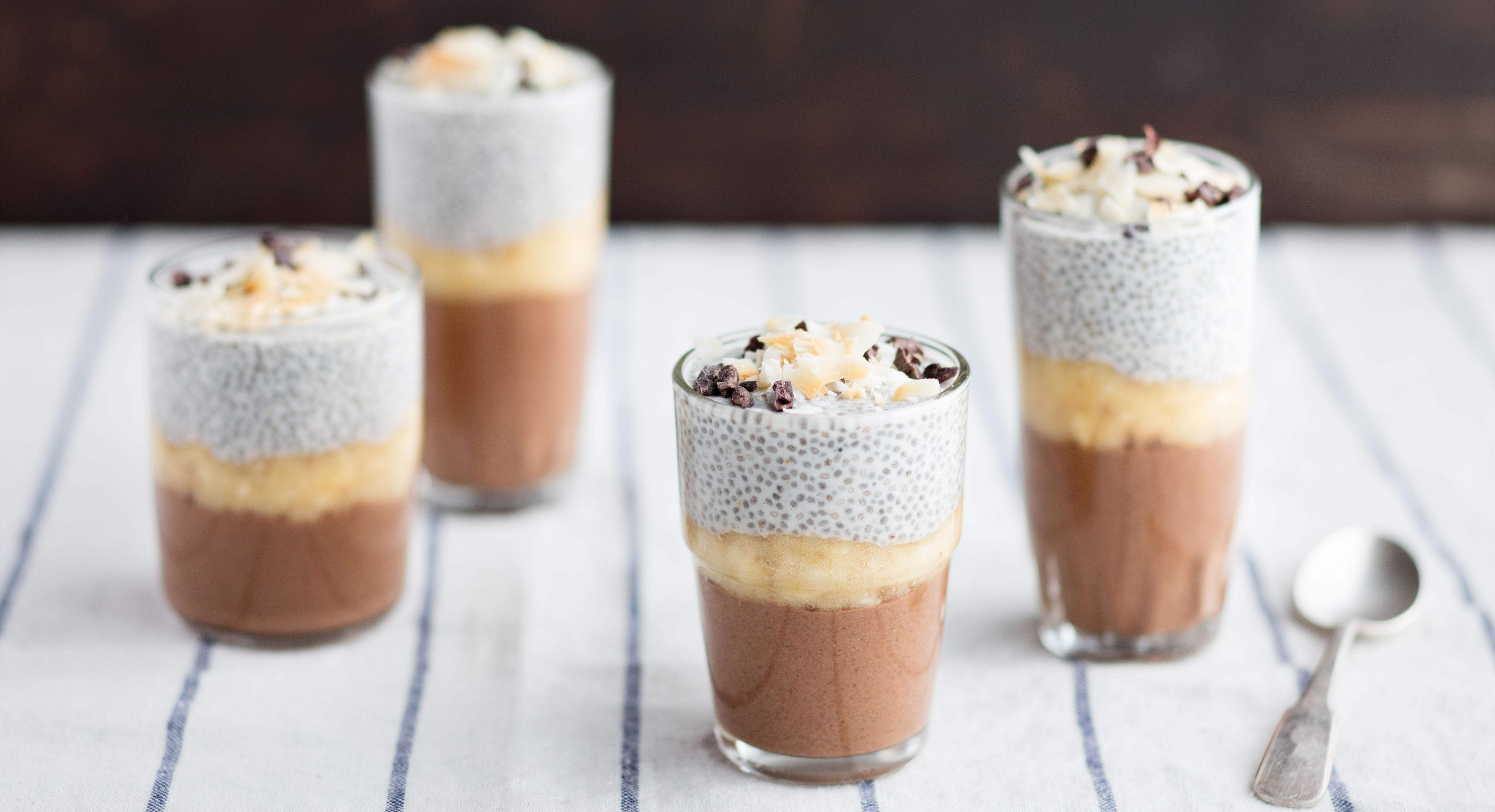 Try an unconventional take on a parfait—without dairy. It'll give you a healthy dose of fruit and healthy fat from chia seeds.
Snack: Your choice of fresh fruit, nuts, or seeds
Here's a meatless dish with plenty of protein that will keep you fueled up—very necessary on Mondays! Dried fruit and fresh herbs add plenty of flavor.
Snack: Your choice of fresh fruit, nuts, or seeds
Cauliflower "rice" is a dream come true—not only does it sub in for grains to keep things light, it also helps you fulfill some of your veggie servings. With olive oil–coated roasted salmon, there's tons of brain-boosting healthy fat, too.
Tuesday
Named after the Italian city of Naples, neapolitan ice cream is known for its multi-colored mix of chocolate, vanilla, and strawberry. Normally served as dessert, you can have this smoothie version for breakfast.
Snack: Your choice of fresh fruit, nuts, or seeds
Peppery watercress is complemented by creamy avocado, tangy sauerkraut, and crisp mint for a total burst of freshness.
Snack: Your choice of fresh fruit, nuts, or seeds
Mediterraneans never deprive themselves of life's pleasures—cheese included. Indulge in moderation, but make it worth it with a vegetarian pizza topped with zucchini, artichoke, and green olives.
Wednesday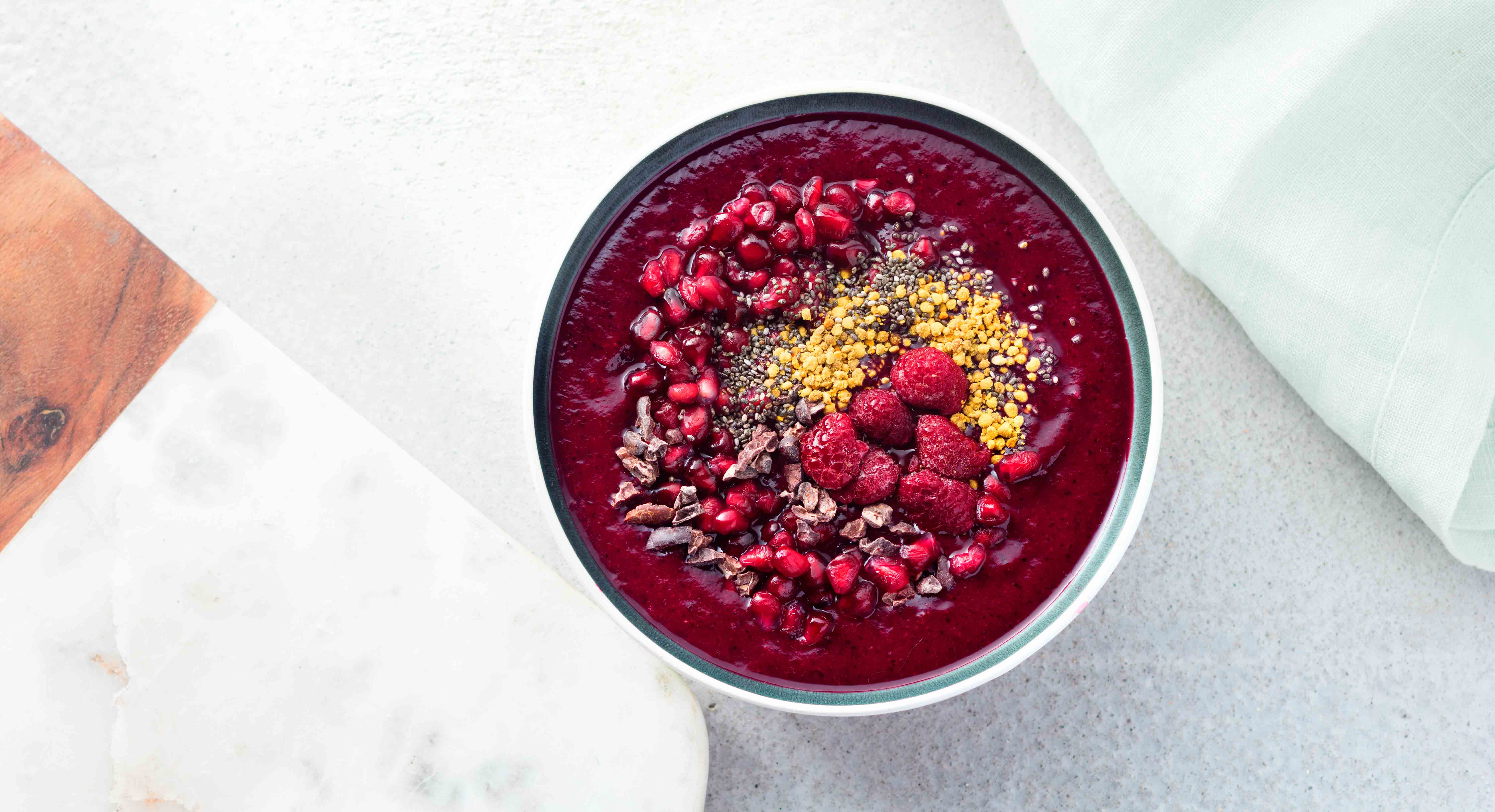 A crimson smoothie bowl rich in antioxidants and superfoods will help you kickstart your day on a healthy note.
Snack: Your choice of fresh fruit, nuts, or seeds
Here's a recipe for healthified falafel. Combine the patties with parsley, cucumbers, and cabbage—stuff them into whole wheat pita bread for an even more substantial lunch.
Snack: Your choice of fresh fruit, nuts, or seeds
Cooked in tomato sauce, poached cod gets a major upgrade. It's so easy, and the resulting fish will be incredibly flaky, moist, and exploding with flavor.
Thursday
Prepare a few packets ahead of time so you can take this oatmeal to-go. That way you can whip up quick, fiber-rich breakfasts without any of the additives or fillers.
Snack: Your choice of fresh fruit, nuts, or seeds
Want a low-carb yet tasty lunch that'll really fill you up? Make flatbread with sprouted garbanzo bean flour and top it off with fresh veggies and herbs.
Snack: Your choice of fresh fruit, nuts, or seeds
Dinner: Whole Wheat Pasta With Kale-Hemp Pesto
Our unexpected take on pesto forgoes the basil and instead dares you to experiment with kale and hemp seeds. Pair it with whole wheat spaghetti and you won't regret it—it'll truly elevate your pasta game.
Friday
You've made it to Friday! Treat yourself to a gorgeous smoothie bowl packed with all things green: kale, spinach, cucumber, and pear.
Snack: Your choice of fresh fruit, nuts, or seeds
Sure, some purists might tell you zucchini is not pasta. But spiralized, this veggie is an ideal substitute when you want a lighter meal. Olive oil, cannellini beans, parsley, and mint won't let you forget this dish has "Mediterranean" written all over it.
Snack: Your choice of fresh fruit, nuts, or seeds
Get your veggies and fatty fish with a foolproof salmon dinner you can cook on a single baking dish, in less than 30 minutes.
Saturday
Turning mango slices into a rose is easier than it sounds. Check out the video to see how to do it—a truly beautiful breakfast that's perfect for Saturday morning.
Snack: Your choice of fresh fruit, nuts, or seeds
A grilled salad is like nothing you've ever tasted before. Think about the way a charred burger goes so well with crisp lettuce—here you get a similar flavor and texture, only without the red meat. Avocado-lime dressing makes it even better.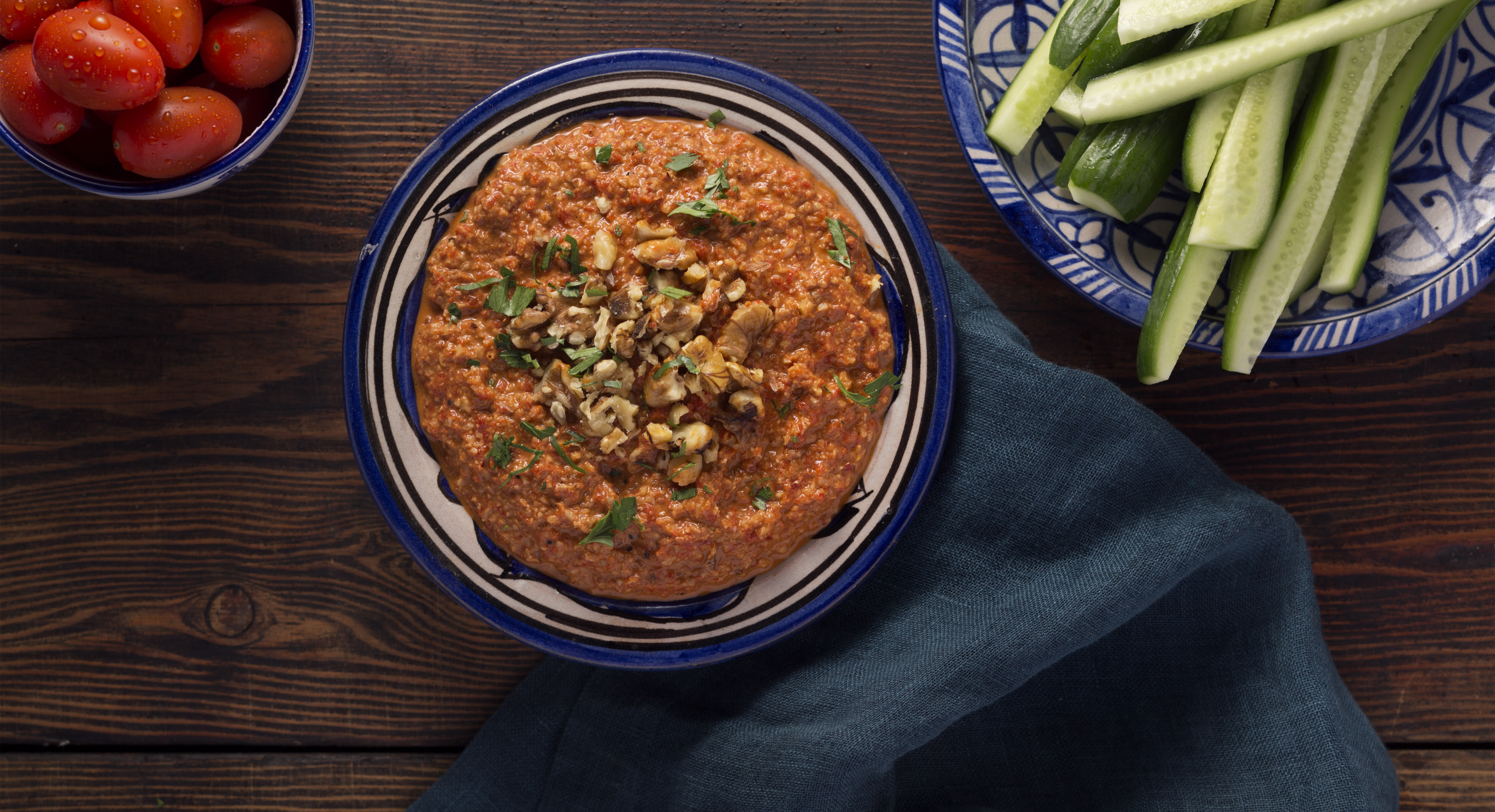 Got an extra five minutes on a Saturday afternoon? Try your hand at making muhammara, a popular red pepper–walnut dip commonly eaten in some areas of the region. Enjoy it with raw carrot slices or whole wheat pita.
Mediterraneans love any excuse to get outside, so fire up the grill again for dinner. In lieu of a wood-fired oven, it'll do the trick for making an awesome pizza. The recipe features olive oil and tapenade—two staples of Mediterranean eating.
Sunday
Who says waffles have to be made with a ton of flour? Sweet potatoes are the main ingredient here to make fluffy breakfast waffles that'll delight your taste buds and fill you up with a nutritious serving of vegetables well before lunch.
Snack: Your choice of fresh fruit, nuts, or seeds
Quinoa and lentils join forces to provide lots of protein and energy. Packed with an array of dried spices, it's a hearty meal that'll warm you up.
Snack: Your choice of fresh fruit, nuts, or seeds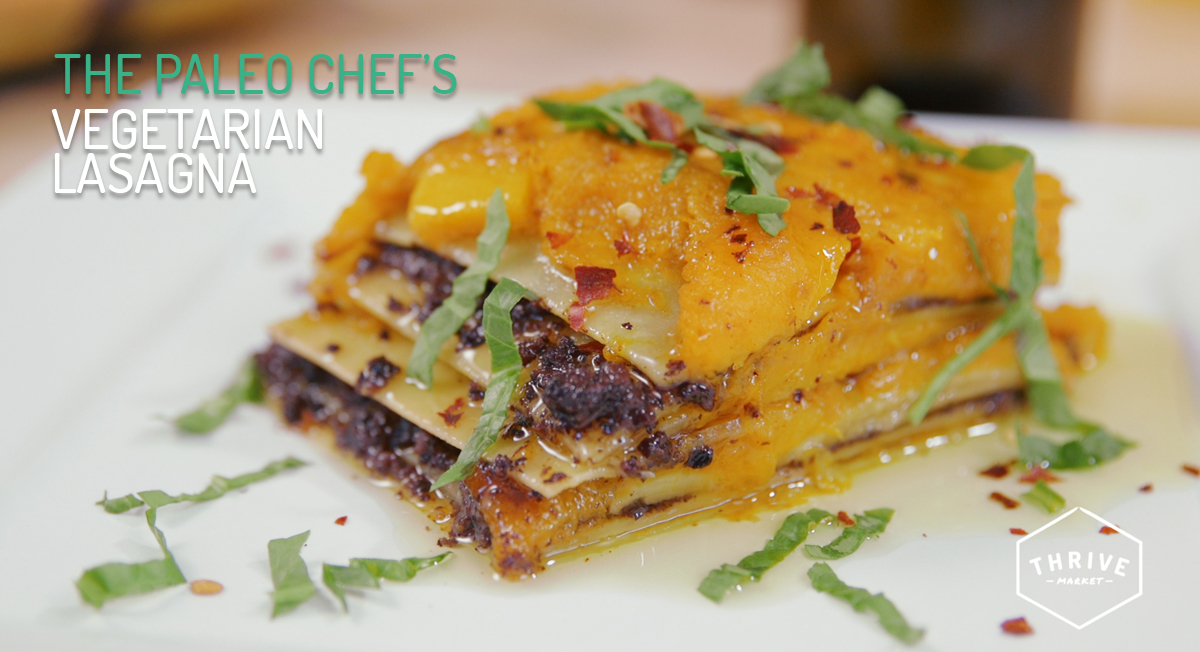 Skip the lasagna stuffed with melted cheese and ground beef. Instead, get your fill of veggies with an unconventional version of an Italian classic featuring butternut squash, mushrooms, and olives.
Final advice for successfully adopting the Mediterranean diet: Enjoy!
Photo credit: Paul Delmont